Here in Richland County, we're passionately opinionated about our local dining options — just ask two Richland County residents where to get the best pizza in town! And we don't just have opinions on where to eat, we also have local favorites on every menu in town. We asked locals to help us identify the most iconic dishes in our community by completing the following statement: You haven't been to Richland County until you've eaten [this dish] at [this local restaurant]! The answers we received form the "Locally Legendary Culinary Tour," a calorie-dense smorgasbord of Richland County's most comforting, most delicious, most loved (and sometimes most polarizing) menu items.

The Battle of the Coffee
If you need to start your day with a caffeine jolt, locals will send you to one of three places. They'll send you to get a latte at Nickel & Bean in Lexington, a Nitro Tea at The Cove Coffee Shop in Ontario, or a pour-over coffee at Relax It's Just Coffee in Mansfield. Everyone has their favorite local coffee shop, and many factor in hometown pride, but these three coffee shops are well worth the stop. Each has a distinct atmosphere and plenty of choices to help you start your culinary tour on the right foot.
You haven't had breakfast in Richland County until you've eaten…
a cream stick at Buckeye Bakery. This donut is a local legend and sells out frequently, so get to Buckeye Bakery early in your tour! We couldn't start our culinary tour in any other way than with this sweet treat. If you don't like sweets for breakfast, come back for dessert — locals will always say "yes" to a cream stick — no matter the time of day.
a blueberry donut at The Blueberry Patch. Locals love the delicious blueberry donuts from The Blueberry Patch, Ohio's premier blueberry plantation.
an apple donut at Apple Hill Orchards. In Richland County, we don't just wait for fall to indulge in apple donuts. You can get apple donuts all year long at the farm store at Apple Hill Orchards. They even have a drive thru so you can stop by for apple donuts, espresso drinks, and even more baked goods while you're on the go!
You haven't had lunch in Richland County until you've eaten…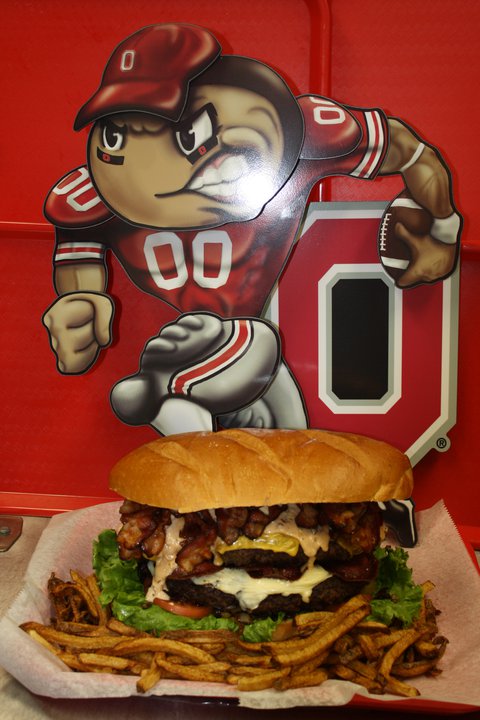 the Feisty Feta Spread at Athena Greek Restaurant in Mansfield. You'll of course want to order all the authentic Greek food you can eat while you're here, but you must get the Feisty Feta, a feta tomato spread with a spicy kick served with pita for your appetizer.
a burger at Buckeye Express Diner. In Richland County, one burger reigns supreme, and it's the half-pound burgers at Buckeye Express Diner, all served with a side of homemade fries. If you're feeling daring, try to finish the Locomotive Buckeye Pounder: a whole pound of beef topped with four pieces of bacon, four pieces of cheese, lettuce, tomato, and onion on vienna bread.
a gyro at Athens Greek Restaurant in Ontario. Not to be confused with Athena Greek Restaurant, you must go to Athens Greek for a gyro with their famous recipe tzatziki sauce which is lick-the-plate good.
coneys at Coney Island Inn or Coney Island Diner. You can get an all-American coney dog at two places in downtown Mansfield. Everyone local has a favorite, so you might just have to try both to see which coney comes out on top! Both places offer all-day breakfast in true diner fashion.
"Naked in the Park" at Uncle John's with hot peppers. Once a secret menu item, the Naked in the Park is Uncle John's famous home fries topped with onions, shaved ribeye, swiss, and a fried egg. This dish is favorite for the lunchtime crowd in downtown Mansfield. Order it with hot peppers, but we should warn you: these hot poppers can range from hot to wicked hot!
French fries at Reindeer Grill. If you're craving the crispiest fires, you must try the fries at Reindeer Grill. The fries here are battered and seasoned to savory perfection.
Polish sausage at Wiener King. Wiener King is a locally-owned fast food classic with avid fans throughout the community. Many locals have been coming here for their footlong coneys, burgers, and sundaes since they were young, and they keep coming back for motorcycle nights, and their classic car cruise-ins.
a Reuben sandwich at Doc's Deli. We love our local deli and we can't get enough of the high-quality ingredients that make Doc's signature sandwiches so delicious! Grab a soup with your sandwich, the roasted red pepper with Gouda is the fave!
a cheeseburger and hand-cut fries with Velveeta cheese at Porky's Drive In. This local spot has been offering classic American food and year-round carhop service since 1949.
If you must have salad…
pea salad at Coney Island Diner. If Coney Island Diner is famous for something other than their coneys, it's their pea salad. A salad topped with peas, Swiss cheese, bacon bits, onion, and special salad dressing.
a raspberry grilled chicken salad Athena Greek. This Greek salad is topped with the best seasoned chicken and fresh raspberries.
a salad from Swavory. A little savory. A little sweet. Swavory offers both with crepes, gourmet popcorn, and the biggest salads in town – including The Hulk, a salad for two topped with pepperoni, salami, ham, bacon, grilled chicken, egg, carrots, cucumber, mushrooms, green pepper, red onion, black olives, croutons, tomato, and mozzarella with your choice of two dressings. 
You haven't had dinner in Richland County until you've eaten…
lasagna at Papas Gondola. If you want to try the legendary lasagna at Papa's Gondola, you need to know two things. First, this family-owned restaurant is still cash only. Second, they only make a specific amount of lasagna each day, and while they make a lot, they do sell out so get there early!
chicken, chorizo and pineapple rice bowl at Pancho's tacos. If you're not sure whether pineapple belongs in Mexican food, this bowl at Pancho's tacos will change your mind.
fried brussels sprouts at Hudson & Essex. A must-eat whenever you're in Mansfield! These crispy, savory, brussels sprouts are drizzled with a sweet and tangy maple aioli and sprinkled with red onion and spiced walnuts for a little crunch!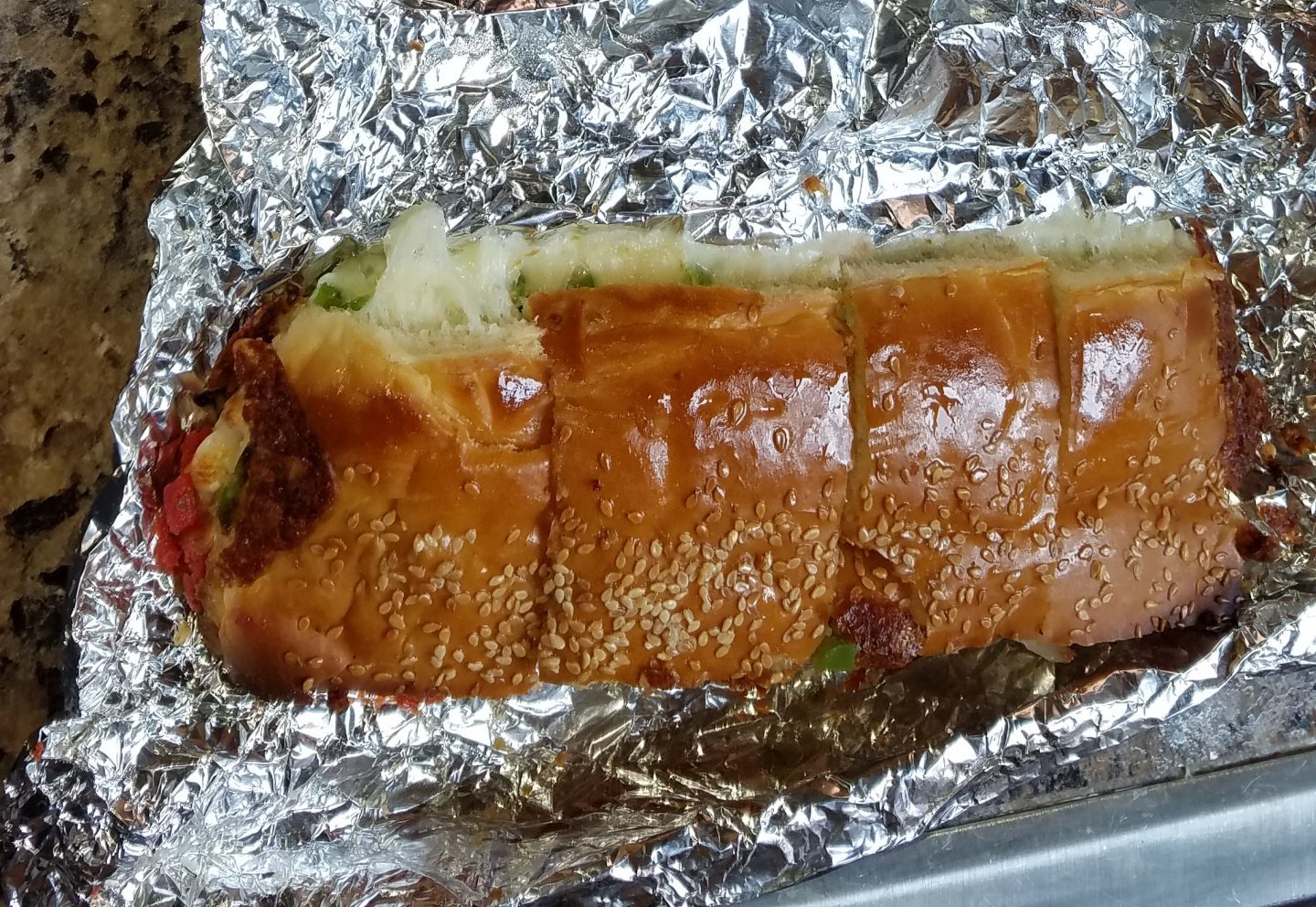 a sub from Leaning Tower of Pizza. A true Mansfield treasure, this hole-in-the-wall pizza joint makes delicious hot subs and hot subs only on their amazing homemade bread. You can choose from a variety of toppings, but you can't go wrong with the Basic Sub: salami, bologna, red pizza sauce, mozzarella, and provolone cheese. Make your sub a Mansfield Happy Meal with, Jones' chips and Stewart's root beer! Jones' chips are made right here in Mansfield. Pair them with a bottle of Stewart's root beer, which traces its origins to the first Stewart's Drive-In in Mansfield.
a shredded chicken sandwich and a Fudge Mint Marvel from Paul's Drive In. Locals love this 1950's diner in Shelby for classic diner eats and delicious ice cream treats.
General Tso's Chicken at DLX. We know General Tso's is on almost every Chinese restaurant menu, but we are very protective of owner Dan Lew's General Tso's recipe. When he closed China Club to open DLX, a flex-casual café, everyone wanted to know if his famous General Tso's would make the move to the new restaurant. To our delight, we can still get China Club classics here like our beloved General Tso's chicken.
Prime Rib at Skyway East. Upscale dining. White table cloths. Skyway East is a Mansfield classic. You must also try their homemade salad croutons & bleu cheese dressing.
Retro Cocktails at Oak Park Tavern. Step back in time for your favorite ice cream drinks from the 60's & 70's at Oak Park Tavern, where "cocktails" and after dinner drinks are still celebrated. Top off the night with a Grasshoppers, Golden Cadillac or a Pink Squirrel.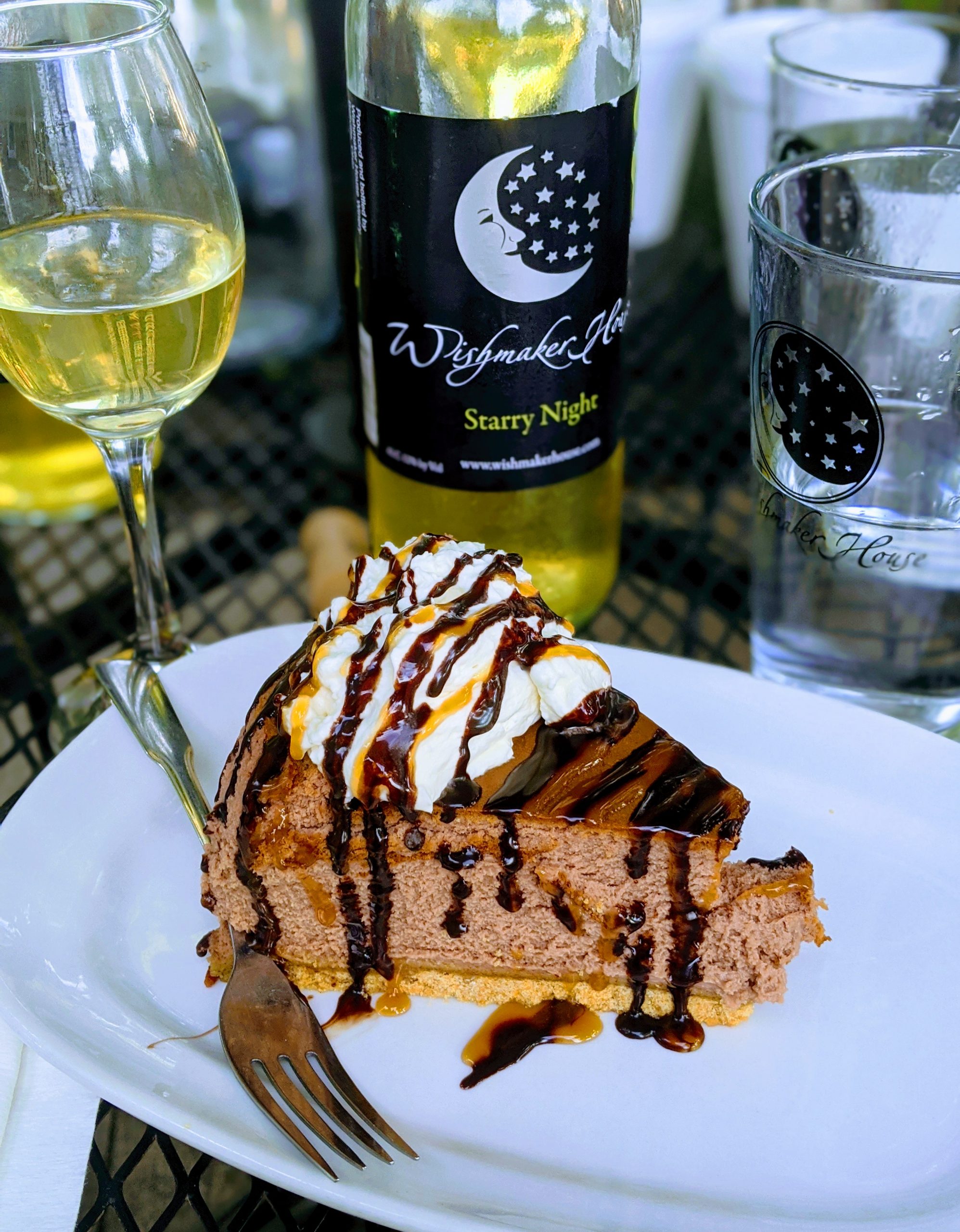 You haven't had dessert in Richland County until you've eaten…

from scratch cheesecake at the Wishmaker House Bed and Breakfast. These massively portioned, towering cheesecakes are fluffy, rich, and decadent, and come in a wide range of seasonal flavors that put The Cheesecake Factory to shame.
The Battle of the Pizzas
Like our local coffee shops, it's hard to pick just one pizza to represent Richland County. It's also a topic that divides locals. In Mansfield, locals will send you to Deschner's Pizza for a well-loved pizza that's piled high with toppings and great fried chicken wings. Others will send you to Two Cousins' Pizza Co for a quick bite with pizza by the slice, or stay and wait for everyone's favorite Stromboli. Mansfield locals will also send you to Leaning Tower of Pizza for a pie and a square-cut slice of true Mansfield nostalgia. Fans of Warrior Drive-In & Pizza in Ontario are quick to tell you that the pizza here has won national and international awards. Warrior Pizza has also won dedicated and enthusiastic customers throughout Richland County. If you need a gluten-free option – Fast Eddie's makes the best gluten-free crust in the county!
How would you complete the phrase "You haven't been to Richland County until you've eaten [this dish] at [this local restaurant]"? Did we miss your favorite local bite? Share a can't miss dish with us at info@destinationmansfield.com.