Each year, thousands and thousands of visitors flock to Mansfield and Richland County, many from hundreds of miles away. They come to explore our great outdoors, to pedal our bike trail. They hunt ghosts, watch races, stop to smell the flowers, and immerse themselves in the #1 rated movie (according to IMBD) of all time and follow the Shawshank Trail Driving Tour. Before COVID-19 hit, visitors wanted to experience a destination as locals. They booked AirBnB's to stay in houses or apartments, ate where residents love to eat, enjoyed local arts, music, and life the local way.
Now, tourism has somewhat flipped backward as a sizeable percentage of people won't stray far from home this summer. We promote our great attractions to people around the world all year long, but this summer we invite residents to enjoy what's in your own backyard like those thousands of visitors do.
"Do something different! If you are staying closer to home this summer, then why not experience our region's vast array of famous, historical and recreational attractions," says Lee Tasseff, President of Destination Mansfield-Richland County. "Most of us pass by our attractions on our way to other locations. Maybe it's time to understand why tens of thousands leave their homes to visit ours."
Residents have the unexpected opportunity to experience their local tourism offerings like visitors do. Show your support for these local attractions, recreation spots, and arts & entertainment venues and make a summer bucket list full of new things to do.
Visit a local attraction. One thing each of these attractions has in common, is they have been visited by many from around the United States and multiple countries around the world. You drive by them all the time, but when was the last time you paid them a visit?
The internationally famous Ohio State Reformatory is once again open for self-guided tours. Visitors flock to OSR from around the world, but we constantly hear from locals who have never visited. Now is the time!  Go explore the historic halls and visit the cells of history's toughest criminals. See the filming sites of The Shawshank Redemption or hunt for evidence of the paranormal.
BibleWalk is unlike any other attraction in our state. It is Ohio's only life-sized wax museum and home to the state's only Christian Dinner Theatre, "Dinner With Grace." BibleWalk features over 100 life-sized dioramas accompanied with special effects and audio text. Tours include:
The Life of Christ (60 min)
Miracles of the Old Testament (60 min)
Heart of the Reformation (30 min)
Amazing Grace – the Journeys of Paul (30 min)
NEW – The Kingdom of God (30 min)
The Museum of Christian Martyrs (30 min)
Take all six tours, or just pay for one at a time! You won't want to miss the collection of rare bibles and American votive folk-art.
Have family in the area? Ohio Genealogical Society in Bellville is ready to open for you to discover your Ohio Family Roots. Start researching your family tree in their 40,000-volume genealogical library, which includes census records, cemetery listings, Bible records, newspapers and more. Invite a relative, or two, and make it a meaningful family activity.
Get up close with over 30 different species of native songbirds and raptors, that due to an injury can no longer survive in the wild. The Ohio Bird Sanctuary bird displays are now open. These birds permanently reside at this beautiful sanctuary as ambassadors for their species. Make sure to bring good shoes for a walk; after you've seen the birds, hike the 90-acre nature preserve through marshes and old growth forests.
Malabar Farm State Park has more to explore than you may think! The campgrounds, trails, and the overnight maple cabin of this 900-acre country estate are open. Explore the caves on the Butternut Trail or visit the animals in the barn. Climb to the top of Mt. Jeez and get a breathtaking view of the rolling hills of the Pleasant Valley. While the Visitor Center, Big House, restrooms, and Gift shop remain closed, you can still picnic with a view at one of the most picturesque places in Richland County.
Mansfield Memorial Museum, where the world's first and oldest surviving American robot named Elektro is on display, is an eccentric must-see for many visitors. Visit Richland County's oldest museum and explore two floors of local treasures and artifacts from prehistoric to modern times. Exhibits include the history of local beer brewers and bottlers as well as large military exhibit featuring many model military vehicles, tanks, armored vehicles, and planes. The museum is only open on weekends and they only ask for a donation for entrance.
You've probably driven past the stately mansion on the corner of Park Avenue and Trimble Road, but when was the last time you planned a day at Kingwood Center Gardens? If you haven't been lately, come see what's new! Explore 47 acres of sprawling gardens, tour the historic Kingwood Hall, and snap a picture with the preening Peacocks. Kingwood Center Gardens is now fully open daily. Free First Mondays are new in 2020! On the first Monday of every month, everyone is admitted free of charge. The new Garden Gateway Visitors Center will open in mid-October. This area will serve as the new launching point for visitors and will include a café, a greenhouse and gift shop, exhibits, and a large event space.
Looking for more local history? Take a tour of Oak Hill Cottage, an architectural treasure of Gothic design and a piece of well-restored history. The Gill House in Galion is open for tours by appointment. This historical home was visited frequently by Thomas Edison and Henry Ford and has a growing reputation for paranormal activity.
You know Mid-Ohio Sports Car Course is open when you can hear the cars roar through the pastoral hills of Lexington. Sit trackside in this park-like setting. Bring a camp chair, cooler, and kids and watch a race with the whole family. Now, you can even get your own qualified street car on the track with monthly Open Test & Tune at Mid-Ohio School. This is now the least expensive option to test out the track for yourself.
Get outside and enjoy local recreation. If you're not ready to dive back into crowds and indoor attractions, a short walk outside could be a good first move. Hike the diverse natural habitats of Gorman Nature Center. Located a short drive from downtown Mansfield, Gorman Nature Center features 150 acres of forests, prairies, ponds, and streams. All park district trail systems and grounds (Including the B&O Bike Trail, etc.) are open to the public from dawn-to-dusk, throughout the year. The Gorman Nature Center Visitor Center now offers small group outdoor programming. Advance registration is required for all activities. The building plans to open July 6. Check out this blog post for more great hikes.
Being around water has been proven to improve mental health and happiness. Spend some time at our local lakes. Charles Mill Lake Park & Marina is open for boating, hiking, fishing, camping, and swimming. Rent kayaks or paddle boards for some exercise or rent a pontoon and relax on the water. Pleasant Hill Lake Park is also open for hiking, horseback riding, boating fishing, and camping. Escape without going far with an overnight stay at one of the new deluxe log cabins.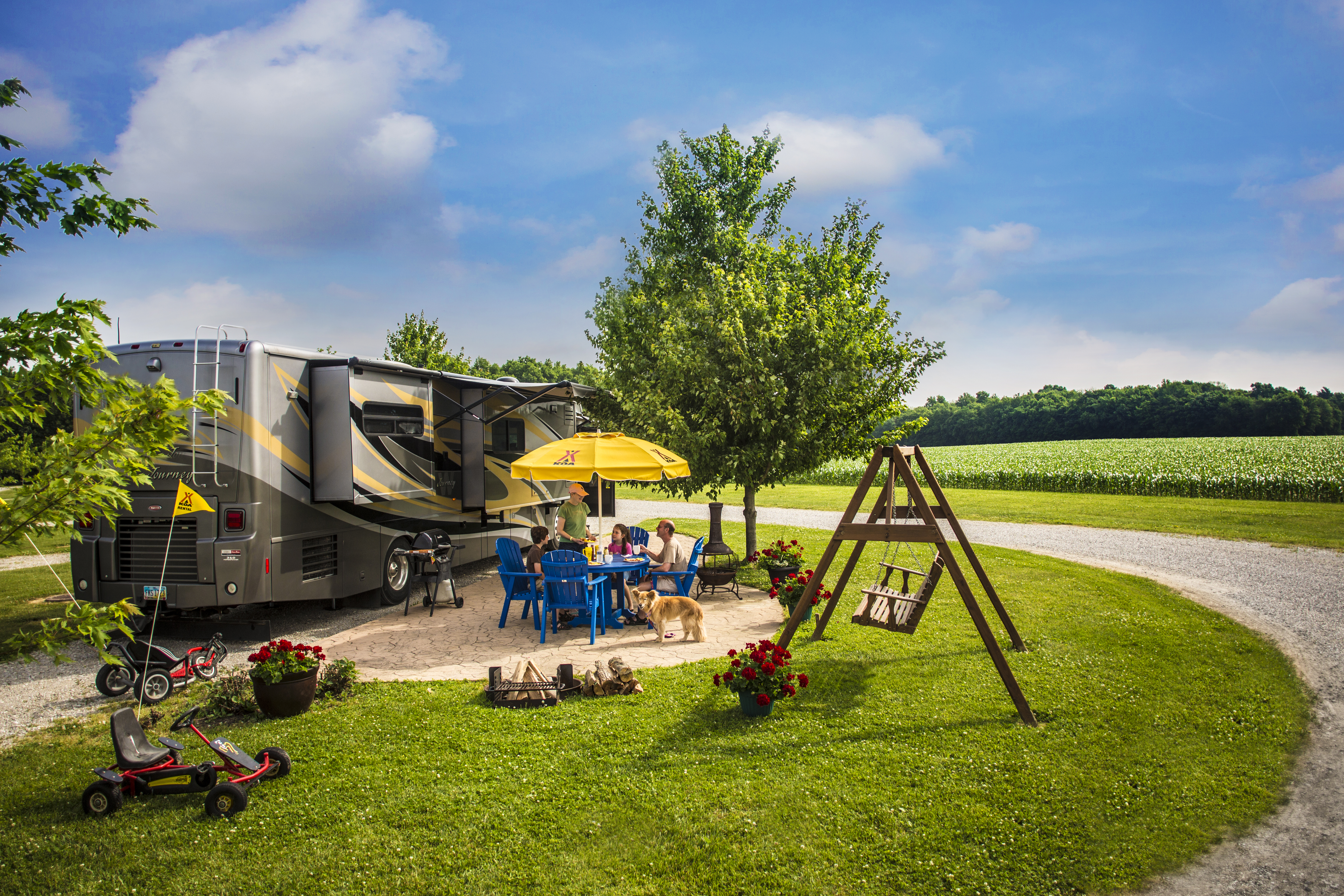 Nothing says summer fun like camping and canoeing. Mohican Adventures Canoe & Fun Center and Campgrounds & Cabins, Mohican Reservation Campgrounds & Canoeing, River Run Campground & Canoe Liveries are all open to welcome adventures to beautiful Mohican Country. If you're looking to stay even closer to home, the Shelby/Mansfield KOA Resort is open and features family activities like mini golf, pedal karts, fun boats, a jumping pillow, horseshoes, basketball, sand volleyball, a heated pool, and food services. 
See what's on and enjoy local arts & entertainment. See an exhibit of paintings that celebrate the plein air tradition at the Mansfield Art Center. The Ohio Plein Air Society Annual Exhibition is on through July 26. The Renaissance Performing Arts Association is adapting to the changes of the times and has started offering drive-in films and concerts in their parking lot, now called The Ren Backlot. They will also be staging Cinderella: The Broadway Musical in July and August with a new seating chart that follows social distancing policies for their audiences. Visit their website for showtimes and tickets.
Travel our Trails. Fans of The Shawshank Redemption travel from near and far to see the filming sites of "the world's favorite movie" (IMDB). The Shawshank Trail Driving Tour takes you to 15 local filming sites (One more is on St. Croix). Many of these locations are outdoors and perfect for social distancing. Now that bars and restaurants are open, sip and sample your way along our regional Wine & Ale Trail and explore historic buildings, eat local food, and enjoy specialty theme wines and brews.
See what has visitors traveling to Mansfield and Richland County from around the world. Make it your summer goal to visit a local attraction or recreation spot you haven't visited or haven't been to in years. What will you explore in your own hometown? Wherever you land, we hope you gain a greater appreciation for the Richland County tourism economy.