Get in touch with nature before summer ends or plan a hike as the leaves start to change! Take advantage of the warm weather and explore all the beautiful, can't-miss scenery the area has to offer. Spending time in nature has been proven to improve mental focus, lower stress levels, increase creativity, and even boost the immune system. Whether you want to take a stroll on a park path, trek through the woods, or just explore the local flora and fauna, we've got all your must-hike trails right here.
There are lots of great places for intense hikes and leisurely strolls around Richland County. From the wedding site of Bogie and Bacall at Malabar Farm State Park and the paved 18.4 miles of the Richland B&O Bike Trail to the amazing rich park landscapes at Gorman Nature Center and the Ohio Bird Sanctuary, each spot offers a different experience. Check out the list below to learn why you can't miss these trails!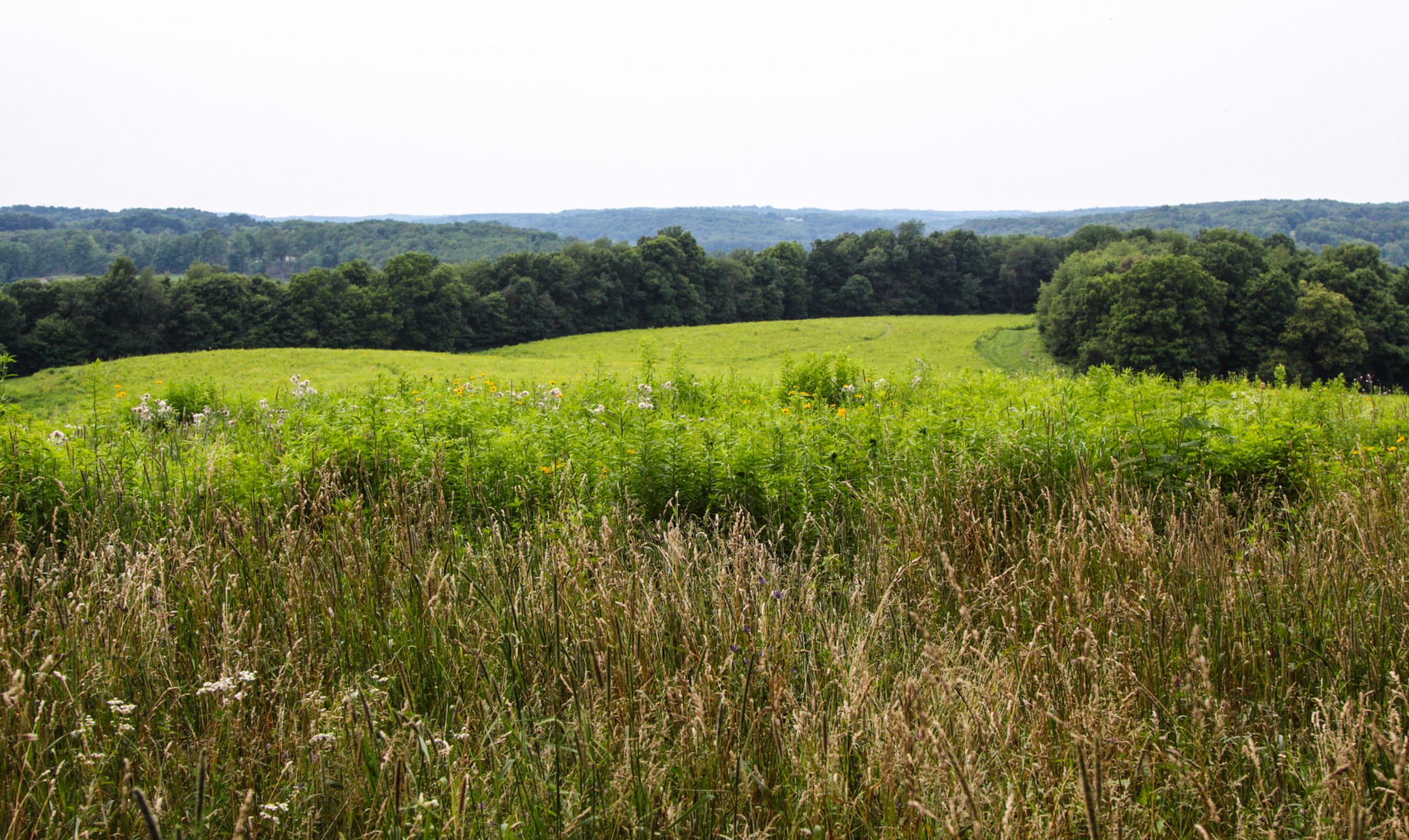 Clear Fork Valley Scenic Trail
341 Resort Dr.
Butler, OH 44822 (Clear Fork Adventure Resort)
State Rte 95 NE & Pleasant Hill Rd
Perrysville, OH 44864 (North end)
Difficulty: Easy to Hard
This 8-mile hike traverses 570 acres of nature preserves, incorporating old-growth forest, rolling terrains, and prairie flowers and grasses. This path connects with the B&O Bike Trail in Butler at one end and Malabar Farm and Mohican State Parks at the other. The 8 miles includes two spurs, including Valley View Spur, which with an elevation of 1,370 feet, is one of the highest points in Richland County. Skipping the two spurs will make the path about 6 miles.
Eric Miller, a trustee for the North Central Ohio Land Conservancy, pointed out three of the trail's most popular features. Going from north to south, the first must-see element is native Ohio prairie "that is just shockingly colorful in the summer, with hundreds of wildflowers that bloom at different times," Miller said. Heading farther south, you will then see Hemlock Falls, a waterfall that also goes past a cliff line. Lastly, there is an old-growth forest that was notably admitted to the Old-Growth Forest Network.
"It's like a living museum," Miller said of the trail. "These are areas that are good representations of what ancient Ohio used to be."
Gorman Nature Center
2295 Lexington Ave.
Mansfield, Ohio 44907
Difficulty: Easy to Moderate
Gorman Nature Center, which is maintained by the Richland County Park District, consists of 150 acres of park land in various terrains, from open fields to woods and streams. Walk the 6 different intertwining trails totaling just over 3 miles, and stop in the Wildlife Watchtower to spot animals below.
The Gorman Nature Center also does work in conservation and education, with frequent public programs like bird walks, nature expeditions, and even creative writing seminars.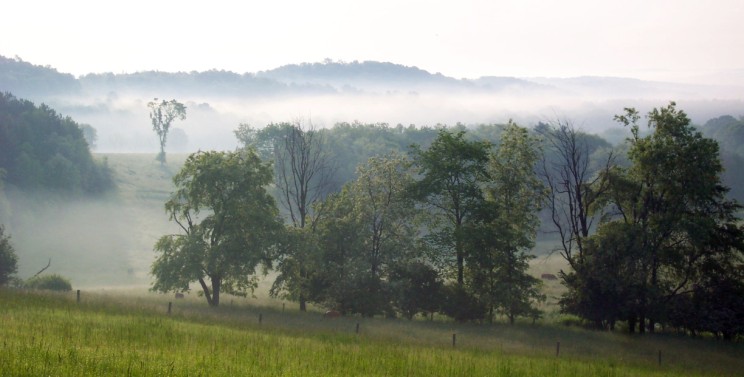 Malabar Farm State Park
4050 Bromfield Road
Lucas, OH 44843
Difficulty: Easy to Moderate
The Malabar Farm grounds contain several trails, most through wooded hilly areas. Some parts are handicap accessible and good for beginners, while others are more difficult, crossing streams, cliffs and caves.
"This portion of Richland County is definitely a lot hillier than the rest, so there's a lot of slope," said naturalist Lori Morey. "Be prepared for a moderate hike."
Butternut Trail is Malabar Farm's most popular trail due to a cave about 1/4 mile into the trail.
Butternut Trail: .83-mile loop
Doris Duke Woods Trail: 1-mile loop
Jungle Brook Trail: .70-mile loop
Pleasant Valley Bridle Trail: 5.27 miles (horses and skis allowed)
Ohio Bird Sanctuary
3774 Orweiler Rd
Mansfield, OH 44903
Difficulty: Easy to Hard
While the Ohio Bird Sanctuary is famous for its work with caring for and rehabilitating Ohio native birds, it is also a beautiful nature preserve. Over 90 acres feature 5 intertwined hiking trails. The Sanctuary has 4 miles of trails winding through meadow, riparian, and old-growth forest.
The Wood Duck trail, one of the longer paths, is most popular because it connects with the boardwalk, so you can walk through the marsh area. It is in the optimum birding habitat, and a portion of the trail is wheelchair accessible.
Stephanie Lewis shared a few things you should know if you are looking to visit the trails. "They get quite muddy, so if you're coming to hike, be prepared and you might want to bring bug spray," she said.
Pleasant Hill Lake Park
3431 State Route 95
Perrysville, OH 44864
Difficulty: Easy to Hard
Wander near your campsite along the lake or get your gear for the long haul. Pleasant Hill Lake Park has more than 15 miles of trails connecting with Malabar, Mohican, and equine trails. Easier trails are located within the official park, with further-flung trails extending around most of the lake.
Take a break from hiking, relax, and look out across the beautiful lake as you rest.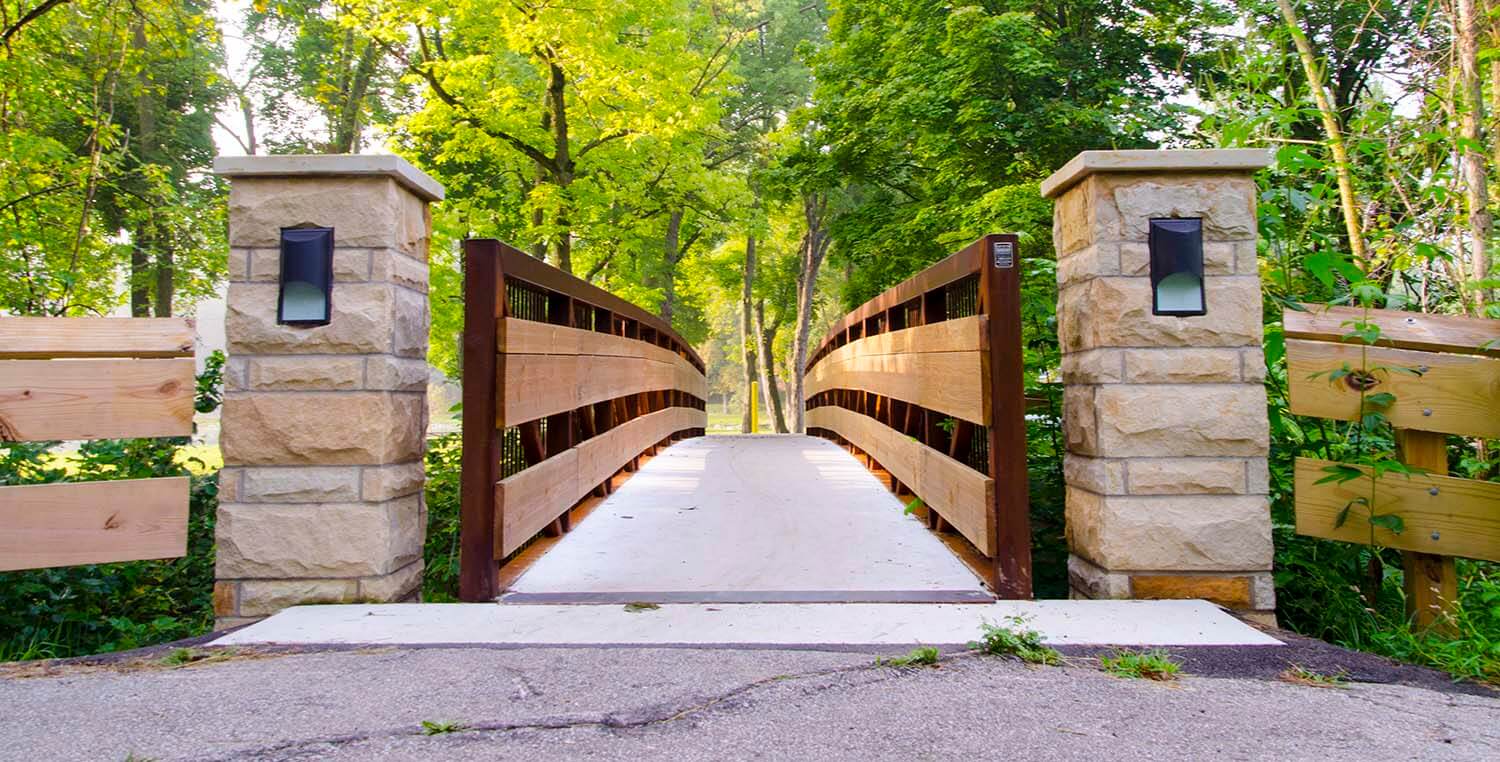 Richland B&O Bike Trail
18 miles between Butler and Mansfield
(Many stopping and starting points)
Difficulty: Easy
Bike or hike the historic Richland B&O Trail. Richland County became the 70th Rails to Trails project and now provides and maintains 18 miles of scenic trail through the heart of Richland County, connecting the villages of Butler, Bellville, and Lexington and the city of Mansfield. Expect to see new signage along the trail this summer.
Visitors will see mile markers, multiple parking areas, and benches along the trail. Rest stations in Bellville and Lexington offer restrooms and water fountains.
Here are some more great places to go exploring! 
Note: Most of these trails are marked with signs but a few are not. The addresses will get you close to the beginning of the trail. Please use caution.
Bicentennial Park
Lex-Ontario Road (Between Avon Dr and Cockley Rd)
Lexington, OH 44904
Difficulty: Easy
The park has a 0.39-mile circular walking trail along the Clear Fork Mohican River. It is a flat path traversing open and wooded areas.
Charles Mill Lake Park
1277A State Route 430
Mansfield, OH 44903
Difficulty: Moderate
The Donaldson Family Nature Trail is located off Crider Road and County Road 1808. The loop is about 2 miles and includes hills and woods.
Cooke Family Wildlife Conservation Park
4774 OH-13
Shiloh, OH 44878
Difficulty: Easy
This 163-acre park lies alongside the Black Fork of the Mohican River. It provides a mixture of grassland, forest, marsh, and waterway. There is a 3-acre fishing pond, a picnic shelter, 1.5 miles of hiking trails, and a trap shooting range on the property.
Fowler Woods State Nature Preserve
7815 Olivesburg-Fitchville Road
Greenwich, OH 44837
Difficulty: Easy
One of the few remnants of Ohio's old growth (primeval) forests. It's said to have a spectacular display of spring flowers. Handicap accessible 1.25-mile boardwalk trail. Dogs not permitted. Good site for bird watching.
Lexington Community Park
167 Plymouth St.
Lexington, OH 44904
Difficulty: Easy
The community park has a flat grass walking path along the river and direct access to the Richland County B&O bike trail. Bathrooms are available.
Mansfield City Parks
Mansfield City includes several parks with surrounding roads for easy walking. Please be cautious of vehicles. Click the link above for a full listing. The two below are considered to be the best "trails."
North Lake Park
270 Westbrook Ave.
Mansfield, OH 44906
Difficulty: Easy
½-mile loop around lake. Beginning of the B&O Bike Trail.
South Park
51 Wellington Ave
Mansfield, OH 44906
Difficulty: Easy
Home of the historically famous Block House. Road walkways and paths through the park.
Patriot Park
169-387 Plymouth St
Lexington, OH 44904
Difficulty: Easy
The park has an open area walking trail along the river and is in 16 acres of natural wild field area. The paths are flat and easy for walking. It has a 0.77-mile circular path with 2 short crossing paths.
Shelby Upground Reservoir No. 2
50-58 Sherman Ave
Shelby, OH 44875
Difficulty: Easy
Walk the 1-mile paved path around the reservoir.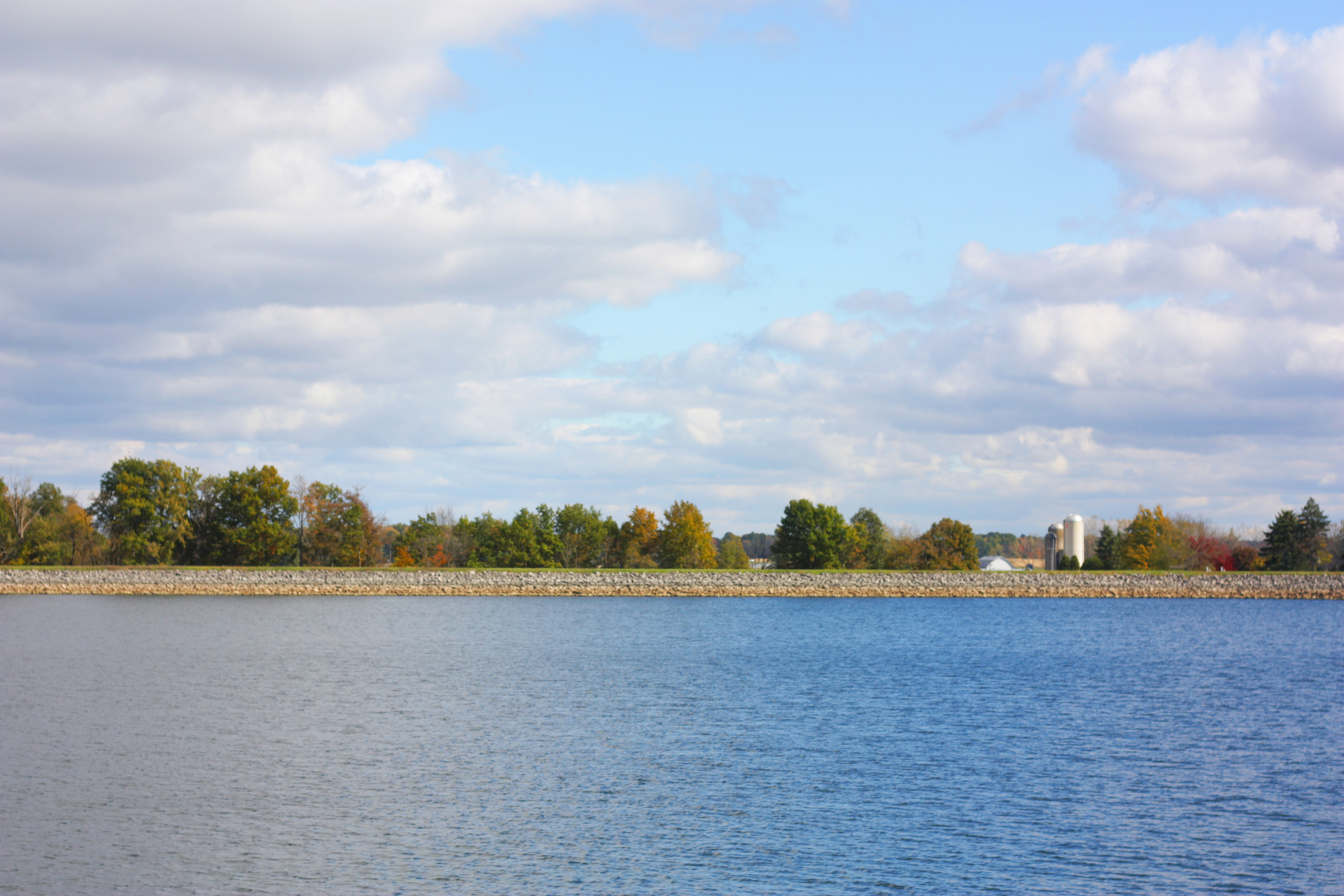 Shelby Reservoir No. 3
3846 London West Road
Shelby, OH 44875
Difficulty: Easy to Moderate
Walk the 1.25 miles of paved walking path around the reservoir or venture into the woods on the 3-mile nature trail.
Stoller Rd Trail
1909 Lexington Ontario Rd
Mansfield, OH 44904 (Trailhead Clear Fork)
3213 Marion Ave Rd
Mansfield, OH 44903 (North end-not marked)
Difficulty: Easy to Moderate
This 4-mile dirt trail winds through woods and hills with some excellent views of the Clear Fork Reservoir. There are also some more difficult upper trails created by area off-road bicyclists. These trails are more winding and cross several ravines. According to Just Walk Richland County, Stoller Rd existed before the dam was filled. Parts of the road can still be seen crossing paths.
Share your experience and pictures with us on Instagram and Facebook with #TravelOurTrails #DestinationMansfield #OhioFindItHere
Just Walk Richland, part of the Richland Public Health, sponsors guided walks and hikes. Join them on a walk to meet up with more people and find new places to explore. Click here for more information.
Blog updated by Destination Mansfield – Richland County Communications Intern Amanda Ehrmantraut