Creativity knows no bounds in Mansfield. The makers and creators that call Richland County home are constantly finding new ways to fill the stage, canvas and alleyways with awe-inspiring works of art. Delight your senses and get your creativity flowing here, where inspiration is (literally) written in the streets.
Frame-Worthy Finds
Don't just take a picture — be a part of the picture with interactive public art exhibits across our community. Spread your wings at The Brickyard's angel wings and postcard murals or let your imagination roar posing with Buckeye Imagination Museum's T-Rex bollard or dragon painted on the side of the building. Bike the Richland B&O Trail near North Lake Park to admire an entire overpass painted with foliage and flowers, then pedal over to nearby KV Market's Shawshank Redemption mural. In Bellville, beam yourself into a kitschy UFO mural, or marvel at Buckeye Express Diner's burger-slinging Chef Jacques — the world's tallest bobblehead statue at 35 feet tall!
Behind the Curtain
Those who live for the moment the stage lights go up will revel in Mansfield's performing arts scene. Catch a musical, movie or classical music concert at the Renaissance Theatre, a gloriously restored 1920s movie palace. Discover emerging works at its experimental arm, the black box Theatre 166, or celebrate community at the long-running and highly regarded Mansfield Playhouse stage. You might even catch a rising star at a recital of Richland Academy of the Arts students.
Artsy Establishments
Time to showcase your own creative talent! Get inspired by the exhibits at Mansfield Art Center, then join one of its numerous class offerings, like ceramics or glass fusing. Try your hand at crafting, whatever your age, with Mansfield-Richland Public Library's programs or at AR Workshop Ontario, where painting is a party. Down on the farm, both Shady Lane Alpacas and Alpaca Meadows host classes in a range of crafts well beyond the fiber arts. Check the workshops at Kingwood Center Gardens ranging from horticulture to crafting cocktails.
Groovy Tunes
Take in Mansfield's best live music under the sun (literally) at our outdoor concert venues. In Ontario, the Marshall Park Bandshell rocks with free Concerts in the Park. Summer shows are also on offer at Black Fork Commons Park in Shelby and at the Bellville Village Bandstand. You'll find a blissful backdrop for music at Kingwood Center Gardens' Live on the Lawn series and at Mansfield Art Center's pavilion concerts. Downtown, boogie at The Brickyard, the center of entertainment tucked right behind Main Street's storefronts.
Make & Take
You'll learn and bring home something beautiful from classes at Mansfield Art Center — whether you want to blow glass, throw a pot, fill a canvas or twist the night away shaping wire art.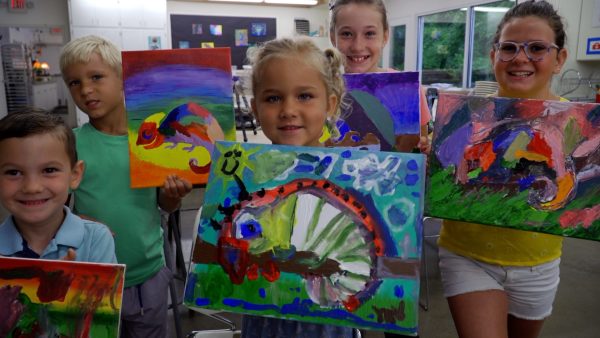 By Leslie Basalla-McCafferty