I love any excuse to drive through the picturesque village of Bellville. Nestled in the Clear Fork Valley, the winding Clear Fork River bisects Main Street and "The Blue Bridge" over the river marks the start of downtown Bellville's Victorian business fronts. Full of Midwestern charm and hospitality, the row of retail stores, service businesses, and restaurants ends a few blocks south at the village square where beautiful shade trees and an Italianate bandstand crown the sprawling green lawn.
On Main Street
Life "in the valley" as the locals call it, is relational, laid-back, and full of hometown pride. To get a feel for the village spirit, start your day with breakfast at V&M Restaurant on Main Street. According to Bellville Mayor, Teri Brenkus, it's the best breakfast in the county and the best place to get the local beat besides Whitey's Barber Shop. Along Main Street you'll also find specialty shops like Rainbow's End Antiques, Bellville Flowers and Gifts, and Elements of Home which sells many locally made home goods.
Mayor Brenkus explained that Bellville is a walkable village with most amenities just steps from home. Many houses are located near or directly on Main Street or right off it. On Main Street alone, village residents have the option of walking to restaurants, a realtor, a pharmacy, a jeweler, a hardware store, a grocery store, banks, a barber shop, and multiple salons. The Bellville branch of the Mansfield-Richland County Public Library and the US Post Office are located just one block behind Main Street.
Main Street Bellville is also easily accessible from the scenic B&O Bike Trail. You can exit the trail at the newly refurbished Bellville Depot where you will find public restrooms, water, and shelter from the elements. Bike racks are provided at the Depot west of the blue bridge and near Main Street businesses.  Traveling farther south on Bell Street you will also find Amvets Community Park with a skate park, pavilion, and restrooms.
Recently, a variety of health-conscious options have popped up around town. Whether that's walking or riding the bike trail or weightlifting and group classes at Built By Unity, residents can find activities for every level of ability. If you're looking for a healthy alternative to a meal or an afternoon snack, get a shake from ClearFit Nutrition. Whitaker's Natural Market offers residents of the Clear Fork Valley natural, organic, and traditional food items as well as natural supplements, essential oils and more local and health-conscious selections for all your household needs.
When to Go
In the summer, hit the links. Bellville boasts two golf courses: Deer Ridge Golf Club and Little Apple Golf Course, plus Miniature Golf at the Der Dutchman Restaurant. Deer Ridge Golf Club is one of the best courses in the region between Cleveland and Columbus. This beautiful and challenging course will demand every club in your bag! In the warmer months, you'll find the locals listening to live music at the bandstand the 1st and 3rd Thursdays from June to August. Free popcorn and water are provided by Mechanics Bank, but you can always grab something from a local eatery or bring a picnic. The Saturday farmer's market in the village square offers homegrown produce throughout the summer. Before you leave, make sure to indulge your green thumb at Wade Gardens and end your day with a specialty sherbet at the Clear Fork Dairy Belle.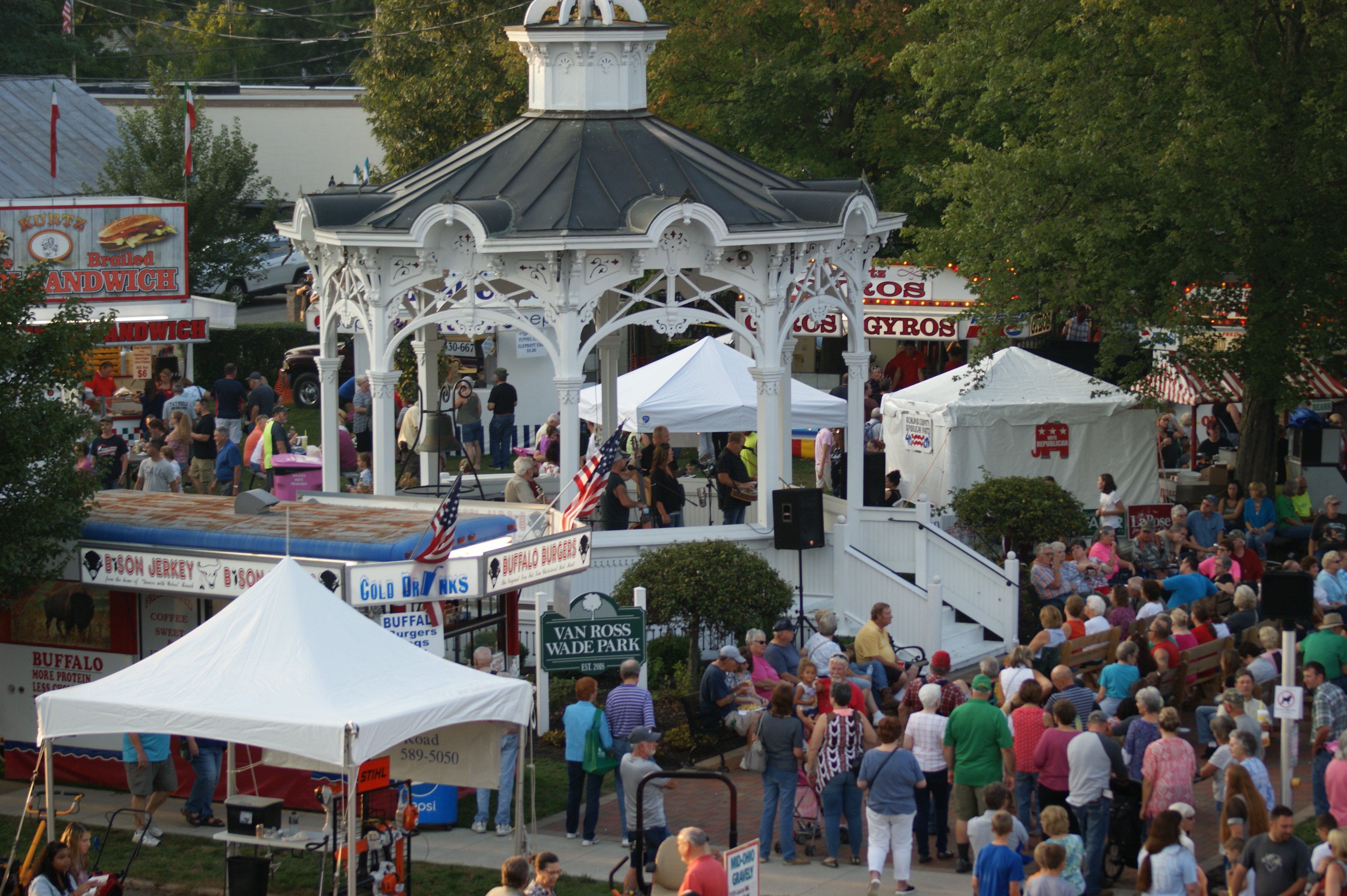 In the fall, The Bellville Street Fair happens each September. It's also known as the legendary "Bellville World's Fair." Throughout the fair, Main Street closes down and current and past Bellville residents come together for four fun-filled days. It's a homecoming and family reunion and county fair rolled into one with food, rides, agricultural competitions, and great entertainment.
Don't Miss
The Civil War-era mill and gift shop at Elzy Milling and Trade is a destination that has brought in people from as far as Argentina. Tour a piece of living history; the red feed mill beside the B&O bike trail has been a working feed mill every day since the Civil War – except for Sundays and Christmas. Elzy Milling and Trade has grown beyond the mill and gift shop to include seven buildings that span two blocks of Bellville. They carry a wide array of products to meet all your farm, home, and garden needs from custom feed and grass seed to pet food to Zanesville Pottery, cast iron cookware, essential oils, soaps, and candles. In spring and summer, it's not rare to see the parking lot across from the mill filled with easels and artists eager to capture this historic mill on their canvases.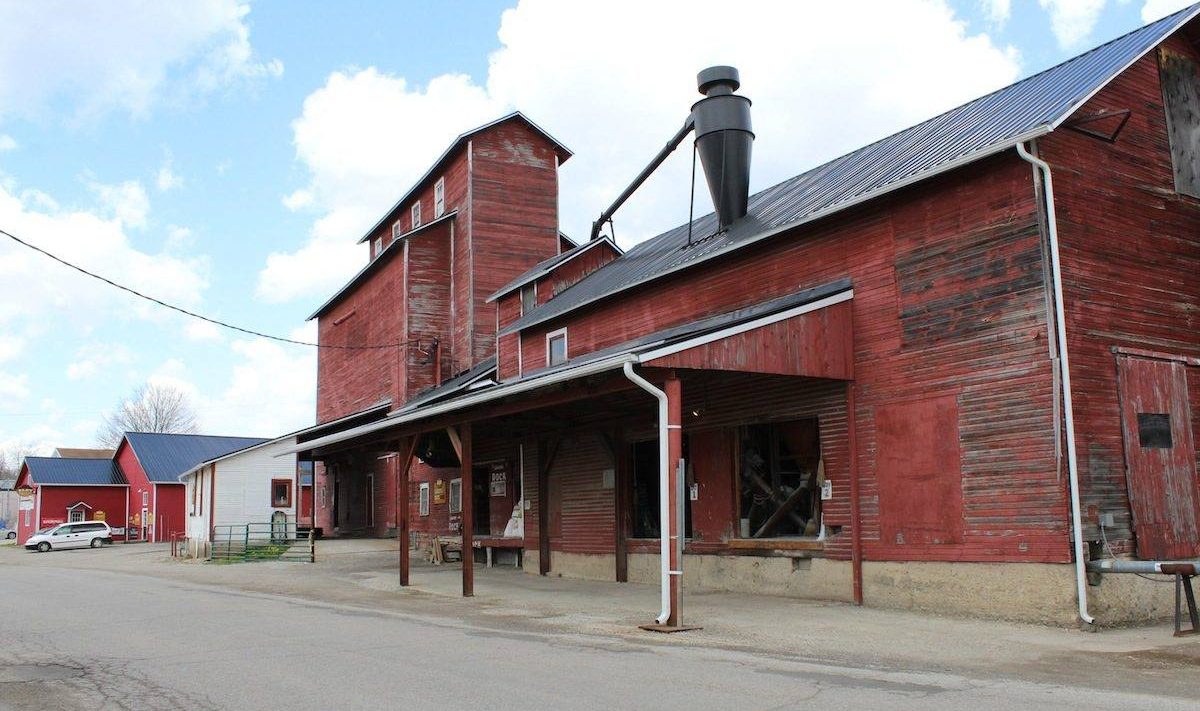 Have family from Ohio? Discover your own history! The best place in the state to research your Ohio roots is right here in Bellville at the Ohio Genealogical Society. This 60,000-volume genealogical library includes census records, cemetery listings, Bible records, surname files, manuscripts, newspapers, lineage papers, and so many more treasures to discover. Non-member visitors may use all materials in the library for $5 per day. Tracing your family history can be a difficult task, but the helpful volunteers on duty can help guide you in your search.
Eat & Drink
With approachable upscale eats right on the square, Wishmaker House Winery & Wine Bar serves lunch and dinner and offers the hottest seats on their patio during 1st and 3rd Thursdays to listen to music in the bandstand.  Wishmaker House is also part of the Wine & Ale Trail. They specialize in regional varietals of grapes grown in Ohio and New York, but the Wine Bar serves their own wines alongside wines from around the world. Be sure to visit their website for information on live entertainment and to check out the seasonal menu. Main Street take-out favorites include Brumby's Coffeehouse and Pizzeria for their great calzones and coffee roasted "on site and in sight" and Fast Eddie's for pizza, baked subs, and salads.
Enjoy comfort food in a renovated locomotive! Buckeye Express Diner is always a hit with families and OSU fans. For lunch or dinner with a view, the Black Dog Tavern at Deer Ridge Golf Club offers a breathtaking view of the golf course on the deck and inside the A-frame log cabin. Der Dutchman Restaurant's traditional Amish and Mennonite hospitality and homestyle cooking is a favorite of both locals and visitors. After your meal, shop the beautiful nooks of Carlisle Gifts on the second floor.
Where to Stay
In downtown Bellville, stay at Wishmaker House Bed & Breakfast. Conveniently located and full of charm, four of the eight guest rooms have balconies overlooking Main Street or the village square. The breakfast at Wishmaker House features fresh local produce, eggs, and meat alongside baked goods made daily. Right off Interstate-71, which runs North and South through Richland County, you'll find the Quality Inn & Suites Conference Center Bellville and Comfort Inn Splash Harbor, which features a water park young children will love. With easy access to the highway and fast-food chains nearby, these hotels are perfect for families and have nearby access to the B&O Bike Trail.
Meet the Locals
Mayor Brenkus gave me a great glimpse of life in Bellville when she was my tour guide for the day. We stopped in front of the V&M restaurant and she snapped a photo of a help wanted sign to share to the Bellville Facebook page. Along the way, Brenkus picked up stray pieces of garbage left over from a windstorm and shared several of her passion projects including the Bellville Opera House. For a historic village, there are many exciting things happening around Bellville. Mayor Brenkus has big plans to rehab the theater space above the village offices to make the space usable year-round for performances and other cultural events. There's been expansion around the I-71 exit and even Elzy Milling and Trade is in growth mode as they plan to give the campus a facelift and add on to the gift shop.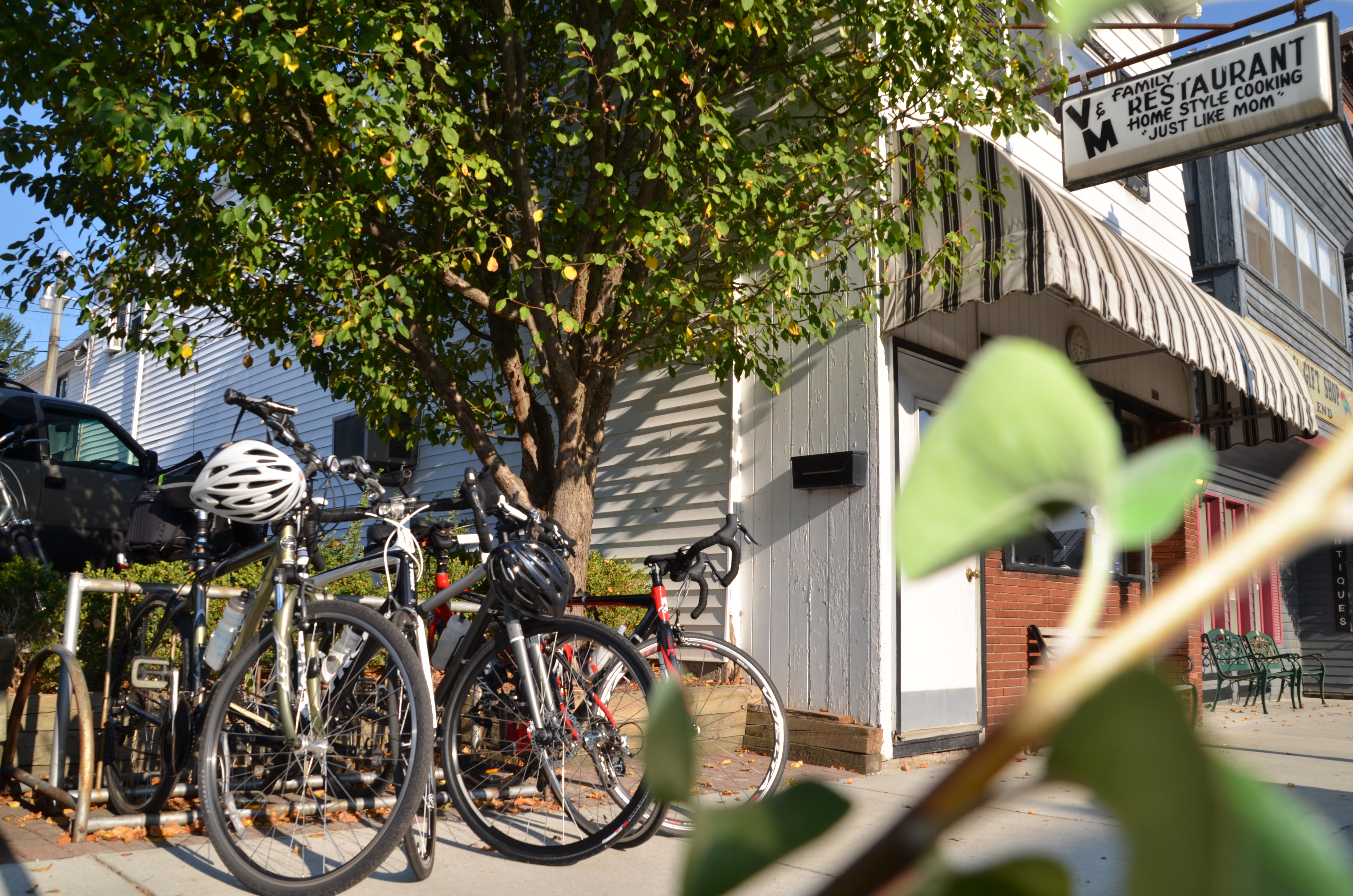 The village of Bellville is precious. It certainly doesn't lack those quaint small-town vibes, but Bellville is someplace special because it's precious to its residents. It's precious in a way that goes beyond pride, it's a way of life. You can't just move into town and call yourself a "Bellville Native." Ask anyone from Bellville and they'll tell you that three generations of your family must have lived in Bellville for you to claim the moniker. Until then, you can be called a "local" or "transplant." I've never come across another town that makes this clear distinction between its residents, but it's very Bellville. Be they natives or transplants, Bellville's residents feel ownership over their village's past, present, and future and it's evidenced by their passion for their village.
Bellville Statistics from JobsOhio as of 2018
The total population of Bellville is 1,870 with a median age of 43.25 years.
Bellville has a labor force of 923 people
The distribution of 1,276 total employees is 51% blue collar and 48% white collar jobs across 137 total establishments.
The leading industries are 1. Accommodation and Food Services and 2. Retail
Households in Bellville earn a median income of $61,973 with 41.74% of households earning more than the national average each year.
Residents spend an average of 24 minutes commuting to work. Rail can be accessed within 5 miles. Mansfield's Lahm Regional Airport is 17 miles away. Interstates can be accessed within the community.