The B&O Trail has been a local favorite of cyclists, joggers, in-line skaters, and even cross-country skiers since it first opened 25 years ago. This paved, 18.4-mile bike trail runs from Butler, in southern Richland County all the way to North Lake Park in Mansfield, gently winding its way through some of the most scenic parts of the area and through four distinct communities.
There are many places to start and pause your trek along the former path of the Baltimore and Ohio Railroad, but the gentle inclines of the bike trail make cruising from one city to the next a breeze. Hop on and off the trail for dining, shopping, and attractions at each of these communities and discover their personalities for yourself.
Butler
The southern trailhead of the B&O Trail sits in Butler, a peaceful town on the edge of the Mohican Memorial Forest. This quaint small town is surrounded by the beautiful hills of the Clear Fork Valley. When you get started on the trail, you'll find you're a long ride from hustle and bustle, big box stores, and chain restaurants. But don't hurry off to the trail too soon! Slow down with a family meal at Wiffletree Restaurant or grab a cone of soft-serve from the 5 Points Drive-In.
Bellville
Traveling north, you will pass some notable landmarks like the old railroad truss bridge in Bellville, and a Civil War-era feed mill that is now Elzy Milling and Trade. While the Clear Fork River meanders at your side, the trail takes you right to Bellville's picturesque main street, lined with local shops and eateries. Bellville locals are all about their hometown eats; you'll find them grabbing coffee & pizza at Brumby's or hopping off the trail for an Italian feast at Fast Eddie's. V&M Family Restaurant is a Main Street staple that is ready and waiting to serve locals and hungry trail travelers diner fare that won't hurt your wallet. If you continue down Main Street, the wide welcoming windows and beautifully carved front door of Wishmaker House Winery & Wine Bar will entice you inside for a more upscale-casual lunch or dinner with house-made wine and towering cheesecakes. Eat outside on the garden patio and watch as small-town life passes by.
Before you head back to the trail, the quiet, tree-lined streets of Bellville will ignite the sense of exploration that made you love bike rides as a kid. Discover stately, Victorian homes or ride up to Bellville Cemetery for a peaceful walk to discover historic headstones.
Lexington
After passing through some winding wooded areas of the trail that offer a break from the sun, you'll arrive at the village of Lexington. A growing community of families, Lexington offers small-town charms and cycling amenities right off the trail. Y-Not Cycling and Fitness offers bicycle sales & repair, group rides and events, bike rentals, as well as cycling apparel, accessories, and components you may need during your ride.
Lexington is a great place to stop for lunch or light refreshment. Nickel & Bean offers craft coffees, teas, smoothies, and in-house made baked goods in a beautifully restored brick building that dates back to the 1840's. If your group can't decide between a stop for food or ice cream, pedal over to the Cup & Cone Café for both! For dinner or a late lunch, try The Happy Grape (only open Saturdays for lunch) for delicious flatbreads, or try Lexington's newest Mexican-Korean fusion dining experience, Tito's Cantina & Grill.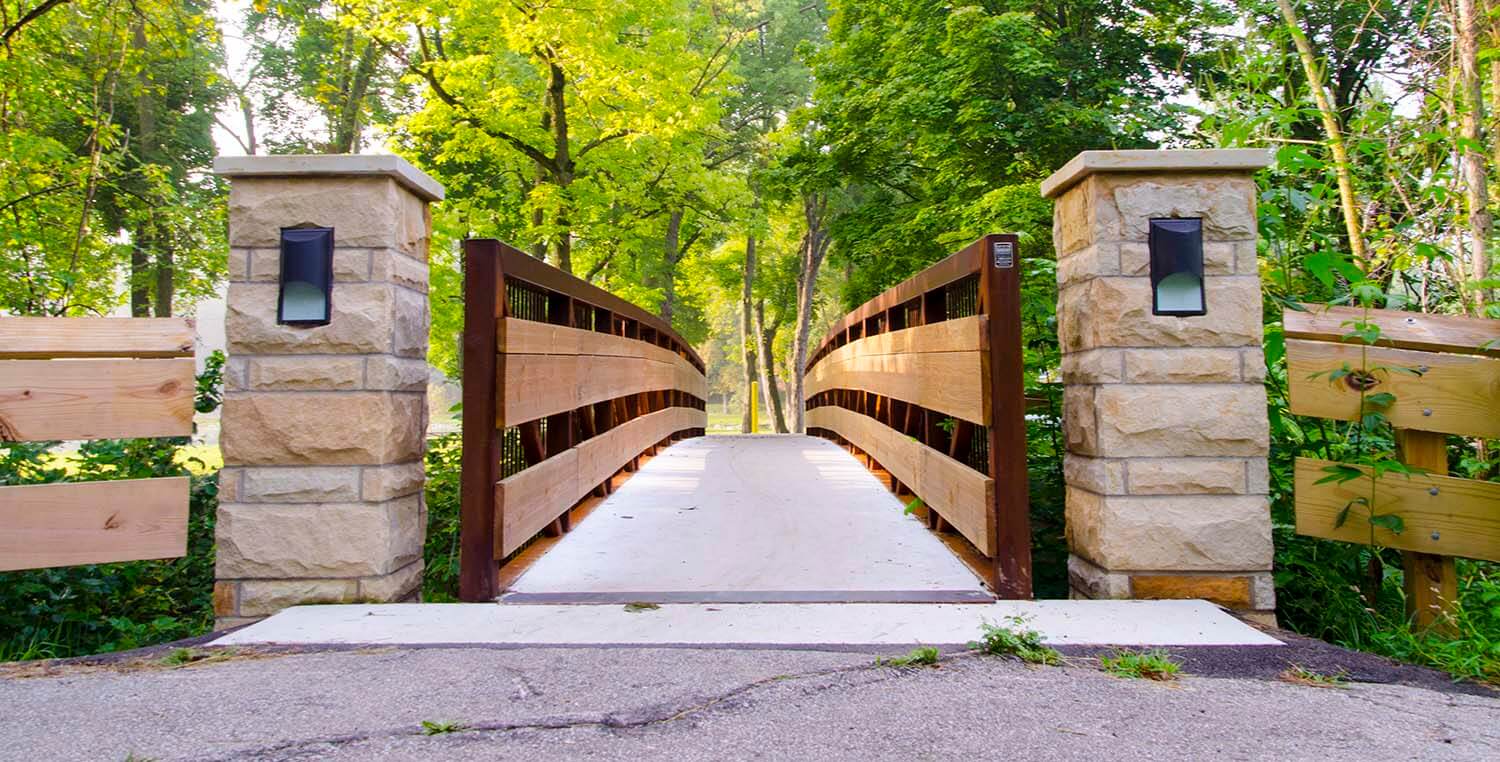 Mansfield
The next section of your journey spans some of the most diverse terrains you'll find on the trail. As you head north, the trail passes alongside peaceful farmland and meadows, babbling brooks, ridged woods, and wildlife-filled marshlands. As you get closer to the sights and sounds of the city, you'll discover colorful murals under busy overpasses.
A horticulture oasis right on the trail, Kingwood Center Gardens now offers access to and from the trail between 10 am and 6:30 pm. Guests can now hop off the trail and spend some time exploring the gardens or grab a nutritious lunch in the Gateway Café before or after they hop on the trail for a ride. B&O Trail users can park their cars at Kingwood for free to start their time on the trail here. If cyclists come to Kingwood off the trail, they will be able to secure their bikes to a bike rack near the trail and are free to shop & dine without paying for garden admission.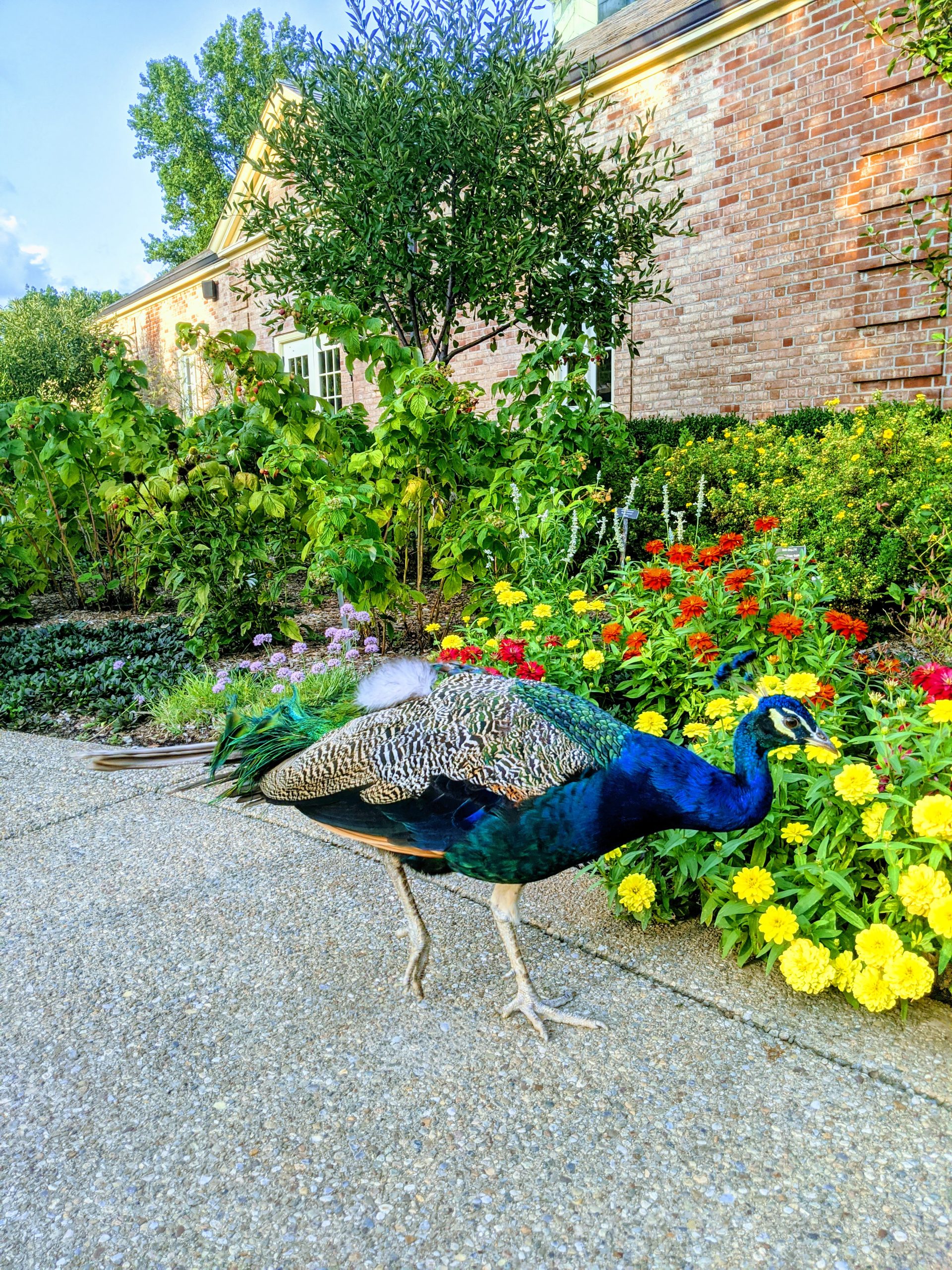 At North Lake Park, the northern trailhead of the B&O Trail, a short bike ride will take you into historic downtown Mansfield. Downtown, you'll find fine dining small plates at Cypress Hill Winery as well as local comfort eats like delicious Gyros at Athena Greek Restaurant and massive burgers at Uncle John's Place. Stop for a caffeine fix from the coffee geeks at Relax It's Just Coffee or stop and steep a cup of tea at 3rd Cup Tea. Not your grandma's tea parlor, 3rd Cup Tea offers over 50 teas and tisanes from all over the world to choose from.
Where can I stay the night along the trail?
In Butler, get your fill of fresh air and book a night stay at a local Bed & Breakfast or Airbnb. While you're here, enjoy the great outdoors with a hike on the Clear Fork Valley Scenic Trail or a trip to Mohican Memorial State Park.
If you're longing to pause your trip in the quiet, small-town atmosphere of Bellville, Wishmaker House Bed & Breakfast is a great place to stay. Surrounded by the rolling hills of the Clear Fork Valley and boasting views of the village square, Wishmaker House offers peaceful overnight accommodations.
Between Lexington and Bellville, Comfort Inn Splash Harbor and Quality Inn & Suites Mansfield/Bellville offer nearby access to the bike trail. These are great places to stay if you want to spend one day traveling the southern leg of the trail, and one day traveling north. Pause your long ride here and take the kids to play in the splash park at Comfort Inn Splash Harbor, or play a round of mini-golf at Der Dutchman Miniature Golf. This is also a great midpoint to refuel for the rest of your ride with hearty Amish fare from Der Dutchman Restaurant, or an overflowing locomotive basket of burgers and fries as you dine in a refurbished train car at Buckeye Express Diner.
Spend the night at the Holiday Inn & Suites and make Mansfield your home base for your cycling adventures in Richland County.
Where do I park?
There are many different places to park along the trail. The B&O Trail is a "through" trail, not a loop, so where you will want to park will depend on how far you plan to ride, walk, jog, skate, or ski! Some lodging options such as Comfort Inn Splash Harbor, Quality Inn & Suites Mansfield/Bellville, and Wishmaker House Bed & Breakfast are close enough to the trail to offer parking for cyclists and those on foot.
Where to start can also depend on which communities you want to visit! You'll just need to start at a place where you're sure you will be physically able to get to your destination and back! If you're new to the trail, Lexington is a great place to start a bike ride since Y Not Cycling and fitness is there to offer rentals. As a central starting place on the trail, Lexington will give you or your group the option of either riding north to Kingwood, or south for wine in Bellville or ice cream in Butler.
Download a free brochure to see mile markers as well as amenities on the trail including parking, picnic areas, restrooms, repair stations, and more.
Whichever way you choose to ride the 18.4-mile B&O Trail, you are sure to discover new communities, delicious eats, and miles of restorative nature along the way. To learn more about the communities along the trail, check out our community blog series.