This challenge is not for the calorie-conscious or the faint of heart. If you're looking to indulge in the richest treats in Richland County and settle a local debate for the ages, you're in the right place. This is the Richland County Donut Challenge: first, sample each of our favorite local donuts then decide for yourself which fried confection reigns supreme as the best donut in Richland County.
Apple Hill Orchard donuts are a local fall favorite, but these fall-flavored donuts are available year-round! Apple Hill Donuts are cake donuts made with only Apple Hill apples and cider in the batter. After they're fried to golden perfection, they are either dipped in a thin glaze that soaks into the crispy exterior or rolled in cinnamon sugar during the holidays. The result is a donut that evokes memories of apple picking on cool fall days with every bite! These donuts are even available on the go thanks to the donut drive-thru window.
If apples are for fall, blueberries are for summer! The Blueberry Patch in Mansfield, Ohio has just opened their brand new facility on Ohio's largest blueberry plantation, complete with a restaurant, winery, and gift shop. They will still be offering everyone's favorite Blueberry Donuts. This hefty cake donut is loaded with blueberries and topped with a simple icing sugar glaze. (Pictured at the top of this page.)
No matter how much hearty Amish cooking you've had, it's hard to say no to a Der Dutchman Restaurant Long John. An American classic, the Long John is a fluffy, yeast-risen donut filled with a selection of pastry creams and topped with a variety of frosting and glazes. The donuts at Der Dutchman are definitely the largest on our list!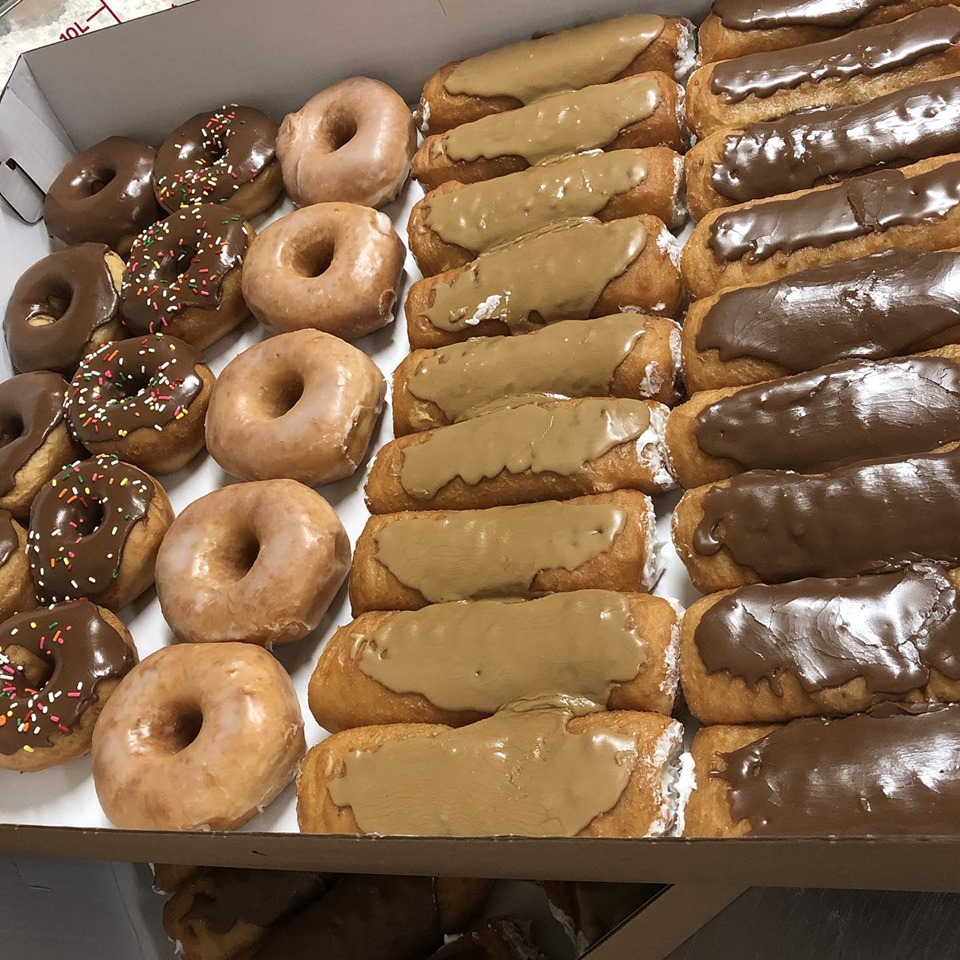 Many Richland County natives will staunchly defend the Maple Cream Sticks from Buckeye Bakery in downtown Mansfield as the best donut in Richland County. If someone brings a mix of donuts to the office, these are surely the ones that are going first! Similar to a Long John, the Maple Cream Stick is a yeast-risen cream-filled donut, but it's topped with every local's favorite maple icing.
It's not often we think of grocery store donuts when it comes to the best of the best, but Stoodts Fresh Market, a local market in picturesque downtown Bellville, makes our list. Their donuts are made fresh each morning in-house and are a favorite among Bellville locals. We dare you to pick up your favorite donut variety from cake to cruller to Bavarian cream and see if it doesn't surpass the offerings of certain national chains.
Are you up to take the Richland County Donut Challenge? Sample each of these local favorites and share with us which one is the best by tagging us in a post on social media or emailing us at info@destinationmansfield.com. Then maybe take a nap.