With the Shawshank 25th Anniversary Celebration approaching, local businesses are getting creative with ways to make this event a county-wide celebration.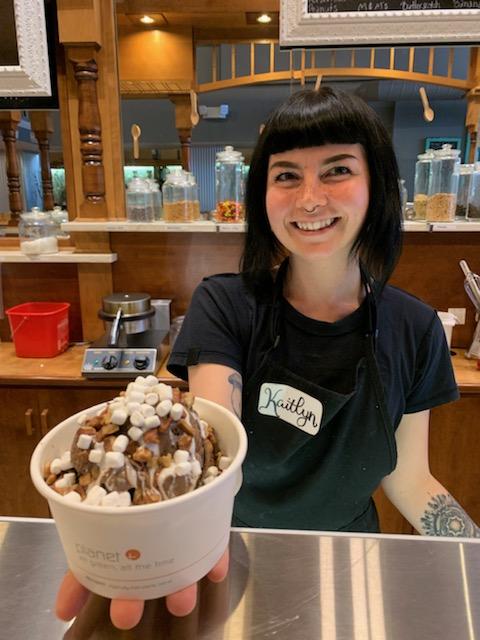 Just for fans of the Shawshank Redemption, The Chill Ice Cream Parlor has created two special sundaes to mark the occasion: the "Rock Hammer" and "Red Reese's Redemption" sundaes. The first frozen treat is a play on rocky road. The "Rock Hammer" Sundae has Toft's Caveman Chocolate ice cream topped with marshmallow, pecan pieces, and mini marshmallows. The "Red Reese's Redemption" Sundae was created with Shawshank Actor, Morgan Freeman's favorite candy in mind. This Reese's lover's dessert is made with soft serve vanilla ice cream, hot fudge, Reese's peanut butter sauce, Reese's cups, Reese's Pieces, and whipped cream. The Chill is open Monday & Tuesday 11 a.m. – 5:30 p.m. and Wednesday – Saturday 11 a.m. – 7 p.m. Fans will also be able to see a special Shawshank themed window display in the adjoining shopfront of Tara's Floral Expressions.
Doc's Deli got in the Shawshank spirit and has created a signature sandwich for the event! "The Caged Bird" sandwich is made with smoked turkey and spinach on pretzel bread and is topped with cream cheese, pecans, and apricot chipotle mustard. Doc's Deli is open Monday – Friday 10 a.m. – 4 p.m. and Saturday 10 a.m. – 3 p.m.
Have you been Shawshanking through the sewers? Need to wash off the "Fresh Fish" smell? Then you need Shawshank soap from Planktown Hardware & More. These custom soaps include the scents "Midnight Escape" and "A Bar of Soap." Planktown Hardware is a destination itself, where you can shop for everything you'd expect to find in a hardware store and then some. Locals love the friendly greeting they get from Biscuit, the chocolate lab and the large selection of essential oils and supplies to make handmade soaps, lotions, lip balm and bath bombs. Shawshank t-shirts and totes are also available. Planktown Hardware and More is open Monday – Friday, 9 a.m. – 6 p.m. and Saturday 9 a.m. – 4 p.m. Closed Sunday.
The Phoenix Brewing Co. brews the Redemption IPA as an homage to the film and in the summer, the Phoenix adds the Rooftop Bohemian Style Lager to the menu. Shawshank fans will be able to enjoy a special brew during the Shawshank 25th Anniversary: the "Rock Hammer Session IPA." While you're savoring a Shawshank brew, get a "Redemption Pizza Pie" delivered to The Phoenix by Two Cousins' Pizza Co. This supreme pizza pie is loaded with pepperoni, sausage, mushrooms, green peppers, and onions. The Phoenix is open Wednesday & Thursday 3 p.m. – 11 p.m.; Friday 3 p.m. – 12 a.m.; Saturday 2 p.m. – 12 a.m.; and Sunday 12:30 p.m. – 8 p.m.
Longtime Shawshank Trail souvenirs include prison break old fashioned sodas at the Richland Carrousel Park and "Prison (candy) Bars" at Squirrel's Den. Along the trail you'll also find custom beverages like "Reformatory Red" wine from Cypress Hill Winery. The Blueberry Patch roasts a tribute to Shawshank with their Jail House Java Coffee. Stop by the Wishmaker House Winery and Wine Bar to try their own "Penitentiary Pinot Grigio" with a delicious meal. Stop by Fox Winery in Galion, Ohio August 16 from 4 p.m. – 10 p.m. to try their limited edition Shawshank wine: "Hopeful Hooch." There will also be Shawshank Trivia and a viewing of the movie at 7 p.m.
What souvenirs will you be sampling? Share a photo with us on social media with #DestinationMansfield #ShawshankTrail