This blog was originally published in 2019. When the state of Ohio begins to reopen, please follow all of the Ohio Department of Health's guidelines for social distancing to prevent a resurgence of the virus.
Patio season is here, and we couldn't be more excited! There's something special about dining outside; it changes the whole atmosphere of the meal. Al Fresco dining also has the power to change the atmosphere of our public spaces by giving them a feeling of security and inclusion. In fact, it is part of the overall goal of the Mansfield Rising Plan to create an accessible and welcoming environment for current and potential residents and visitors. Eateries that bring the inside out are part of this movement because they create welcoming environments that draw people in. So, whether that means eating at tables on the sidewalk, a patio, or on a deck with a view, we have your guide to 11 places to eat and drink "al fresco" in Richland County right here.
The newly refreshed Dan Lew Exchange offers sidewalk seating with a picturesque view of downtown Mansfield's central park. This flex-casual café serves lunch and dinner, with a varied rotation of daily specials. Watch their Facebook page for the next time they have live music on the patio.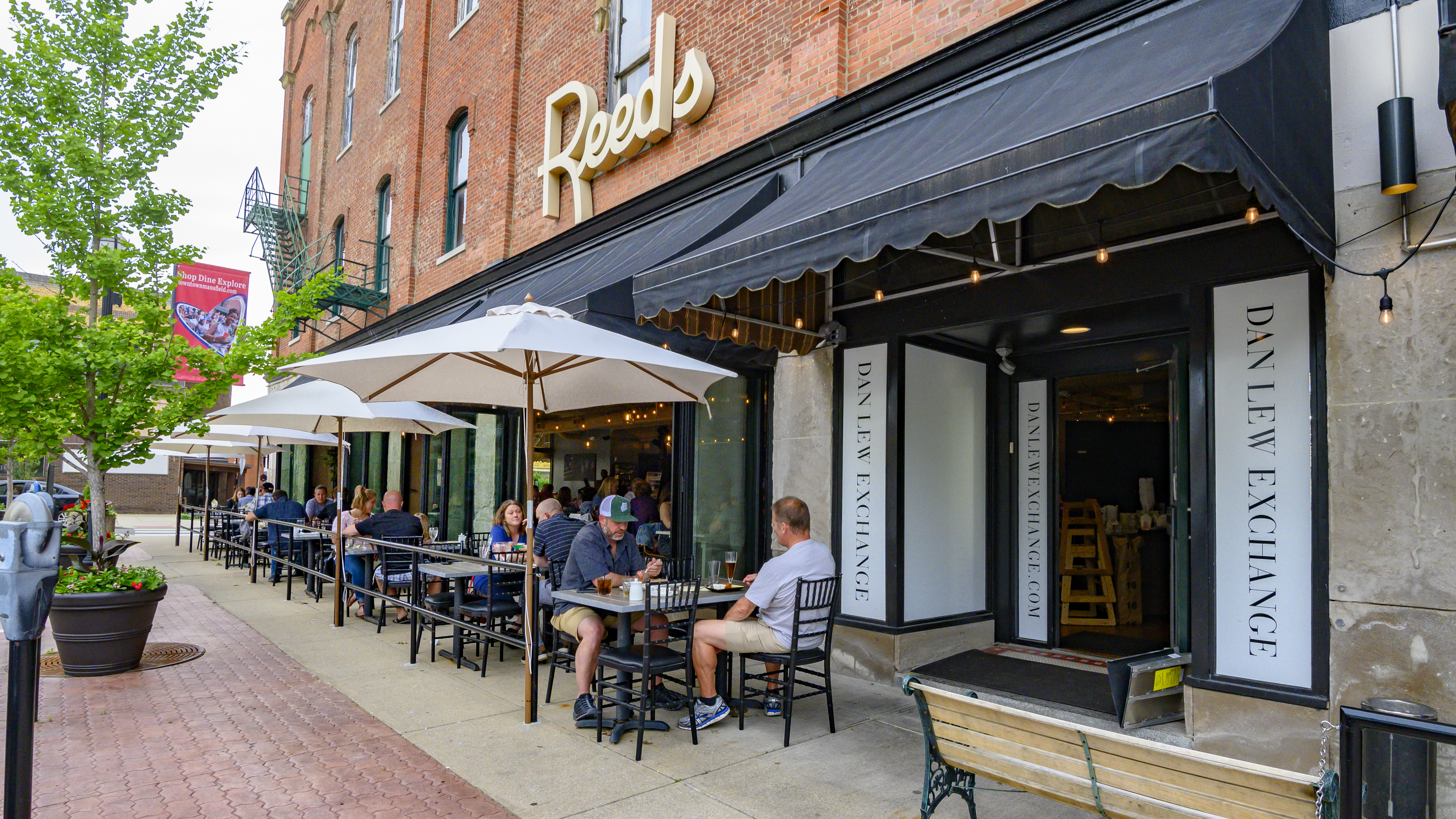 A few blocks away, Hudson & Essex added the finishing touches on their new patio just in time for the summer season. Grab breakfast or lunch and a nitrogen ice cream from the old-world deli, or enjoy full service, upscale fine dining on the patio after 5:00 p.m. Hudson & Essex is also home to Cypress Hill Winery, a boutique winery. Make sure to order one of their wines for a taste of the West Coast with your dinner; all the wines are produced from California grapes. Find the summer lineup of live music on their Facebook page.
The Cabin in Ashland, Ohio is a casual restaurant with a full-service bar. Open Monday through Saturday for dinner, the outdoor seating on the deck and patio offers beautiful views of the rural landscape and the nearby lake. These outdoor spaces are also available for rent for private events like company picnics, family reunions, and wedding receptions.
The patio and deck of the log and timber clubhouse, Black Dog Tavern at Deer Ridge Golf Club, boasts a stunning view of the rolling hills of this Bellville, Ohio golf course. Bentley (the black dog) welcomes you to join him for a relaxing lunch or dinner whether you played a round of golf or not.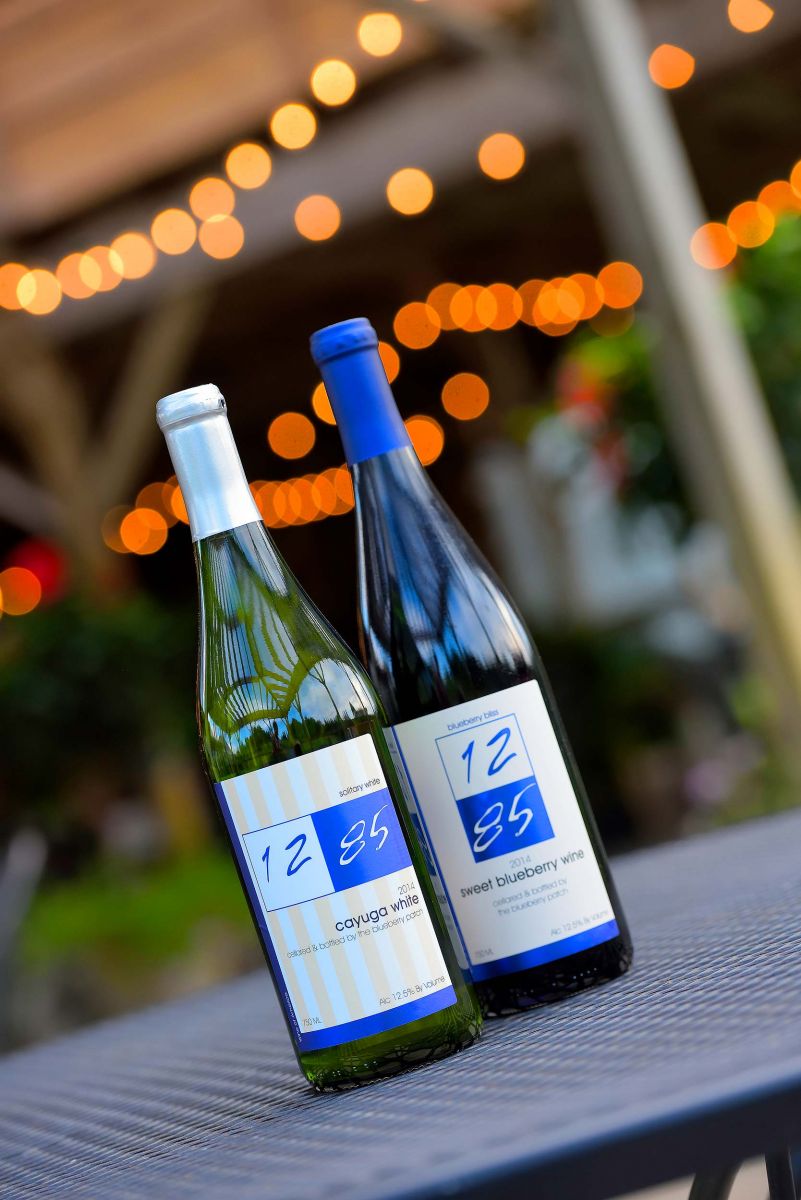 Wine & Ale "En Plein Air"
Located in historic downtown Ashland, Ohio, Uniontown Brewing Co. offers craft beer and delicious food in an urban atmosphere. Located in a historic furniture store that predates the Civil War, this full-service restaurant and brewery has seasonal patio seating and menus.
Head to charming Bellville, Ohio to visit the Wishmaker House Winery & Wine Bar. The patio at Wishmaker House is the perfect place to enjoy a leisurely lunch or dinner while watching the bustle of small-town life pass you by. They pair their own wines, as well as wines from the world, with a seasonal menu focused on fresh, local ingredients.
The charming patio at 1285 Winery at the Blueberry Patch is covered with a rustic pergola and strings of lights to set the mood. Enjoy live music, house wines, and wood-fired pizzas around the open fireplace. During the summer, four-legged friends are welcome on the patio for "Wagging Wednesdays" from 4 -10 p.m.
For the wine-lovers, The Vault Wine Bar in Shelby, Ohio offers more than 30 wines by the glass and over 150 more sold by the bottle. Craft beers are also available on tap and by the bottle. Look for live music and grilling on the patio to savor with your wine or beer flight during the summer months.
In Galion, Ohio, you'll find Fox Winery. Choose from over 29 wines and kick back with your friends. The secluded, intimate patio at Fox Winery frequently features live music. Food isn't available on the premises, but several local favorites like Bistro 217 and East of Chicago pizza will deliver to the winery.
In downtown Mansfield beside The Brickyard and near the pre-prohibition brewery district, you'll find The Phoenix Brewing Company. The Phoenix, Mansfield's only brewery and tasting room, was once a mortuary and funeral home. During the Final Fridays Concert Series, seats on the patio are in high demand. The taproom features 16 taps including the six Phoenix flagship beers and rotating seasonal and high gravity beers. This patio pairs well with delicious eats from one of the rotating food trucks and an award-winning brew. Ask for a list of local restaurants that deliver to the brewery.'
The Happy Grape Wine Bar & Bistro in Lexington, Ohio has a unique patio that features a sprawling mural. Choose from over 100 wines from around the world, or order a traditional cask ale from Laxton Hollow Brewing Works at this relaxed and fun wine bar where live music is featured weekly.
Why do we love patios so much? It's hard not to love beautiful weather, dog-friendly dining, and the live music that comes with eating outdoors. Not only are they an added option to the dining landscape, but they foster a bustling atmosphere that improves the profile of our communities and reanimates our urban areas. So where are you eating and drinking first? Share your outdoor dining adventures with us by using the hashtag #DestinationMansfield when you share your photos online!