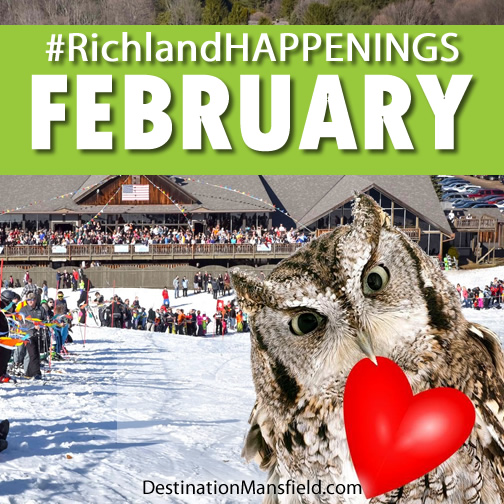 February is here, with snow and crisp temperatures. Great news for all you snow enthusiasts and the upcoming ski events at Snow Trails! Or come in from the cold and experience the vibrant arts scene of the Mansfield area! See the Destination Mansfield-Richland County calendar for ways to beat the winter blues.
Take advantage of the tremendous snowfall this winter and hit the slopes at Snow Trails. Learn, join in or just watch, and have fun at their events. From the Big Air Competition (Feb 3) for snow boarders, to the wildly popular 57th Annual Ski Carnival (Feb 24-25), there is entertainment, food and enough snow to go around. Come back for Late Nights, Live Music and Glow Tubing that you won't find anywhere else. Head to the Ohio State Reformatory, filming site of The Shawshank Redemption, as they open for weekend Winter Tours (Weekends, Feb 2-Mar 31). Get in before the crowds and explore the cellblocks of this historic site. Looking for something more? Come after dark for the Intermediate/Advanced Ghost Hunt (Feb 24), the first of the season. Learn from experienced ghost hunters and use professional equipment to search for the paranormal at the reformatory.
Warm up with an exploration of the arts. Wander the Watercolor Ohio Exhibit (Jan 20-Feb 25) at the Mansfield Art Center, featuring talented painters from across the state. The Renaissance Youth Opera Theatre presents an adaptation of Cinderella The Slipper and the Rose (Feb 3-4). Listen to the cosmic dance of The Planets (Feb 10) performed by The Mansfield Symphony Orchestra. Laugh out loud at the small-town antics of the residents of Greater Tuna (Feb 9-10, 15-17), put on by The Mansfield Playhouse.
Don't forget to take your special someone out for Valentine's Day. Dine and enjoy live music at one of the wineries and breweries on our Wine & Ale Trail. Get away for a romantic weekend at our beautiful Bed & Breakfasts. Attend Malabar Farm's annual Big House Valentine's Bash (Feb 9-10, 16-17), featuring a 5-course formal dinner and live music. Expand your palette for a romantic evening at Wishmaker House B&B for their Wine Pairing Dinners (Feb 9-10).  Enjoy the beauty of the great outdoors? Take the Sweetheart Hike to Hemlock Falls (Feb 10) and stay after for dinner and dancing. Childcare provided. Create your own Valentine's Day adventure at DestinationMansfield.com
Be sure and check our Calendar of Events for more events in the snow and out!