Meet the Owners, Wine and Ale Trail Series
Imagine sipping blueberry wine with friends as you sit on a patio overlooking a real blueberry plantation.  Now that's authentic, just like the 1285 Winery.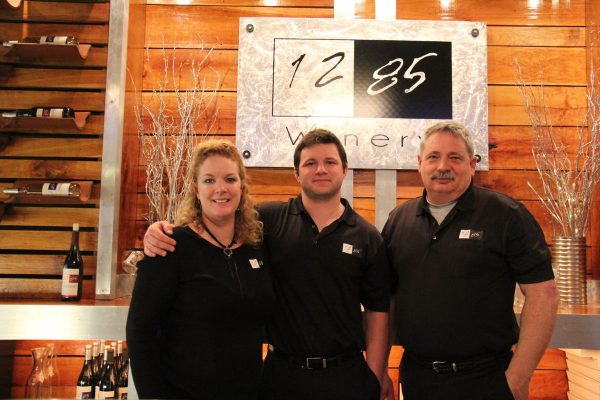 Meet the owners! Lisa and Steve Beilstein opened 1285 Winery on site in 2014. Their son Andrew runs the operational part of the winery, creating new blends and classic local favorites with fresh produce. Their rustic friendly atmosphere is a welcome environment for dinner and wine seekers from all over.
Creating specialty fruit wines on site from apples, raspberries, pears, cranberries, and blueberries sets 1285 Winery apart from other wineries in the area. According to Andrew, the house favorite is their Sweet Blueberry Wine, with multiple requests for glasses and bottles each night. But they also offer local craft beers on tap, wood-fired pizzas and an intimate setting for private events.
Lisa and Steve built the Winery using repurposed materials from around the area and even wood from trees on the farm which had been felled by storms. The comfortable atmosphere and beautiful scenery from the award-winning patio keep it a regular spot for both local customers and out-of-town visitors. Andrew works at the winery every night, meeting customers and serving his hand-crafted vintages. He says customers come back for the unique flavors and atmosphere, "we are a laid-back, good-time place." Visitors can expect live music, wine-release parties, Tap Takeovers and a robust crowd at the opening of the blueberry season.
Steve and Lisa bought the land for the farm in 1981, originally intending to start an apple orchard as a hobby. But after extensive soil testing, The Ohio State Extension informed them that the ground was not good for apples, but ideal for blueberries. The Blueberry Patch was born 37 years ago, with blueberry picking in July and much trial and error starting out. They have now grown into Ohio's largest blueberry plantation, covering 27 acres. Over time, and with great feedback from customers, The Beilsteins opened the greenhouse, the giftshop, Blossoms Café (with their original coffee and tea blends).
While Steve brought his years of experience as an architect to create their beautiful wooden buildings and Lisa bolsters the business with her degree in business and marketing, it was their son Andrew who came home from college with an interest in brewing. This lit the spark that would become 1285 Winery. Lisa says, "we have always listened to our customers." From requests for gardening goods, to hungry blueberry pickers looking for a lunch, to requests for blueberry wine, The Beilsteins have not yet shied away from a challenge. In 2014, Andrew officially joined the team as vintner, creating diverse and delicious wines from home-grown produce. "I've had a lot of other jobs," says Andrew, "but this is where I wanted to be and what I wanted to do."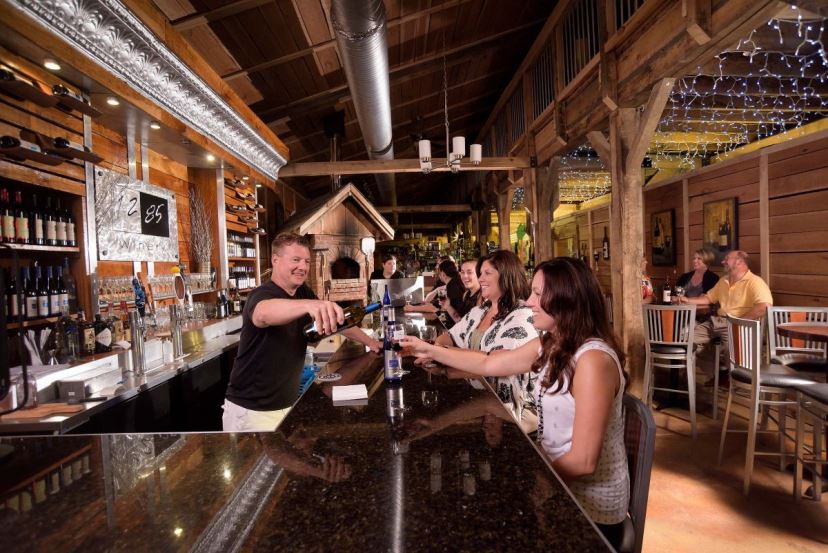 The Beilsteins all agreed that the best part of owning 1285 Winery is the people they get to meet while working on site. "The favorite part is always the customers," says Lisa, "You can be having the worst day and then a customer walks in. They are happy to be here, happy to talk to us and it can just turn your whole day around." Andrew tends the winery every night, meeting customers with a smile and engaging conversation. "We do this for the customers," he says. Many guests become repeat customers in multiple parts of the business, returning weekly, monthly or yearly and they are all greeted like family. Lisa says there are many she has gotten to know over the years and "it's not the same if they don't come."
This atmosphere of family togetherness may stem from the basis of the business, family-owned and operated by the Beilsteins and their four sons for the last 35 years. "Our boys were raised here, it's really all they know." Lisa says that all her boys have gone and pursued different interests but that they have all expressed interest in coming home again and adding their unique talents to the winery and the whole Blueberry Patch. Each part of The Blueberry Patch sees its own niche of repeat customers and the Winery has only added to that diversity. "We are really the only thing of this kind in the region," says Lisa. With their homemade wines straight from the farm and the many other offerings, this location is certainly a find. Andrew refers to 1285 Winery as an agra-business, where they serve local, buy local and promote other local events and businesses.
Lisa and Steve keep looking for new opportunities as they move into 2018. Some big dreams they can't announce yet, but they are always finding new things to do and listening to their customers. "People have begged us to open locations in Cleveland and Columbus, but we would want to be fully prepared to do that. We have great loyal customers here." For now, they are hoping to expand their private events with simple planning tools, great wine, and catering options. The Beilsteins have received overwhelmingly positive feedback from winery customers, praising the wine, food and one-on-one customer service. As always, they are trying to find new ways to improve the customer experience and keep their family atmosphere. They truly believe this is the important part of the whole business. Lisa says, "It's about creating memories…we like to be a part of that."
1285 Winery at The Blueberry Patch
1285 W. Hanley Rd.
Mansfield, OH 44904
Look for more articles in our seven-part Wine and Ale Trail series "Meet the Owners" featuring the owners of local wineries and breweries near Mansfield, Ohio.  Miss one?  See the other blogs in the series at www.DestinationMansfield.com.