As June arrives, we welcome sunshine, warm weather, and summer vacation! Whether you're visiting Mansfield or opting for a relaxing staycation, there are plenty of events to fill your schedules, like a paranormal women's retreat, a Bluegrass Americana Music Festival, motorsports events, and the annual Miss Ohio Pageant.
The Great Outdoors ­­— The Spring Flower Show (June 1 & 2) at Kingwood Center Gardens is a perfect opportunity to submit your own entries or appreciate the beauty of others'. Picnic Days (June 12 & 26) at Alpaca Meadows occurs twice per summer month but kicks off in June. Any and all visitors can bring their own lunches, blankets, and chairs and enjoy a peaceful meal in the sun.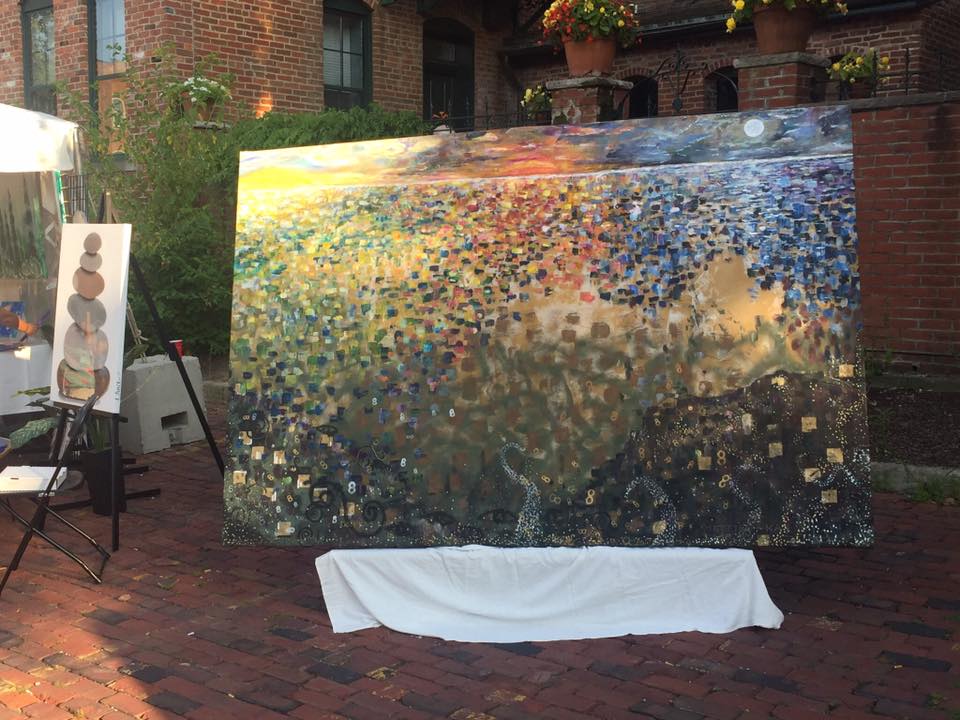 Paranormal Activities — If the more haunted aspects of Mansfield entice you, there are several opportunities to delve deeper into its paranormal side. The Ohio State Reformatory is holding a Public Ghost Hunt (June 1). They host detailed tours exploring the mysteries behind the building and grounds, and the event offers three different levels of participation depending on your experience and skill set. BSR Paranormal will host its First Annual Women's Para-Retreat Weekend (June 7-10), a women's-only experience that offers tours of Mansfield's spookiest sites.
Buy, Create, Appreciate — If you're looking to explore your more creative side, June offers plenty of chances to dabble in the arts. Create your own crafts at Alpaca Meadows' Wet Felting Flower Class (June 8) or Mansfield Art Center's Cork & Clay (June 28). Participants of any skill level may attend, and ticket prices include materials.
If supporting other artists is more your speed, the Vintage Peddler (June 7-9) and Artistreet Summer Art Carnival (June 1) celebrate local artisans and their crafts in downtown Mansfield.
Family Matters — If you're searching for activities and events to keep the kids entertained, Little Buckeye Children's Museum offers art classes every Thursday and music classes every Friday, both designed for children ages 2-8. The Renaissance Performing Arts Association's Family Film Series will show Raiders of the Lost Ark (June 2) and Mansfield Playhouse Youth Theatre will be performing DreamWorks Madagascar: A Musical Adventure Jr. (June 7 & 8, 14 & 15, 21-23).
Sounds of Summer — Summer welcomes the rise of live music performances in all genres. Peter Conrad, who plays classic rock, folk rock, and country rock songs, will perform at the Wishmaker House (June 5 & 26). Ricky Mitchell, a singer-songwriter from Knoxville, Tennessee, will perform at the Happy Grape (June 29), as will Two Bit Hustler (June 28), an acoustic duo. Smoky Run Music Festival (June 28-30) features an extensive lineup and various food and art vendors.
Need for Speed — Mansfield Motor Speedway and Mid-Ohio Sports Car Course both stay busy throughout the summer months. Mid-Ohio offers the Cooper Tires ARX of Mid-Ohio (June 8 & 9), a rallycross competition, and the Vintage Grand Prix of Mid-Ohio (June 21-23), a trip through motorsports past, present and future. The Sprint Car World Championship (May 30-June 1) wraps up at Mansfield Motor Speedway as the month begins, with Monster Truck Mania (June 15) and the All Star Circuit of Champions (June 20) following. For a full list of motorsports events in June, click here.
Miss Ohio — The Miss Ohio Pageant (June 8-15) brings forth a full week of activities, concluding with the crowning of Miss Ohio 2019 and Miss Ohio's Outstanding Teen 2019 at the Renaissance Theatre. The week kicks off with a welcome ceremony and fashion show at Richland Mall (June 8) as well as a parade through downtown Mansfield that features the contestants (June 9).
For a full list of events this month, be sure to continuously check the Destination Mansfield – Richland County Calendar of Events— new events appear constantly! You can also check out the hashtag #RichlandLIVE on social media to keep an eye on all your favorite local musicians.
Written by Destination Mansfield – Richland County Journalism Intern, Amanda Ehrmantraut