The Ohio State University at Mansfield Theatre offers great college theatre for under $10. Their user-friendly, intimate space at Founder's Auditorium seats 340 patrons and entertains them with three major performances a year, typically a drama, a comedy and a musical. They also present several smaller student-led productions a year. The theatre has kept up their more than 45-year tradition of high caliber performances with a mix of student, faculty and community member casts performing in a wide range of pieces. This raw talent and fearlessness to try all different genres make the theatre popular with audiences from all over Ohio. Their first show of the Spring Semester will be the stage version of the cult classic film Rocky Horror Picture Show, March 1-4. This will be followed later in the semester by a student-led rendition of The Vagina Monologues, since this play deals with strong issues such as women's rights, abuse, identity and human trafficking, all proceeds benefit the local Domestic Violence Shelter.
Old with the New
Joe Fahey, Associate Professor and Director of Theatre on the OSU-Mansfield campus, says the theatre fills a niche in the performance arts scene of Richland County. "One of the things we bring to this environment is our wide spectrum of shows… we are charged with developing a taste for classic theatre, blended with modern pieces that are thought-provoking and socially conscious." A good example of this is their latest show, The Heidi Chronicles, the audience follows the 30-year journey of a woman struggling with personal identity and women's rights. This blend of classic and modern, traditional and controversial repertoire makes the theatre program at OSU-Mansfield attractive to prospective students and community players. There is talk of expanding the season of the theatre to include a summer show and another spring program, targeted at younger audiences.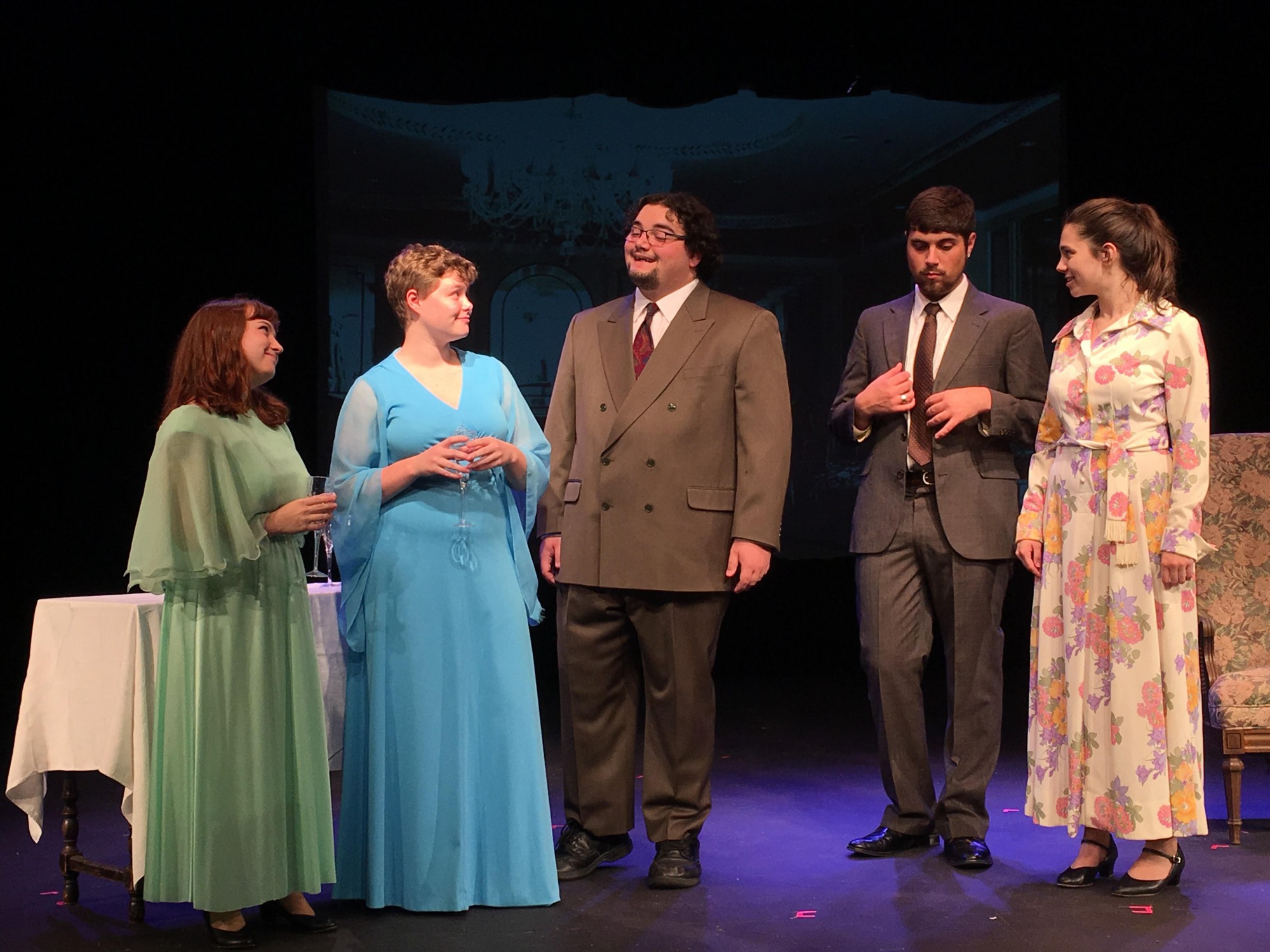 College and Community
The theatre is very conscious of campus-to-community relations. OSU-Mansfield is a relatively small campus, with a high commuter population. Casts of productions are often a blend of students, faculty, staff and community members who want to be involved either on stage or behind the scenes. Community members often come back for repeat performances, staying involved for anywhere from 3-6 performances over two seasons or 1 play a year for 5-7 years. Fahey speaks highly of these returning cast members as they bring experience for the students to work beside and a sense of continuity to a constantly changing casting pool. This blend of campus and community also includes the audience. Most audience members are from the surrounding area, including some, according to Fahey, who come from over an hour away on a consistent basis. "They come to me and say they like the variety of what we offer." Many college campuses keep their cast and crew exclusive to students, but by opening up to local talent, the OSU-Mansfield Theatre benefits from the opportunity to work with community artists of different ages and backgrounds and can provide its students a more exciting and challenging learning environment.
Open to Everyone
"There is a robust cultural community here [in Mansfield]." Fahey talked about collaborations within the performing arts community, having paired the theatre productions with The Mansfield Art Center, Renaissance Theatre, Mankind Murals and The Mansfield Playhouse. Fahey sees the performing arts as a gathering point for individuals to experience life and exchange ideas. "When you have a group of individuals involved, not only in creating art but in experiencing art, it becomes a source of community pride." This is part of why the theatre chooses to purposefully keep their inexpensive ticket prices, so that "no one for lack of resources would be denied the opportunity to experience a live performance… We want local community members to feel like this is their theatre too." Get behind the scenes, on the stage, or in the seats, for a one-of-a-kind experience with the Theatre Program of The Ohio State University at Mansfield.
Auditions for The Rocky Horror Show are Jan 16 and 17 at 6pm in Founders Auditorium.
Contact Info
The Ohio State University at Mansfield Theatre
1760 University Dr
Mansfield, OH 44906
www.go.osu.edu/mansfieldtheatre
https://www.facebook.com/osumtheatre/
Email: fahey.9@osu.edu
Department Phone: 419-755-4276
Box Office: 419 755-4045