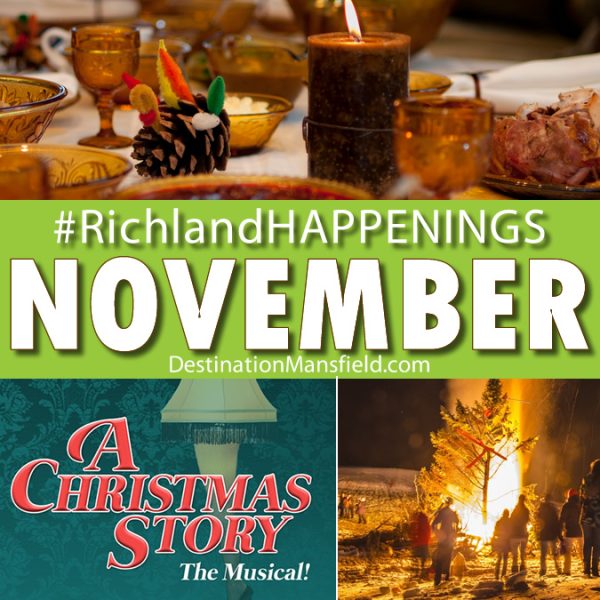 Get out of the house and do something fun before the holidays start arriving this November! The Destination Mansfield-Richland County calendar is full of live music and performances, traditional fall events and the beginnings of Christmas activities.
Do you enjoy history and finding rustic treasures? These events are perfect for a crisp fall day. Explore the booths of antiques and crafts during the Black Cat Primitives Gathered Treasures Show (Nov 4) at the Richland County Fairgrounds. Head across town for more handmade treasures and gift options at Simple Goods Early Country Antiques & Primitive Goods Show (Nov 4). Learn to cook like a pioneer at Malabar Farm State Park. Put together a traditional Thanksgiving feast without the trappings of the modern kitchen at the Hearthside Cooking Workshop (Nov 4-5) and Hearth and History (Nov 11). Heart and History attendees will also take a tour of The Big House. Stay enveloped in the history of Richland County. Explore the Ohio State Reformatory as they open on weekends for their Holiday Tours (Fri-Sun, Nov 24-Dec 17).
Not quite ready to let go of Halloween? Your last chance to Escape from Blood Prison is Nov 2-5. Grab your flashlight and explore Haunted Mansfield one last time for the year. Walk through the darkened halls of the Haunted Bissman Building for their last Ghost Walk (Nov 4) of the season. Take a guided Ghost Walk at The Ohio State Reformatory (Nov 17) or scare up some spirits on your own during their all night Ghost Hunts (Nov 11, 18).
Start off the Winter season at Snow Trails 10th Annual Zozo Party  (Nov 11). Enjoy a massive bonfire, live music and food completely free! Start the holiday theater season with two great performances. The Ohio State University at Mansfield Theatre presents an irreverent comedy The Heidi Chronicles (Nov 9-12), to keep you laughing and deliver a poignant message about self-discovery. Or start off with a spin on a classic: A Christmas Story, the Musical (Nov 18-19), presented by the Renaissance Theatre. Enjoy Christmas at Kingwood (Thur-Sun, Nov 25-Dec 30) with its iconic 18 ft Christmas tree and classic Christmas decorations. Explore the snow covered grounds of Kingwood Center Gardens, featuring creatively bedecked trees, live music and refreshments.
Find something in Mansfield, Richland County for your end-of-Fall festivities. For a full list of area events, see our Calendar of Events.