By Alexia Kemerling
Historic buildings, streets lined with locally owned shops and restaurants, vibrant community events — these are just a few features of downtown Mansfield. The city center even has its own soundtrack thanks to Richland Carrousel Park's joyful organ music. Meet us on Main Street for a day filled with art, culture, good food and fun.
Fuel your morning with a latte from Relax, It's Just Coffee and a pastry from Blackbird Bakery. Neighboring 3rd Cup Tea offers lighter caffeinated beverages and gourmet toast. Try one of Buckeye Bakery's famous cream sticks for a sweet start.
Young children will love visiting Little Buckeye Children's Museum — which will soon offer even more activities with a 2022 expansion into the Imagination District.
Families with older kids (ages 10 and up) can test their throwing arms at Axe Social Lounge. This extreme version of darts is also perfect for a date night or outing with friends.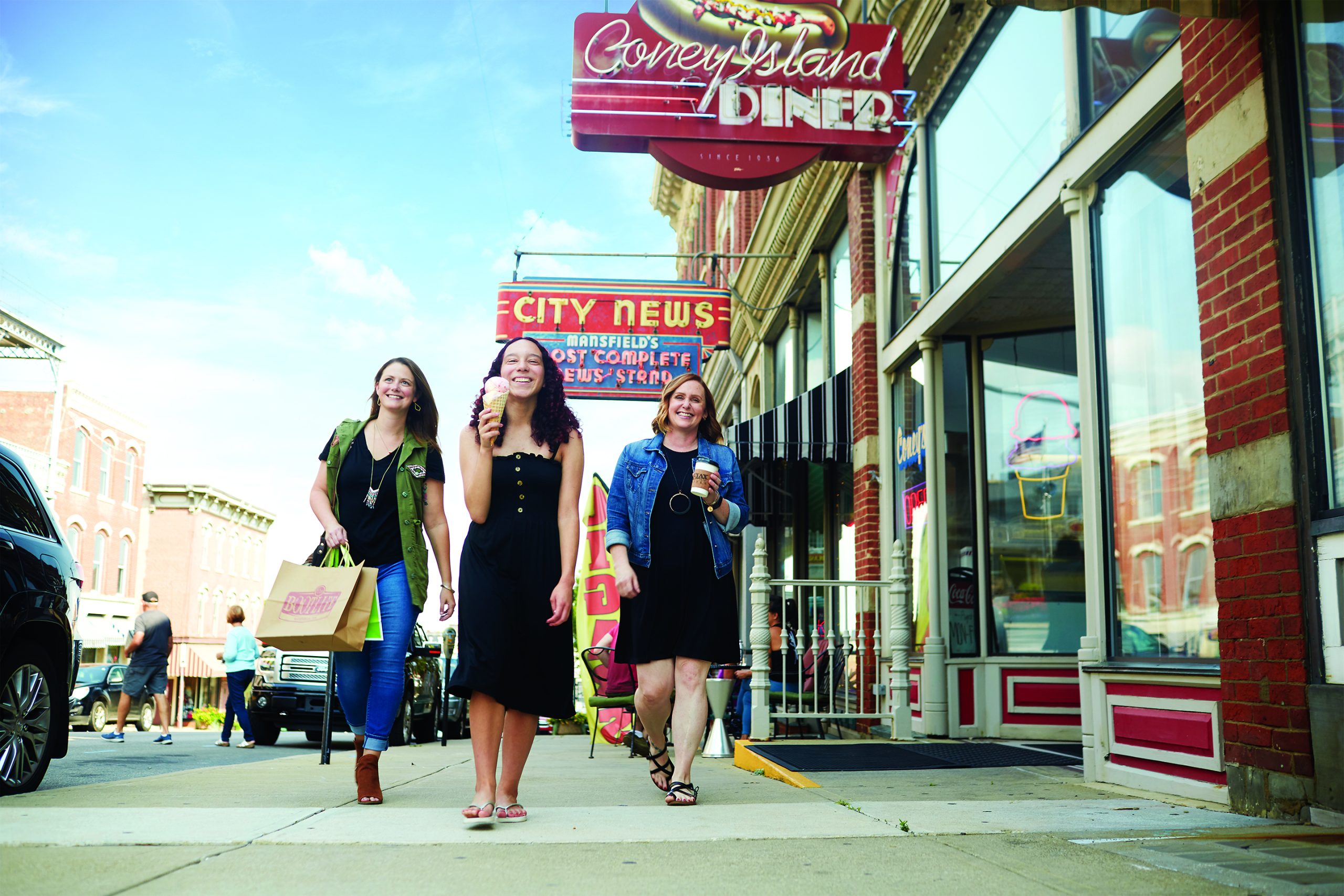 Ready to break for lunch or dinner? You'll find a variety of cuisines to fill your plate. Choose from two coneys with Coney Island Inn, known for their breakfast, and Coney Island Diner, known for their coneys and pea salad. The smell of slow-roasting lamb will lure you into Athena Greek Restaurant. Fresh-caught fish and lo mein dishes are on the menu at DLX. Grab a slice from Two Cousins Pizza, a basket of wings from City Grille & Bar or crab cakes at Reindeer Grill. Local haunt Uncle John's Place is known for their burgers and fresh-cut fries. Visit City Hall for soup and sandwiches at City Garden Café.
At the beginning of the month, businesses stay open late for the First Friday Shop Hop. Take home a living souvenir from Tara's Floral Expressions. You never know what treasures you might find in Mansfield Antiques Gallery and What Goes 'Round Thrift Shoppe.
Don't miss out on Mansfield classics. City News-Suzy's Smoke Room and Crowe's Shoes have served downtown patrons for over 80 years, and Don Nash Limited has catered to local styles since 1961.
On Final Fridays, the brick lot just off Main Street transforms into a vibrant concert venue — The Brickyard. This outdoor stage lends its spotlight to musicians and performers right in the heart of downtown. Local food trucks park along the lot, serving up a variety of eats. This event, hosted May through September, showcases the city's resurgence and draws thousands of visitors.
Find more live music at The Phoenix Brewing Company, Hudson and Essex, The Warehouse Tavern and more. Or just kick back with cocktails at Martini's.