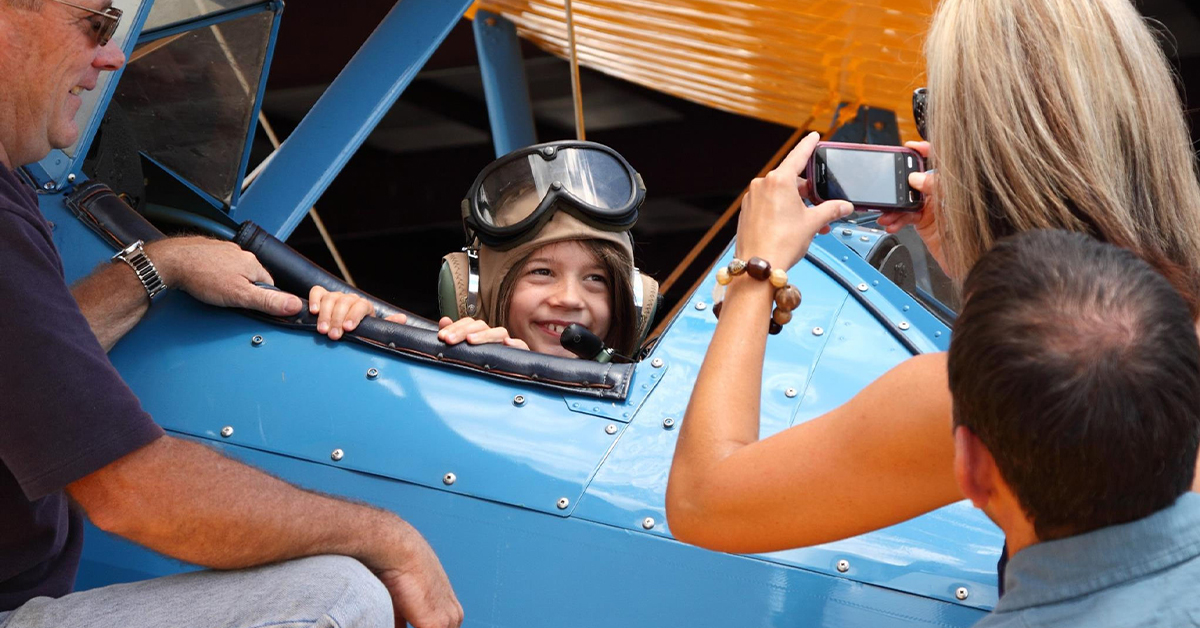 Airport Day flies into Mansfield with planeloads of family fun. Mansfield Lahm Airport's celebration roars into the city Aug. 27 from 9 a.m.-3 p.m. Summer revelers can close out the season with this new annual event designed to introduce you, your family and your friends to the hot, new updates to Mansfield Airport and to show you how important the airport is as a business driver in our community.
Junior Aviators
Airport Day spotlights how junior aviators can soar as we teach our young folks what it's like to fly through the clouds. Around since 1949, the Mansfield Aviation Club has long been sparking an interest in aviation. The Aviation Club is working with the Experimental Aviation Association (EAA) to take kids on a tour of how airplanes work, how aeronautical charts are used to map flight plans and what each feature of airplane interior and instrument panel does and how it works. Volunteer EAA pilots donate their time and their personal aircraft to offer free 15-minute flights to young first-time flyers as they learn the basic steps in the flight pattern. (No aerobatic maneuvers being performed.)  Pre-registration is required and can be done on-line at YE.org.
See Big Airport Updates
Guests can get a backstage pass to the 2,400-acres airport, which is home to 62 private, military and corporate aircraft, including single- and multi-engine planes, jets and more. You can learn about the new flight school, AeroTrek Flight Academy, and a self-serve fuel tank which allows pilots to fuel up at Mansfield Lahm 24 hours a day, making this general aviation airfield with its FAA-controlled tower and seven-day-a-week operation extra appealing to leisure and business visitors alike.
The Kids Zone, staffed by the Civil Air Patrol volunteers, features bounce houses and interactive inflatables while a display introduces guests to the businesses of Mansfield Lahm Regional Airport business.
More to Explore
WWII and general aviation buffs will love the Air Power History Tour that will also be on site during Airport Day offering paid tours of and rides on WWII aircraft. A food truck rally with 10 vendors that cover all types of food runs from 10 a.m. – 3 p.m. Learn more about Airport Day and details about Mansfield Lahm Airport and flying into Mansfield. DestinationMansfield.com connects you to dining, attractions, and lodging to complete your experience.