With all the planning that goes into a conference, meeting, or wedding, don't forget to look to area businesses to purchase thoughtful, local gifts that will welcome guests to the area with a more personal touch.
Little Treats. Big Hits.
Baked goods and edible items have become a popular wedding favor since they can be eaten and won't end up in the garbage like a less environmentally friendly trinket. Treat your guests to customized bags of popcorn or taffy from Swavory. They can create a custom label with the name of your company or the bride and groom. Buckeye Bakery creates custom-designed cutout cookies, cupcakes and more. The team is happy to work with you to create a custom theme or add your business logo to your cutout cookies.
Think outside the bottle.
Wines pair well with weddings and events, so send your guests home with a bottle of wine wrapped in a personalized label. Fox Winery offers custom wine labels to place on their signature wines. Couples can help design their own wedding label, featuring names, a special message, and even a photo of their choice. Book a mini photoshoot with their partner Liv Fox Photography and pick your favorite photo to place on the label. Another gift that will help guests remember the brewing love of a couple or the brewing success of a company is a perfect blend of hand-roasted coffee beans or tea bags from The Blueberry Patch.
In addition to over 30 specialty flavors of roasted coffee, the Blueberry Patch also sells bottled wines from 1285 Winery at The Blueberry Patch which make great local gifts for the individuals who helped make your event possible. You can also find local wines at Cypress Hill Winery, Fox Winery, and Wishmaker House Winery. In fact, even more of the area's Wine and Ale Trail nine locations have options for unique gifts like growlers, pint glasses, and even olive oil.
Build a local gift basket.
Friends and family of the bride and groom often go above and beyond to help plan and execute all the little details. A gift basket is a perfect way for couples to thank all those who helped make the day perfect. The same is true for meeting planners for corporate events or volunteers with an association retreat. Create your own gift basket with locally made items like Jones Potato Chips, Crossroads Original Designs candles, and Cooper's Mill jellies and jams. Or leave the planning to the pro's and purchase a custom-made gift basket from Wayne's Country Market or Pumpkinseed Bulk Foods. Both places assist with item selection and can work within your budget.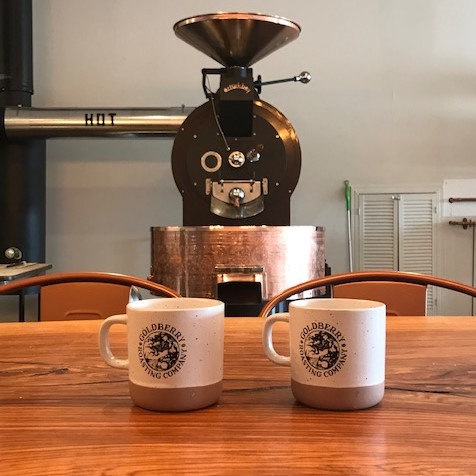 Get creative with meeting breaks.
Ask your caterer to include some local favorites in your menu. A Richland County staple, the farm market at Apple Hill Orchard, brings you fall favorites like cider, donuts, and apples all year round. Donuts have been trendy event favors for a while, but fresh apple donuts are a unique twist on the trend that will give your event lots of fall flavor when paired with apple cider.
Taking a coffee break? Brew something local for your attendees! Order a custom blend from local artisan coffee roaster, Goldberry Roasting Company, or stick to one of their house roasts. They even offer private labeling for events.
Tell your out-of-town guests what's here!
Let Destination Mansfield – Richland County help your guests navigate the area with free Welcome Bags for the group. Give us a call at 419.525.1300 and we'll help you build a bag with Visitor Guides, Wine & Ale Trail brochures, maps, and other helpful info. They are a great way to welcome meeting attendees and wedding guests into town, as well as a resource for new employees from your human resource department.
Still looking to find the perfect place for your meeting or to tie the knot? Mansfield, Ohio offers year-round venues for weddings, receptions, and meetings large and small. Check out our venue comparison chart to see what places could fit your needs or contact Destination Mansfield staff member, Kim Miers for ideas.