In Richland County, you'll find it easy to make memories as a family. Laugh, create and learn together, whether your kids are 2, 22, or somewhere in between.
Spot eagles, feed songbirds and learn about vultures and other native birds at the Ohio Bird Sanctuary, a non-profit haven making a difference for injured and displaced birds. Sign up for a class and enjoy the new Treehouse classroom built by the Treehouse Master that is accessible to all.
Feast your eyes on colorful exhibits in an innovative space or hone your skills making glass-blown and thrown-pottery creations at the Mansfield Art Center, a truly multi-purpose space that educates and inspires.
Saddle up on one of 52 beautifully carved animal figures, including horses, bears and ostriches during a memorable and nostalgic ride at the Richland Carrousel Park in the heart of downtown Mansfield.
Enjoy the exhilaration of downhill skiing, snowboarding and glow tubing at Snow Trails, a family-owned resort that's been providing thrills to snow enthusiasts and novices alike since 1961.
Hand-pick apples, peaches, pears, plums and cherries at Apple Hill Orchards, a 15-acre, family-owned orchard and farm market in Lexington. Don't forget to sample their legendary and mouthwatering apple donuts!
Feel the excitement of watching race cars at the Mid-Ohio Sports Car Course, a 330-acre, road-racing mecca in Lexington. Better yet, strap yourself behind the wheel for an adrenaline rush at the Mid-Ohio School.
Meet an alpaca face-to-face and shop (or make) clothing made from their luxurious fibers at Alpaca Meadows. Find alpaca products and meet other farm animals, including horses, donkeys, chickens and sheep, at Shady Lane Alpaca Farm, a popular spot for celebrating life's little moments and big events.
Discover an oasis of fun just off I-71 at Splash Harbor at Comfort Inn in Bellville, where you'll find an indoor waterpark and video arcade that is perfect for younger kids looking for a little friendly competition.
Help your kids reach new heights bouncing on trampolines, scaling a rock climbing wall, diving into foam pits and other high-energy activities at Altitude Trampoline Park in Ontario.
Recreate your own childhood holiday memories at Herlihy Christmas House, decked out with Christmas décor of the past, in Mansfield. Start a new tradition of cutting your own Christmas tree at Kleerview Farm in Bellville. While you're there, shop for presents, meet Santa Claus and pet a reindeer.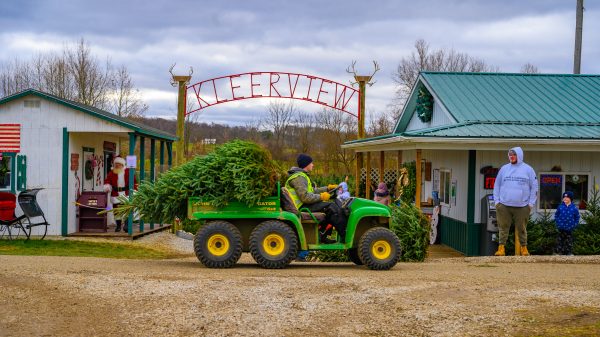 By Wendy and Mike Pramik