Meet the Owners, Wine and Ale Trail Series
On the corner of Main St. in downtown Shelby, Ohio, stands the old Citizen's Bank, now home of The Vault Wine Bar. Walking in, the high ceilings, large windows, wrought iron lanterns and marble features, makes you feel like you are in the big city. The Vault features wines from around the world as well as our local favorites from here in Ohio, plus eight craft beers on tap or 30+ popular bottled beers. Their from-scratch-kitchen features lunch and dinner specialties, like their world-class pizza, goat-cheese stuffed jalapenos, fresh salmon, Mediterranean Kale Salad, and cheese boards. Whether you are looking for a wine tasting, beer flight, a nice place to have lunch with friends or a fun Friday night, downtown Shelby has you covered at The Vault Wine Bar.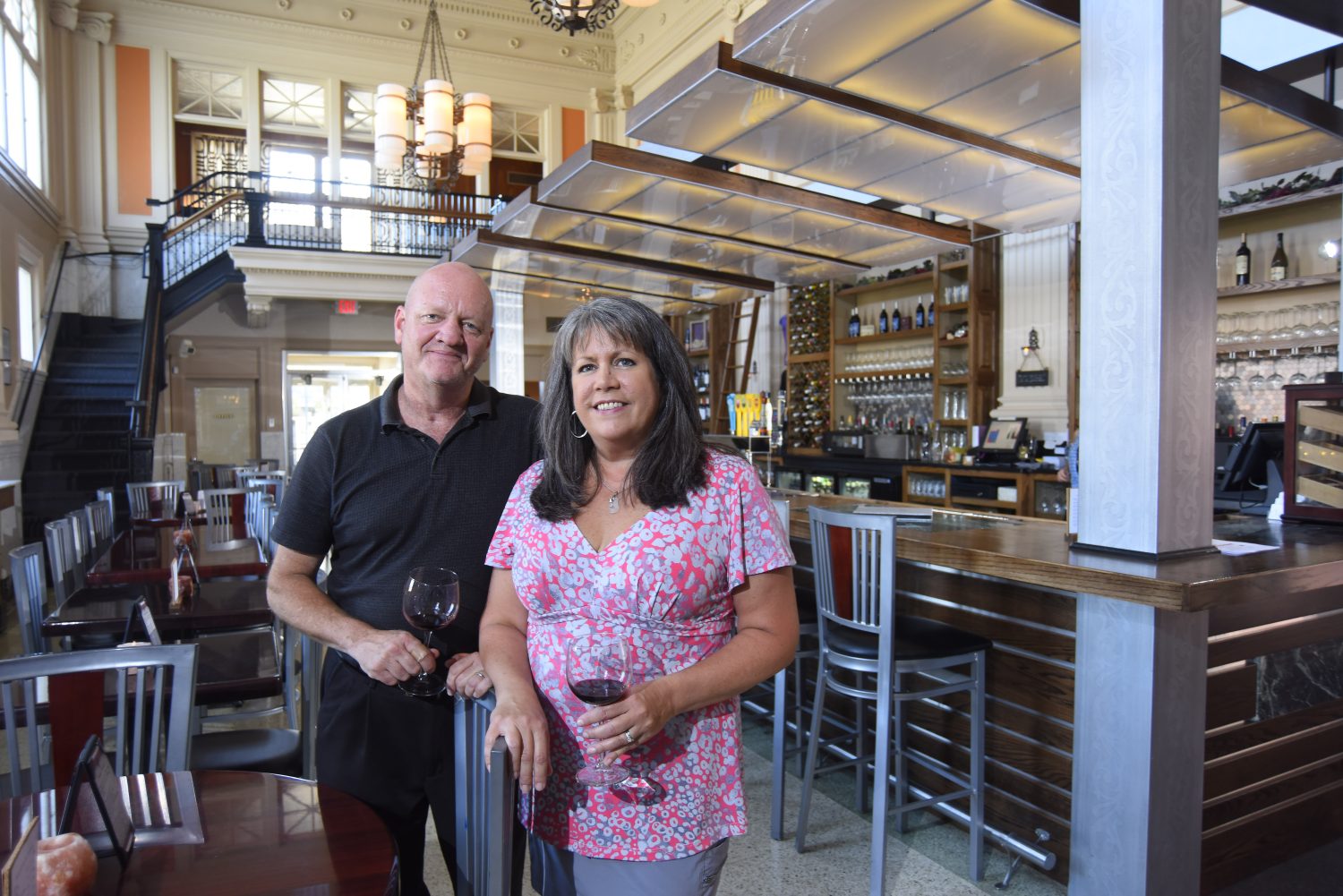 Meet the owners: Ben and Cindy Lash. Born and raised in Shelby, OH, Ben and Cindy started looking for a restaurant to open together. Ben is an excellent chef and worked in the restaurant business for several years. They settled on a wine bar as a theme when their daughter took them to one in Michigan. They loved the feel and relaxed atmosphere of their evening. "If we like going, other people might like it too", says Cindy Lash, owner. Inspiration struck when Ben and Cindy attended an event held at the abandoned Citizen's Bank building. The Citizens Bank of Shelby was built in 1911, but sat empty for years before the doors were opened to reveal its marble walls and standing vault. A group working on revitalizing downtown Mansfield held a seminar at the bank to talk about applying those same concepts in Shelby. Cindy says they immediately fell in love with the space and found themselves looking around saying, "This could be our place." Cindy found inspiration in the vault and the restaurant took hold in 2014, with the vault featuring as the wine cellar.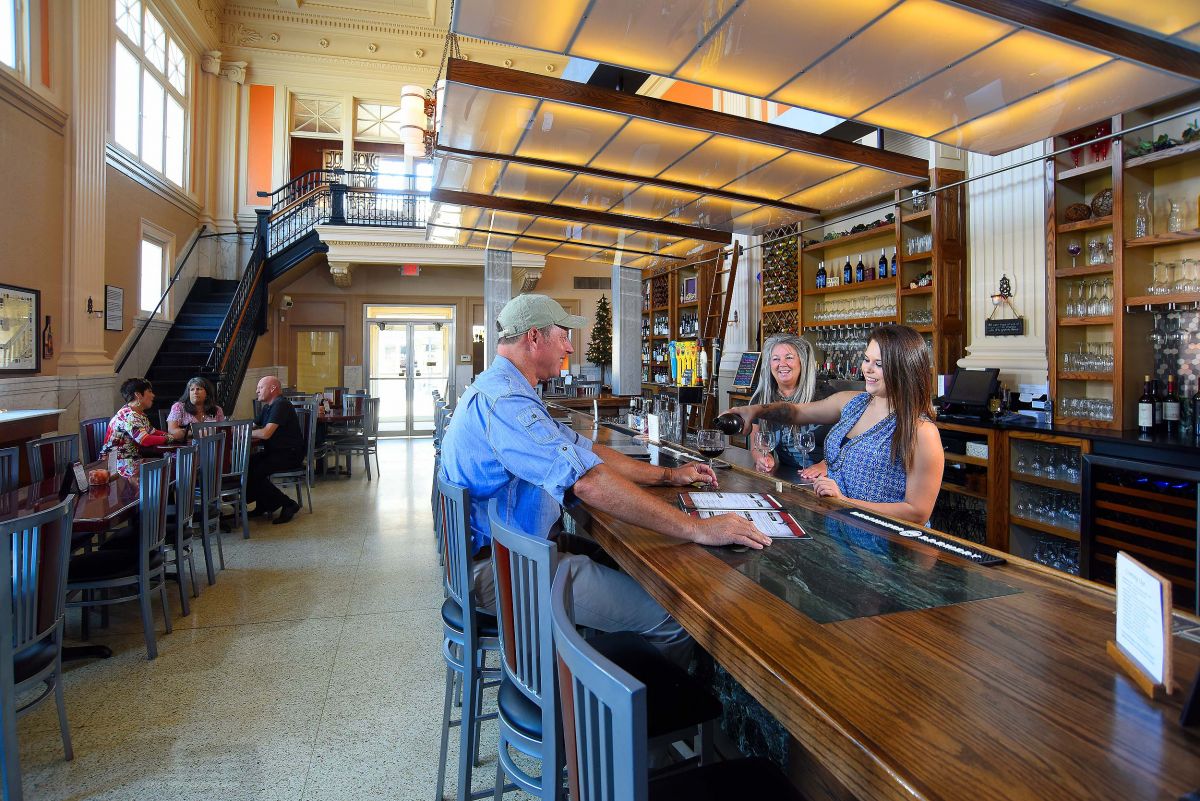 But the space is not the only source of inspiration at The Vault. Their vast array of wines will have you traveling from Mansfield to California, France to Australia and back again. This great selection keeps regulars coming back to the wine bar and traveling foodies discovering it. "We have people in here for the first time almost every day," says Cindy. Their desire to keep bringing in new people to share their place with, has led the Lash's to create events, from traditional pairings and popular Paint-n-Sips to starting their own wine club which currently has more than 150 members. The Vault began monthly bus tours, allowing guests to travel the Richland County Wine & Ale Trail. The first trip sold out and has lead to them planning more almost monthly, still selling out. In addition to this are live music nights and their annual 80's Night in September, featuring a Journey tribute band and costume contests.
Part of what the Lash's like about owning The Vault is the relaxed atmosphere they have created for their guests. "We aren't like a regular restaurant; there isn't an urgency to flip tables or move people along. People just stay. They are comfortable." The house -favorite Rodeo Red is known to everyone who goes there. They are equally famous for their pizzas. If you aren't a wine person, just come for the food. These homemade pizzas come in so many different varieties (seafood, caprese, short ribs, buffalo) that there is an all-you-can-eat buffet on Fridays where you can try them all. Visitors can also be surprised by winning "Keys to the Vault". Random days are chosen, visitors who meet that days criteria (in the Spring it was anyone wearing a yellow shirt) get a key to a safe deposit box and get prizes, from promotional items up to a $50 Vault gift card.
From these interesting events, unique foods and fabulous wine selection, The Vault Wine Bar has certainly stepped up to the challenge of opening a classy space for people to just relax, whether local or traveling. "I like that we can bring something new to the community," says Cindy. In the future, they hope to get their license to be open on Sundays, with the potential for brunch options, with mimosa and bloody-mary bars. "We're unique. We definitely have something to offer as far as atmosphere. Our wine and beer selection is great. We have something for everyone." Which, she noted, also includes non-alcoholic options. This beautiful space is great for a meal, a drink with friends, a date night or event. The Vault is truly a treasure to be shared.
The Vault Wine Bar
29 W. Main St.
Shelby, OH 44875
Look for more articles in our seven-part Wine and Ale Trail series "Meet the Owners" featuring the owners of local wineries and breweries near Mansfield, Ohio.  Miss one?  See the other blogs in the series at www.DestinationMansfield.com.