I was reminded this week, the holidays are tapping on our door. This realization arrived along with a very welcome Christmas Club check and a recent visit to the store, where an entire department had been transformed into all things Holiday. Festive lights, Christmas trees, and toy departments bursting with the latest in kid's gotta have's. Every year I swear I am going to be better organized and enjoy the season and all those things that are meaningful to me; baking, wrapping, decorating, parties, and most of all, spending quality time with family and friends.
Thanksgiving weekend officially kicked off the season and families begin to gather sharing turkey, time, and perhaps even a little of the shopping madness. What better way to unwind and catch up with friends and family than a wine tasting expedition?
Mansfield is fortunate to have not one, but two wineries/wine bars. Both are inviting with intimate space for a little easy mingling and relaxation. Each has their own unique style which is precisely what makes them a must see and do for your friends and out-towners.
Cypress Hill Winery is tucked into a courtyard in historic downtown Mansfield's Carrousel Dis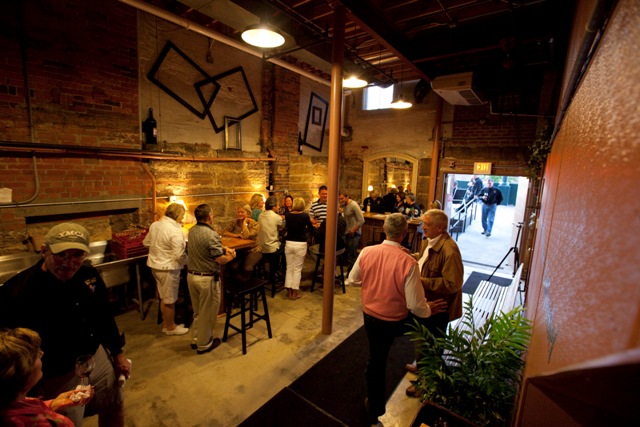 trict. With the ambiance of the French Bourgeoisie's personal wine cellar, its stone walls, oak barrels and rustic setting, are a natural fit for an evening of good conversation and even better wine.
The brainchild of local entrepreneurs, the wines are all made from California grapes and many are award winners. Some of the local favorites include a light, refreshing white known as Symphony, a rich Cabernet, known to some as Reformatory Red to pay tribute to the Ohio State Reformatory (filming site of Shawshank Redemption). The Port Wine is an ideal companion for a philosophical chat with friends, post dinner. Bottles may be purchased for off-premise consumption, or Holiday gift giving and a 10% discount is given for case purchases.
Next on our journey is The Happy Grape Wine Bar. The Happy Grape has a motto: Whether you are a newbie to the world of wine or a connoisseur, their mission is to help you find your inner happy grape. They do this well by offering a wide variety of wines from around the world as well as more than 30 different wines by the glass. Finger foods are a great compliment to the wine and conversation. You can share an antipasto platter, red pepper hummus, or several varieties of toasted flat breads. An evening at the Happy Grape is so much more than a treat for the taste buds. It's a multi-sensory experience. Evocative and lovely artwork is displayed throughout and live entertainment is a frequent treat. Wine can be purchased by the bottle or the case here too. Need hostess gifts for all of those holiday parties? Buy your gifts locally this year! Cases here can be purchased at a 10% discount.
Good friends, relaxation and wine. Life is good! I'm sure that's what Ernest Hemingway was thinking when he said, "Wine is one of the most civilized things in the world and one of the most natural things of the world that has been brought to the greatest perfection, and it offers a greater range for enjoyment and appreciation than, possibly, any other purely sensory thing."