Looking to skip the hassle and stress of making a Thanksgiving meal for yourself? Let us make it for you! Local restaurants, caterers, and even food trucks are opening their doors and kitchens to bring you a delicious holiday meal – without the cleanup!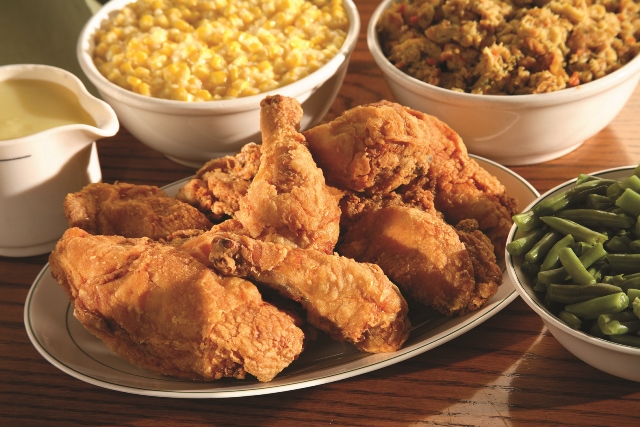 The Der Dutchman Bellville
The Der Dutchman Amish-style restaurant will be open on Thanksgiving for a buffet from 11 AM – 4 PM. Reservations are filling up fast, so call 419-886-7070. You can also pre-order Thanksgiving Pies, Cookie Trays, and Dinner Packages now through November 25.
The Skyway East
The Skyway East will be open Thanksgiving Day, with a Thanksgiving Buffet from 12 PM – 4:30 PM. The buffet will feature turkey, ham, beef, and salmon, plus 14 side dishes, and dessert for $22.50 per person.
Looking ahead: The Skyway East will be closed Christmas Eve, Christmas Day, and New Year's Day. They will be open by reservation only on New Years Eve (reservations begin December 2).
Holiday Inn & Suites Mansfield – Park 116
Park 116 at the Holiday Inn & Suites Mansfield will have a Thanksgiving Breakfast Buffet from 7 AM – 11 AM for $14.99 per person and $7.99 for kids age 3-12. Kids two and under eat free with adult purchase. The buffet will include eggs benedict, chicken and waffles, biscuit and gravy skillet, bacon, sausage, potato skillet, and fresh-cut fruit. Thanksgiving night, the dining room will be closed but we will have boxed snacks in the gift shop available for guests.
Looking ahead: On Christmas eve, dinner will be from 5 PM – 8 PM and the lounge will close at 10 PM. Christmas morning, the restaurant will be open 7 AM- 10 AM and closed in the evening. The lounge will also be closed. For New Year's Eve, Park 116 will be open for an evening of food and drink specials and music from DJ Thumper. Normal hours of operation will resume New Year's Day.
Buck's Bar and Grill
Buck's Bar and Grill is offering Thanksgiving dinner for pickup or delivery! Order slow-roasted boneless white and dark meat turkey, hardwood smoked honey glazed pit ham, buttery mashed potatoes with roasted turkey gravy, green bean casserole, cinnamon praline sweet potato casserole, traditional stuffing, apple walnut cranberry relish, and tangy-sweet broccoli/cauliflower salad for 6 people for $99. Just email or call Bucks to make your reservation and payment: info@bucksbarandgrill.net or 419-884-2825. They will also need to know a time for pick-up.
Mohican State Park Lodge
Enjoy your Thanksgiving surrounded by the natural beauty of Mohican State Park. The Mohican State Park Lodge is hosting a Thanksgiving Day Buffet from 11:30 AM – 3 PM with all the fixings of a traditional Thanksgiving dinner and then some. Just Jazz will provide the entertainment. Adults: $29.95, Children 5-10: $10.95, Children 4 & Under: Free. Reservations required: 419-938-5411
Landoll's Mohican Castle – The Copper Mug Grille
Enjoy a Thanksgiving Feast at the Castle from 11 AM – 3 PM. The menu will include herb-roasted turkey, Dijon-glazed ham, sour cream and chive mashed potatoes & gravy, praline sweet potato casserole, butter-braised baby carrots, green bean casserole with crispy shallots, kale salad with seasonal vegetables, mixed greens salad, gourmet macaroni and cheese, and assorted desserts and pastries. Adults: $24.99 and kids 10 and under: $9.99. Reservations are required (credit card required to hold space), so don't wait and book your table by calling 41-994-3427 x 0
Truckin Trav Street Food
Truckin Trav Street Food is always open – the Thanksgiving location for this locally-loved food truck is TBA!
McDonalds
Need a quick bite over the holiday weekend? The Trimble Road McDonalds will be open 24 hours over the Thanksgiving holiday. On Thanksgiving Day, the Hanley Road and Bellville McDonalds will be open from 5 AM – 11 AM, while Stewart Road will close at 12 PM. To fuel any early Black Friday shopping, the Lexington-Springmill Road McDonalds will be open 5 PM Thursday through Friday. The Crestline, Loudonville, Lex. Ave., Shelby McDonalds will all be closed for Thanksgiving.
Looking ahead: Christmas & New Year's Eve, the Lexington-Springmill Road, Shelby, Crestline, Loudonville, and Lexington Ave McDonalds will close at 8 PM. Trimble Road, Stewart Road, and Bellville will close at 10 PM.
Where will you be dining this Thanksgiving? Will you be dining in or dining out?