Performance art can be the life blood of a community, steeped in history and local culture. In the second installment of our Performing Arts Series, we feature The Mansfield Playhouse. The Mansfield Playhouse started life as two separate community theater groups: The Community Players and The Little Theater Company. Their first production, acclaimed musical Brigadoon, was performed on the main stage to an audience in church pews. Celebrating their 50th Anniversary this year, The Mansfield Playhouse is the second oldest and largest continuously-producing community theater in Ohio.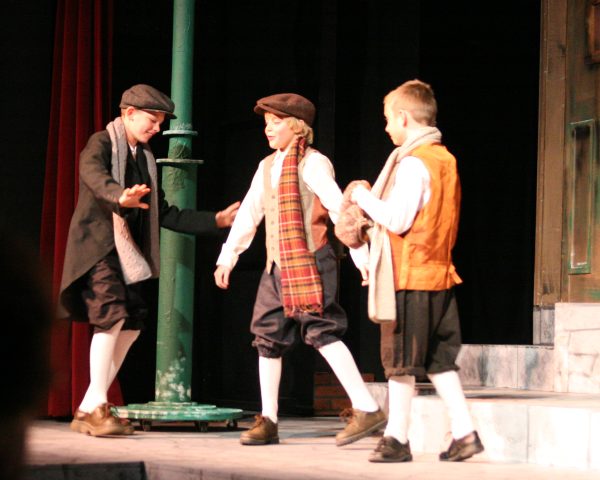 Community Theater: Welcome Home
Community is the foundation of The Mansfield Playhouse. Local actors and volunteers keep them up and running. Most of their actors have full time jobs and come in when they can. The building almost always has someone working on sets, lights, sound, maintenance or rehearsing. The Mansfield Playhouse experienced enormous growth in ticket sales over the last five years as interest returns to live theater. They are currently working on getting a catwalk for easier access to the lighting systems. They have a dream to one day be completely handicap accessible, a major undertaking which would take donations and volunteer work and time. Their accomplishments with limited space are truly amazing. For example, the current show "Noises Off", features a set that must completely revolve between scenes. They are practicing scene changes to get the time down as short as possible. Their heart for theater and community is obvious in their work. Theater Manager, Tammy Wertz says, "We are very proud of our history… Our beginnings, background and future."
The Mansfield Playhouse proves that community theater doesn't mean less professional. The casual atmosphere of the 288-seat theater, keeps people coming back for their variety of shows. Mansfield Playhouse prepares a five show Main Stage Season, two Youth Theater Productions, and two Second Stage Productions (a more intimate setting, and a musical about every two years. Their upcoming season includes comedies like "Having a Wonderful Time, Wish You Were Her", "Vanya and Sonia and Masha and Spike" and "You Say Tomatoes," followed by a Youth Theater Production of "Disney's Mulan Jr." Ticket prices average at $10 a person. Their repertoire includes comedy, musicals, classic Christmas shows, and children's theater. They keep their focus on community, featuring local talent, and sometimes original local acts.
They are particularly proud of their youth theater program. They get the opportunity to see kids grow up on stage. They learn about confidence, teamwork and communication skills that they will use the rest of their lives. While the Playhouse always encourages the growth of new talent, many adult actors keep coming back to perform again and again. Wertz says, "They [the actors] do theater all over the place, but they come back and say here it feels like home." The Mansfield Playhouse contributes to the cultural growth of Mansfield, providing a place for children and adults to explore their talents. Wertz states, "The arts enrich people's lives in ways they don't even understand… Arts in any community make that community stronger. We are blessed here in Richland County."
Get Involved
Connect with The Mansfield Playhouse on social media to hear the latest news. Sign up for "The Playbill" for up to date info on shows and auditions. You can donate, buy season tickets, volunteer and even become a guild member and help the theater to success in its next fifty years. Doug Wertz, President of the Trustee Board, writes, "We all need something to make us happy and theater is the one thing I can always count on to brighten my day. I only hope you enjoy your role, whatever it may be, at the Mansfield Playhouse as much as I enjoy mine." Find out more and get involved!
Contact Info
The Mansfield Playhouse
95 East Third Street
Mansfield, OH 44902
Box Office Hours: Wed, Thur, Fri 1- 6:00 pm 419-522-2883
www.mansfieldplayhouse.com
https://www.facebook.com/mansfieldplayhouse/
Email: mansfieldplayhouse@hotmail.com
Phone: 419-522-8140
Keep checking our blog every month as the series continues!