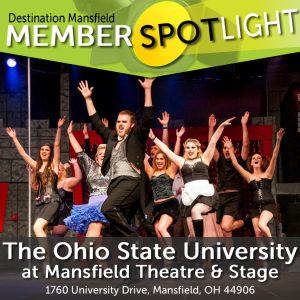 The Ohio State University at Mansfield Theatre & Stage offers quality productions including full-scale musicals, comedy sketches, and plays that range from the contemporary to the classics. They produce three main stage shows each year and several student-directed projects. The Theatre Program at Ohio State Mansfield is a division of the Department of Theatre on the main campus in Columbus.  Here students can start work toward a Bachelor of Arts in Theatre, or they can complete a minor in theatre while pursuing another major field.
University students and local community members are welcome to audition for all performances or serve as light and sound technicians or crew members behind the scenes. From directing, to acting, to creating costumes, props, and sets, the program offers many unique and thrilling educational experiences. The Studio Theatre/Theatre Club creates studio shows throughout the year, performs service projects, and serves as a place for friendship in performance. Membership is open to all and includes regular social gatherings. Look for their special projects by students and faculty, new works by local writers, staged readings, and less traditional fare in an intimate setting.  Join in for a chance to direct, produce, design, even write and perform your own show.
If you just prefer to experience the theatre arts from the audience, everyone can access the performing arts at The Ohio State University Mansfield Theatre & Stage with all tickets under $10. For ticket information, directions, and a list of upcoming performances click here.