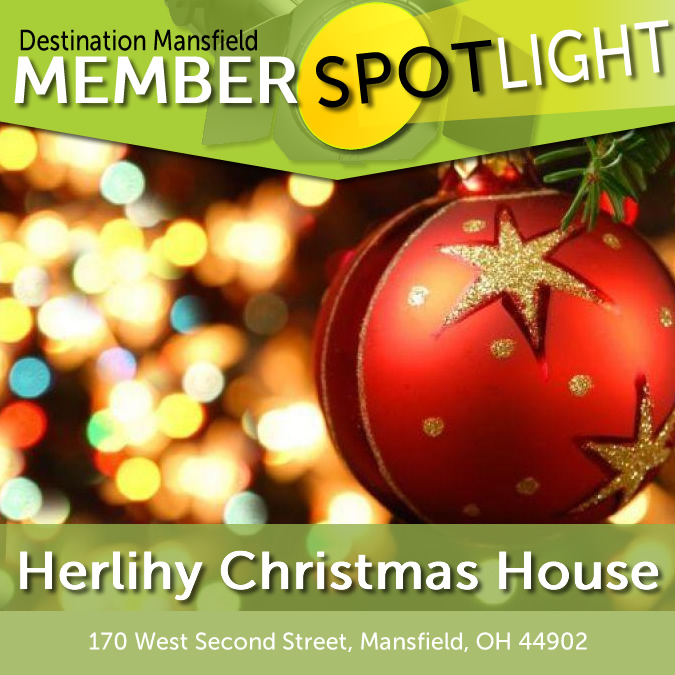 The Herlihy Christmas House is open to the public every other year during the Christmas season. Come see dazzling displays of Christmas collections – some more than 50 years old. The Herlihy Christmas House is decked with over 30 themed Christmas trees, tens of thousands of lights, countless Santas, villages, trains, and more.  Make the Herlihy Christmas tradition a part of yours.
Paul Herlihy's love for Christmas began at a young age when he would decorate his childhood bedroom for the holiday. His love for Christmas only grew as he got older and he moved into his own home. Paul married Sharon, and then along came Terri with whom the tradition lives on. The custom of opening the house to the public started in 1987 when they were invited by the Mansfield Symphony Guild to participate in a holiday parade of homes. They opened again the following year in order to raise funds for the Richland County Dog Pound and this continued for many years to come.
Then, in November of 1999 Paul passed away after a long battle with cancer. The family wanted to continue his legacy and they opened the house once again in 2001, taking donations for Toy Time and Hospice of North Central Ohio. Terri has since purchased her parents' home and moved in to carry on her father's tradition. The Herlihy's now invite you to come share your holiday season with them. In 2018, the house will open to the public December 6-9, from 6 p.m. to 9 p.m. for tours. Private Group tours are available by appointment December 1-19. Please note, this family home is not handicap accessible, and there are no public restrooms.
The family asks for a $1 donation per person that will be given to Toy Time and A Special Wish of North Central Ohio.