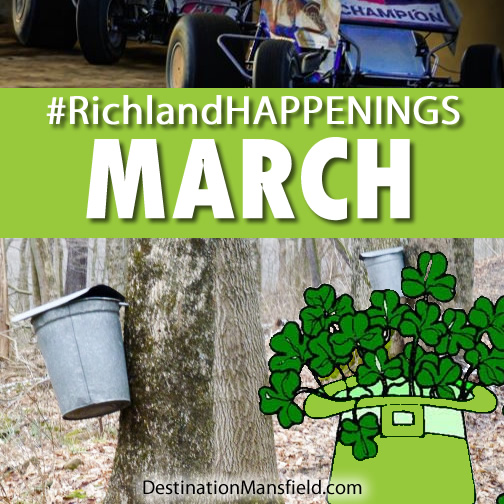 March came in like a…lion? Lamb?  We're not sure, but either way there's so much on the calendar to keep us going until spring officially kicks off on March 20.
Early in the month, don't miss Maple Syrup Days at Malabar Farm State Park, running March 4-5 and 11-12. This free festival is a great opportunity for families and friends to step back in time, learn, and enjoy the history of Ohio syrup making at Malabar Farm State Park.
Live theatre dominates the month with Sister Act at The Renaissance Theatre, along with a Teddy Bear Concert, Shrek: The Musical by the Mansfield Youth Theatre, and a Mansfield Symphony Orchestra concert.  The Mansfield Playhouse brings improv comedy to town with Four Clunkers & A Chevy and later in March and early April they perform How the Other Half Lives.
The Ohio State University Mansfield Pearl Conard Gallery presents The OSU Department of Art Faculty Exhibition thru March 24.  And starting March 27 is the 2017 Student Exhibition.
Grab your Green; it's St. Patrick's Day and area happenings include plenty of live music at The Phoenix Brewing Company (Shake Your Shamrocks) and Buck's Bar & Grill.  Kids can celebrate at St. Patrick's Day Parties at both the Little Buckeye Children's Museum and Richland Carrousel Park.
The Ohio State Reformatory is now open with winter hours and tours.  You'll also see events like a Zumbathon and Health Fair on March 19 and Public Ghost Hunt on March 24.
Located in downtown Mansfield, Main Street Books and their Borderlands program showcase Poetry on the Edge on March 18.
Community Events include the Richland Area Chamber of Commerce Business Expo at the Richland County Fairgrounds (March 16). And head to the Mid-Ohio Home Show (March 11 & 12) as you start thinking about those spring projects.
Later in the month, the big news is dirt…dirt racing that is.  Mansfield Motor Speedway goes back to their roots with an all dirt race track and a season opener on March 25 with the Triple Crown Spring Series.
Think spring and start planning at DestinationMansfield.com.   #DestinationMansfield  #OhioFindItHere
View a full calendar of events now.