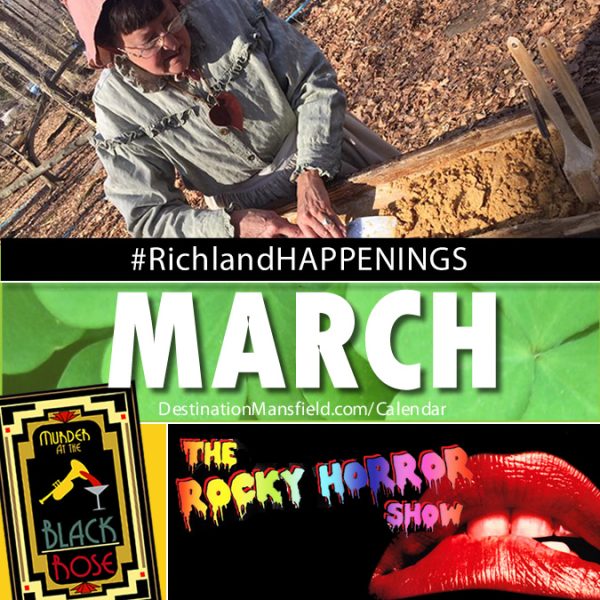 March brings an eclectic mix of activities to the Mansfield/Richland County area. Do The Time Warp at an interactive production of "The Rocky Horror Show", solve a mystery at The Ohio State Reformatory or attend The Stephen King Film Festival.  Learn to ghost hunt or taste the delicacies of the annual Maple Syrup Festival at Malabar Farm State Park. See a full preview of events on the Destination Mansfield – Richland County Calendar.
Spring lineups are thriving on the arts scene here in Mansfield. Get ready to laugh at the Mansfield Playhouse comedy Vania and Sonia and Masha and Spike (March 9-10, 16-18). This Tony Award-winning situation comedy follows bickering siblings and their movie star sister, who crashes into their lives bringing chaos and laughter. The Stephen King Film Festival (March 15) includes a year-long appreciation of Stephen King book adaptations. One movie will play each month, March's feature film is Misery. Attendees watch the movies on the big screen of The Renaissance Theatre and are encouraged to attend a Q&A beforehand with local experts, professors and Stephen King enthusiasts. Prefer to get more involved in the performance? OSU-Mansfield Theatre presents "The Rocky Horror Show" (March 1-4). This crowd-favorite encourages the watchers to become a part of Frank N. Furter's gang and cheer on (or boo) Janet and Brad as they try to survive the night of rock-n-roll and strange sensations. Buy tickets now for the annual Ohio State Reformatory Murder Mystery "Murder at the Black Rose" (March 2-4, 9-11). You're invited to a 1920's speakeasy for cocktails, food and a side of crime. Do your best to solve the mystery before time runs out.
Want to learn to be a ghost hunter? Ghost hunting season is back at the Ohio State Reformatory and this year they are adding more classes with new equipment for serious ghost hunters. Ghost Hunt Challenge (March 24) includes a chance to learn from experienced ghost hunters on the basics of equipment, what to look for, and tips on what to do. Attendees will then be allowed to explore on their own and test their new abilities. Already an experienced paranormal investigator? The Intermediate/Advanced Ghost Hunt (March 30) is for you. This hunt allows more time to explore more areas of the historic prison. This hunt is for those already familiar with ghost hunting equipment and practices.
The Maple Syrup Festival  (March 3-4, 10-11) at  Malabar Farm State Park takes you back to days past with demonstrations of sugaring techniques and free samples of maple products. Learn about area businesses and the many services and events offered in the Mansfield area at the Richland Area Chamber of Commerce 13th Annual Business Expo (March 22). Prizes, samples, giveaways and door prizes available to attendees.
For more entertainment and interesting experiences, be sure and check our Destination Mansfield – Richland County Calendar of Events.