Meet the Owners, Wine and Ale Trail Series
Sample wines in an intimate setting inside a working winery. Cypress Hill Winery offers 22 different varieties of wine, brewed on site from California grapes. This small batch urban winery sits in the heart of downtown Mansfield, Ohio, in sight of The Carrousel District and The Brickyard. The exposed stone walls and oak wine barrels lend a rustic charm to the wine cellar and a cozy atmosphere for its patrons.
Meet the owners! Rick and Carol Taylor created Cypress Hill Winery with their business partners Gary and Jan Jones (now retired) in 2008. Rick and Gary are old friends who began learning how to make wine as young men with Gary's father and old Italian friends. They moved the operation to Rick's basement, where the team began creating different flavors and experimenting with California grapes. After years of entering an amateur wine competition in Little Italy, Rick and Gary were finally awarded "Best of Show" for their famous Red Zinfandel out of 211 entries in 2007. This was the beginning of Cypress Hill Winery.
Rick also owns Jay Industries, which encompasses several other small businesses. Despite these work commitments, he takes the time to create beautiful vintages for their wine cellar.
Rick and Carol maintain an intimate atmosphere in their winery, working long hours to create robust flavors to have ready for their weekend guests. The choice to use California grapes sets this winery apart from others in the region, allowing the Taylors to create different varieties from the different soil found in Lodi, California. They went looking for potential partner vineyards, ones with integrity, great tasting grapes, and reliable packing and shipping records to get the grapes fresh to Ohio. From this partnership grew the house favorites: Blueberry Wine, Cabernet Sauvignon, Sweet City Red, and Symphony. Rick takes great pride in his work creating tastes that keep customers coming from all over. "When you work with fruit of this quality, there is no recipe or formula. My job is to let the vineyards speak and convey the soul of the wine."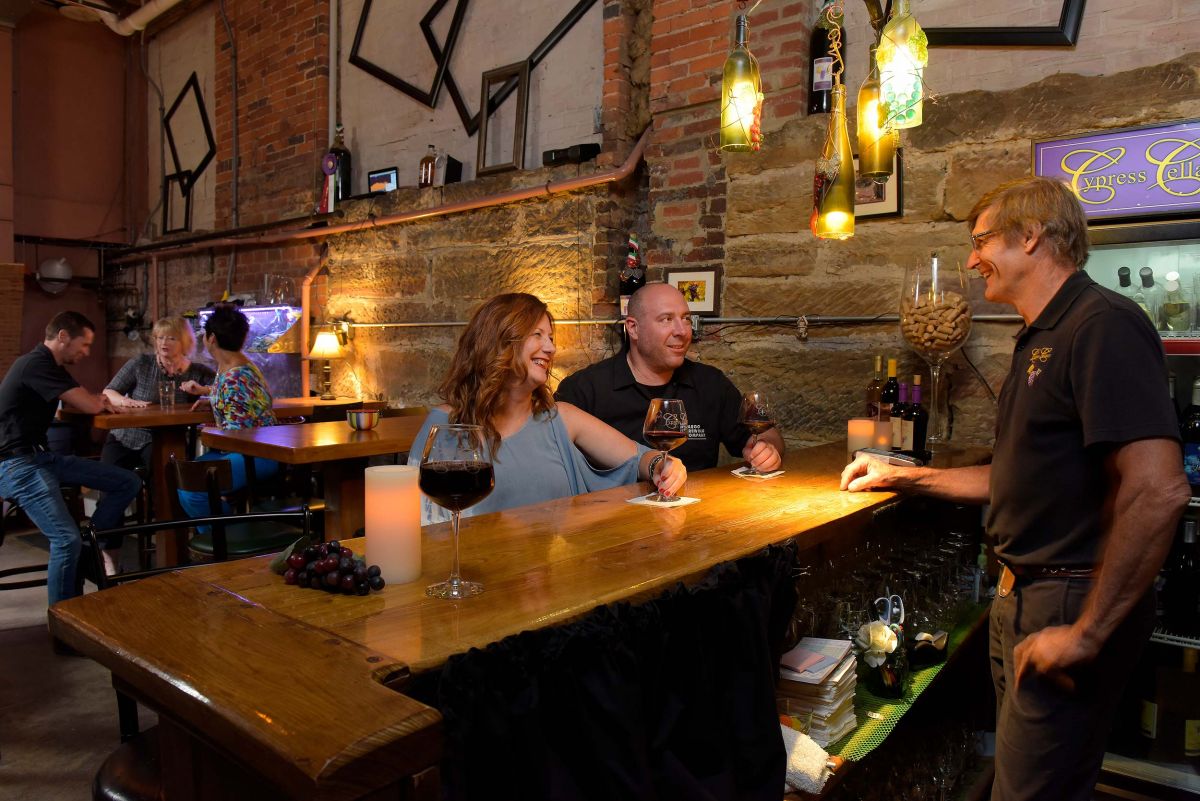 Carol and Rick love being in downtown Mansfield, where they can take part in the activities such as Final Fridays hosted amongst the local shops and at The Brickyard, an outdoor live entertainment venue. They also host an annual Halloween party, quickly becoming a favorite with the local clientele. Their wide spectrum of wines means there is something for everyone to enjoy with easy access to appetizers upstairs at City Grille. Out of all the benefits of owning Cypress Hill Winery, Carol says her favorite part is the customers they have gotten to meet over the years. "We have regulars and people from out of town. It's nice to have a group that you know and look forward to seeing. We have a nice homey feeling and everyone is comfortable here." She said they even threw an impromptu ugly sweater Christmas party last year at the prompting of some loyal guests. "They are like family to us," Carol says.
The Taylors have a plan to expand their space in the coming year. Purchasing a close by building, they will create a restaurant while keeping the wine cellar downstairs. Plans include an outdoor patio space with potential plans for a distillery. This will allow them to offer more food and event options, but at the same time, remain true to the intimacy and vibrancy of Cypress Hill Winery. Stay tuned for the opening of their new place, tentatively at the end of 2018.
Rick and Carol enjoy working in the winery on busy weekends, greeting customers and talking about the history of their wines. Enjoy a quiet evening tasting wine made right here in Mansfield with what Rick and Carol call "Taylor Loving Care."
Cypress Hill Winery
37 E. 4th St
Mansfield, OH 44902
Look for more articles in our seven-part Wine and Ale Trail series "Meet the Owners" featuring the owners of local wineries and breweries near Mansfield, Ohio.  Miss one?  See the other blogs in the series at www.DestinationMansfield.com.