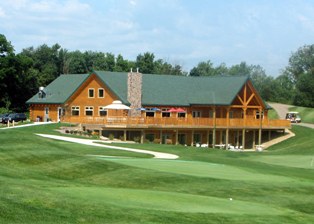 If you're looking for a romantic place to bring your significant other, Mansfield has that covered. Between walking through historic downtown, wine tasting at Cypress Hill Winery, sweets at the Squirrel's Den, dinner at Skyway East and staying in one of the many B&Bs, Mansfield can be sexy. But did you know if can also be manly? Between racing, golfing, haunted houses, fishing and camping, there's plenty to do that'll put some (more) hair on your chest.
Start your day like your grandpa did when he was little: grab your rod and reel and go fishing. There are several excellent fishing spots in the area such as Charles Mill Lake Park (in Mansfield), Mohican Reservation (in Loudonville) and Pleasant Hill Lake Park (in Perrysville) or Clear Fork Reservoir (in Mansfield). Catfish, Bass, Crappies, Bluegill and Yellow Perch are among the diverse types of fish you can catch if you're lucky. Many of these venues also offer canoe rentals so if you don't snag any fish, at least you can catch some good views out on the water. Before you make like a childhood card game and go fish, get a license. They're inexpensive and they keep you legal. Getting a ticket is not manly and very annoying. Not to mention, you'll have to pay a fine you could otherwise spend on bait, beer or burgers.
After a few hours on the lake, if you're still feeling outdoorsy, there are a pair of public golf courses where you can hit balls into the woods like me. My favorite is Deer Ridge in Bellville. It's located just off I-71 and its Sand Wedge Grill has tasty food and gorgeous views of the course's rolling hills. Pebble Creek in Lexington is a tad shorter than Deer Ridge but just as challenging.
If you choose the latter golf course, you'll be closer to Mid-Ohio Sports Car Course, a road racing circuit in Lexington that boasts the NASCAR Nationwide Series, IZOD IndyCar Series, Rolex Series and Geico AMA Pro Road Racing on its summer schedule. The track is busiest from June to August with major events, but cars and bikes can be heard around 200 days a year between driving and riding schools and amateur races. The track's main events offer enough to build a weekend trip around without breaking the bank.
Lastly, Mansfield proudly houses a haunted – and Hollywooded – former prison. The Ohio State Reformatory has been the site of a number of music videos and movies, most famously, it (and many other spots in Mansfield) was the site of the classic film Shawshank Redemption. It offers tours, ghost hunts, haunted prison experiences and educational visits. I've been on a tour, which is one of the less scary options, and just walking through those long, eerie hallways or poking inside a cold, dark cell, is enough to make you question your manhood.
Bring your dad, your college friends or current crew to Mansfield. It's a great place to be a man.