Play time takes on a whole new meaning at Buckeye Imagination Museum.  Get immersed in a world of play that will entertain you and your child for hours at the newly opened and expanded Buckeye Imagination Museum. This bright and colorful 32,000-sq.-ft. facility offers families a safe indoor environment, where children ages 2–10 can learn about the world through more than 40 hands-on exhibits, representing community services, local businesses and other attractions.
Imagine dressing up like a firefighter and driving the truck to the fire scene, working as a stylist in the Studio 19 Salon, or planting flowers at Kingwood Center Gardens. Kids can also enjoy the indoor playground with steps to climb and three slides to descend, racing boats at the water play table, or the oversized foam building blocks that may be a rocket one minute and a castle the next.
The second floor, currently underway, will offer more challenging activities for older kids and adults. You'll find a boulder climbing wall that spins, giant games of skill and strategy like Jenga, Connect 4 and chess, a mini arcade and lava room, six-person air hockey table or even the timed laser racing tunnel that you won't find anywhere else in the world.
When it's time for a break, take a seat at the snack bar to fuel up or grab a coffee. But don't sit still too long — at this museum, parents and caregivers are encouraged to play with their children. So go ahead, perform in the mini-theatre, play with the animals in the barn, dress for the construction site, play games, climb the boulder wall, make a pizza, dig for dinos and build memories one block at a time.
The Buckeye Imagination Museum (formerly the Little Buckeye Children's Museum) features many upgrades, including free on-site parking, more exhibit space for older children and complete ADA accessibility. And they're just getting started! Mark your calendar for upcoming upgrades like games and exhibit space outside the museum.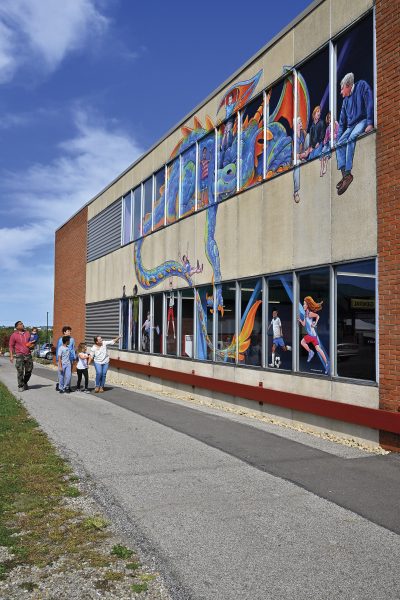 Imagination District
Along with the newly re-imagined Buckeye Imagination Museum comes the creation of an entire downtown district for the community to enjoy. The developing Imagination District includes the ornately decorated Renaissance Theatre, Theatre 166 and a large outdoor plaza for family-friendly programs and movies.
Five to Try
Extend your time in Mansfield and experience other family favorites like woodland story time on Kingwood Center Gardens' Storybook Trail or their 2023 Sean Kenney's NATURE CONNECTS® exhibit, new feathered friends at the Ohio Bird Sanctuary, sports games galore at The Infield, a natural education at Gorman Nature Center and fun, family mealtime at Buckeye Express Diner joined by Chef Jacques — the world's tallest bobblehead at 35 feet high!
By Tonya Prater