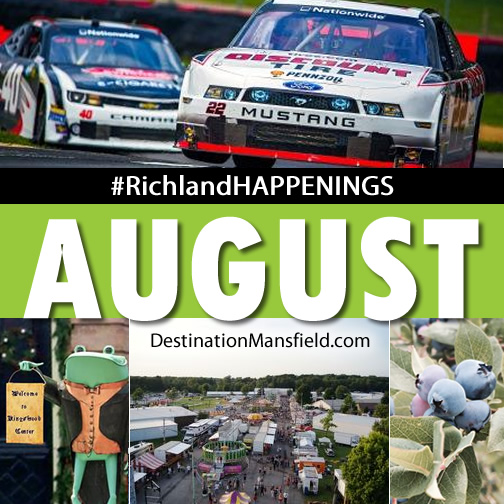 August approaches, but the summer fun isn't over yet! The Destination Mansfield-Richland County Calendar of Events boasts everything from an exhibit full of frogs to NASCAR Xfinity race cars to fill your sunny days.
Join us for at Kingwood Center Gardens for Ribbit the Exhibit (Aug 5-Oct 1), featuring the amphibian statues of artist Andy Cobb. Kingwood will also be offering various activities and workshops (such as amphibian informational classes on Toad Tuesdays and kids treasure hunts on Where is it Wednesdays) over the next two months to highlight the exhibit. Come for a week of your favorite rides, foods and artists at the Richland County Fair (Aug 6-12). NASCAR returns to the Mid-Ohio Sports Car Course for the NASCAR XFINITY Series: Mid-Ohio Challenge 200 (Aug 11). Don't miss out on Dirt track racing (Aug 11-12) at Mansfield Motor Speedway either! Finish off your month with one of our most famous events in Mansfield: the 22nd Annual Heart of the City Cruise In (Aug 26). See the cars, visit the vendors, and win prizes!
Summer celebrations and festivals continue across Richland County throughout August. Hike and learn at the Gorman Nature Center's 3rd Annual Richland County Park District Pollinator Festival (Aug 4-6). Bring the family to Malabar Farm State Park for the Kids Farm Fun Day & Fishing Derby (Aug 5). You never know what you'll find as you travel this historic road for the Ohio Lincoln Highway BUY-WAY Yard Sale (Aug 10-12). Come to the Lexington Blueberry Festival (Aug 17-20) for all your favorite blueberry treats and stay for the competitions, games, parade and fireworks. You're invited to the best summer party in the world at Ohio Dreams Sports and Music Fest (SAM FEST) (Aug 18-20): DJs, sky diving, pool parties, live music and much more.  The party continues at Ohio Dreams on August 26-27 with the Slip N Fly Country Fest. Enjoy a day full of country favorites and one of the biggest water slides to go viral! (Check out the Youtube video if you haven't seen it yet).
Whether it's exposure to the arts, science, or nature, there is always something fun to experience and learn in Richland County. Attend the Hampstead Stage Company. presentation of Pinocchio (Aug 2) at Kingwood Center Gardens. Learn about survival at Pleasant Hill Lake Park "Taste of the Outdoors" Cooking Class (Aug 5). See some of Ohio's magnificent winged creatures up close as the Ohio Bird Sanctuary gives their Birds of Prey Presentation (Aug 5) at Mohican State Park Lodge. The kids will get a kick out of the magic of Dr. Insecta's Bug Lab (Aug 12). Stick around after dark to view the famous Perseid Meteor shower and learn the basics of astronomy. Visit the Mansfield Art Center all month for The Art of Children's Books Exhibition (Aug 12-Sept 10). Return to Kingwood Center Gardens at the end of the month for the Men's Garden Club Fall Harvest Show (Aug 26-27).
Don't forget about these reoccurring Summer events that are ending soon.
Make Richland County a part of your vacation plans this August.
For a full list of area happenings, see our Calendar of Events.