The Calendar of Events is not supported by Internet Exploreryour current browser. For best viewing, please use Chrome, Firefox, or Edge.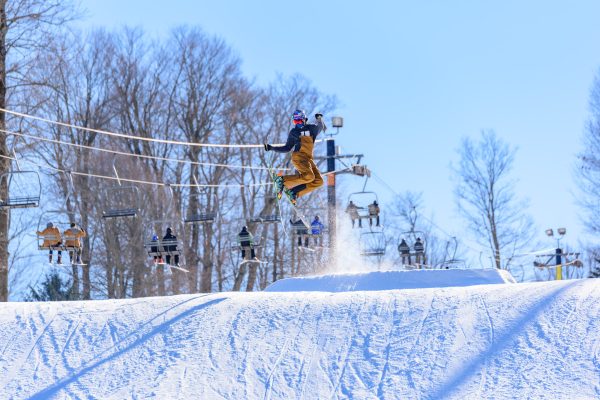 OHIO SKIING, SNOWBOARDING, AND SNOW TUBING
Enjoy fun this winter, Skiing, Snowboarding, and Snow Tubing at Snow Trails!
The only family owned and operated resort in Ohio, and easy to get to just 1.5 miles off I-71 near Mansfield. We offer broad evergreen lined slopes, covered in pristine snow conditions thanks to major investments in snowmaking and snow grooming equipment to make all the snow needed to blanket the Resort December through March. Our spacious Rental Center with self-service boots, plus skis and snowboards set by our certified technicians will get you to the fun quickly. Join one of our friendly Snow Sports Instructors for learning made easy when you step-out into the most user friendly Beginner's Area complete with two Surface Conveyor Carpet Lifts and a slow-moving Beginner's Double Chairlift.
Enjoy beginner to advanced Slopes, Glade Skiing Areas, and Terrain Parks, then relax as you take one of our six Chairlifts back uphill. All 100% lighted for night skiing! Lessons available for all ages and ability levels. Full Service Ski Shop, two Restaurants and Bars in our Ski Lodge slope-side. Plus, our family friendly Snow Tubing Park, complete with Surface Conveyor Lift, Tubing Lodge and Snack Bar, with colorful animated LED lighting for Glow Tubing, is the best kind of outdoor Winter family fun for all ages with no experience necessary.
Resort Hours: Snow Trails typical Winter season runs December through mid March. Bonus Weekends possible early and late season.
Slopes: Weekends and Peak Days* 9AM- 9PM, Weekdays 10AM- 9PM.
Snow Tubing: Thursday 5PM- 9PM, Friday 5PM- 12AM, Saturday 9AM- 12AM,
Sunday 9AM- 9PM. Peak Days* Open at 9AM.
Glow Tubing: after twilight Thursday through Sunday each and every week.
Partially Handicapped accessible.
*Peak Days: December 17, 2022 thru January 2, 2023, January 13th- 16th, and February 17th- 20th, 2023.
For Questions – Contact Snow Trails
There were no results found.