The Calendar of Events is not supported by Internet Exploreryour current browser. For best viewing, please use Chrome, Firefox, or Edge.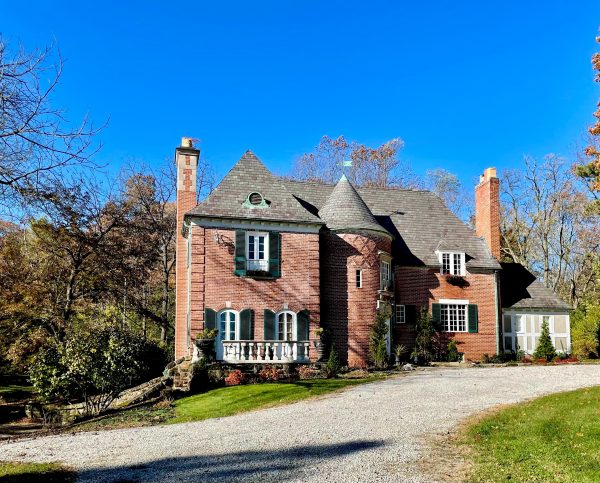 The remarkable Chateau House was built in 1929 and is set on nearly 2 acres of park-like grounds in a peaceful residential neighborhood of historic homes. Over 4000 square feet of original architectural features are yours to enjoy, plus updates like excellent climate control. Enjoy the handsome custom bar in the Great Room and a basement 1920s Speakeasy. Perfect for a special getaway, wedding prep, or simply the best game night ever (life-size Clue, anyone?)!
The main floor includes a fully-equipped kitchen, a cozy chestnut-paneled library, dining room with seating for 10, and the spectacular Great Room which features a large custom bar (with two beverage fridges) and a limestone fireplace. This floor has a half bath located off the tower stair hall.
The kitchen is modernized with stainless steel appliances, a separate beverage refrigerator, granite countertops, and lots of natural light; coffee supplies include a coffee maker, pour-over set-up, and a Keurig with all the basics stocked: ground coffee, Keurig cups, creamer and sugar.
We're offering this property as a short-term private rental trough Vrbo.  We require a 3-night minimum stay.  Five bedrooms, 3 1/2 baths, sleep max of 14 people.
Click HERE to view on VRBO.com property ID 2632415.
There were no results found.