by Kym Lamb
The Mid-Ohio sports car course is known worldwide for being the track racers love to race and fans love to visit. The course sits on 330 acres of rolling hills and features a permanent road-racing circuit with multiple track configurations. Mid-Ohio is truly a comprehensive motorsports facility hosting racing events for everything from Indy cars to vintage motorcycles. . . But they'll tell you the most important work they do happens off the racecourse during their Teen Defensive Driving program — and I would agree!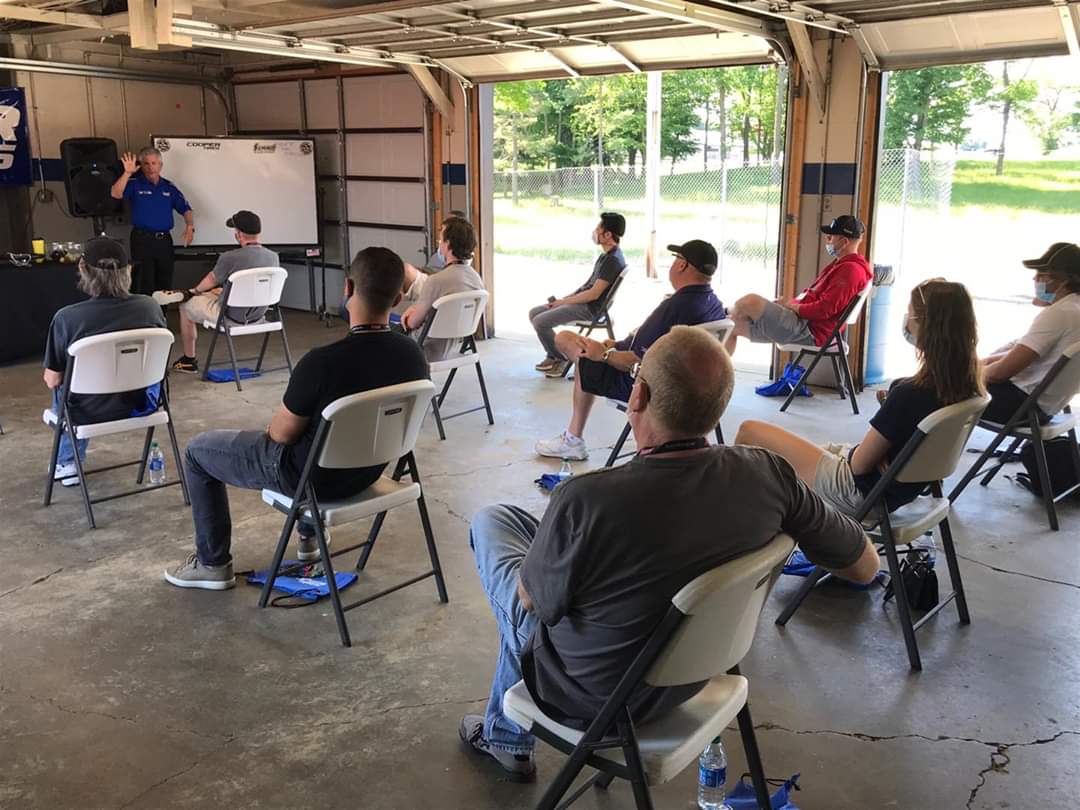 My teenage daughter attended this 6-hour course and we were both impressed and surprised with the amount of instruction and hands-on skills that were packed into the day. My daughter's 17 classmates traveled from Indiana, Pennsylvania, and all over Ohio for what the instructor described as the "X Games of Driver's Education." While most of the students started the day feeling somewhat frustrated with losing a perfectly good Saturday to driving school, we all quickly realized it was more than the brochure promised.
The instructors used a minimal amount of classroom time to instill the basics of human interaction with cars, how cars respond to our hardwiring, and the physics of it all. As an adult with 30 years of driving experience, I walked away realizing I'd missed a few of these tips in my "Drivers Training." The instructors were great at working with teens. While the importance of creating smart drivers is serious, with the leading cause of death for teenagers being automobile accidents, they kept the focus on accident avoidance and what part we play in preventing car accidents. They also reassured the young adults that driving takes practice — which they would get a lot of that day.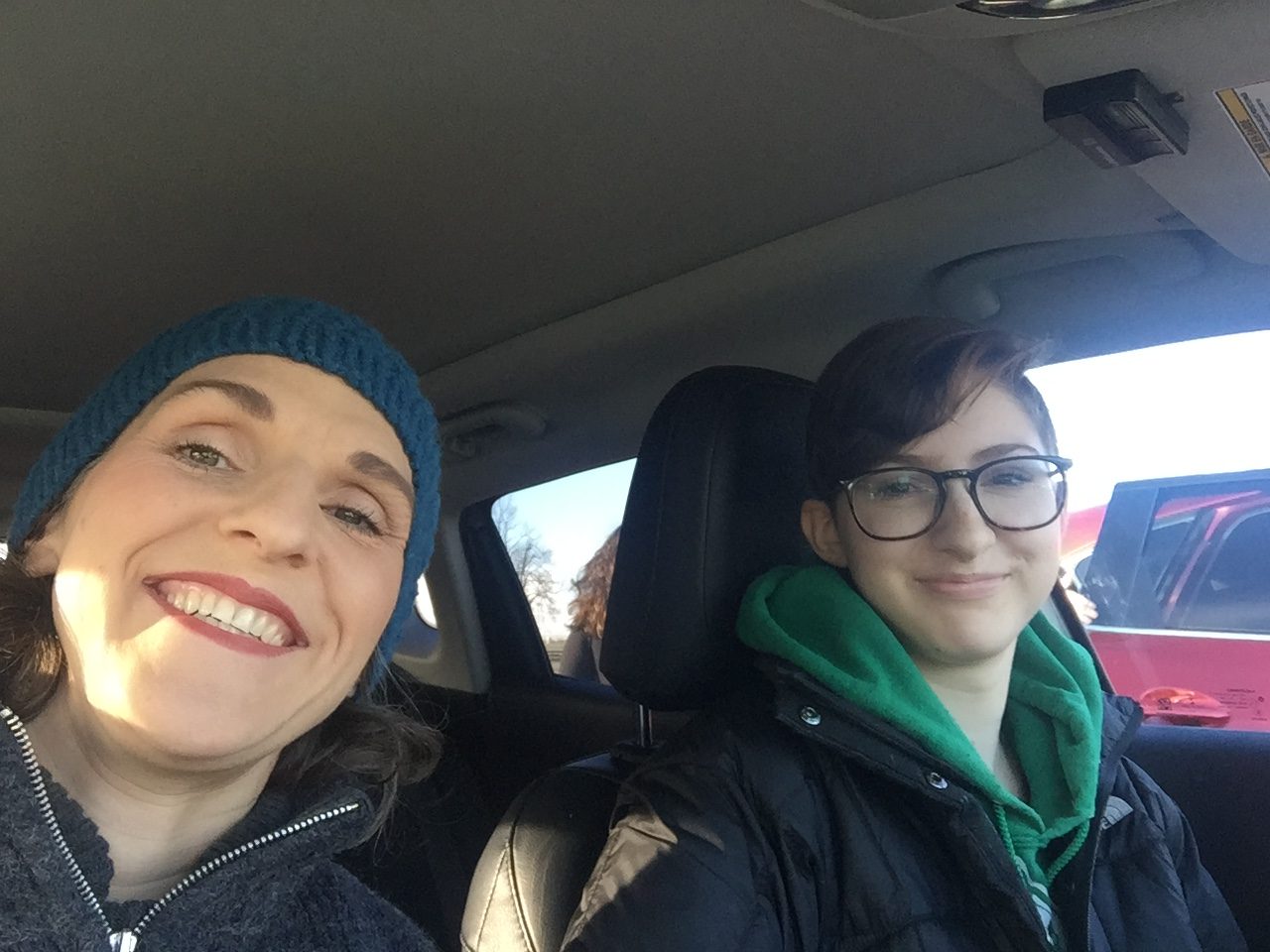 The driving experience in the group varied from 2 weeks on a permit (my daughter) to 1.5 years. Some students were there because they'd already had their first accident, and others were there to avoid having one. Paul McCarthy, a dad from Cleveland, said, "my older daughter completed the course last year and she has used all three skills she learned in the last year since her class. It was worth every penny." It was so important to him that he not only brought his younger daughter but several of her friends too.
After the instructor talked through each obstacle the students would be asked to face, it was time to leave the classroom and hit the course. The thee challenges were collision avoidance, emergency stopping, and skid recovery. As a parent, I was glad my child was going to learn to negotiate all of the situations I never wanted her to have. And with all the screeching, squealing, and spinning you'll witness in the video, you'll see why I was really glad it wasn't in our car. Did I mention they had all 3 obstacles being operated simultaneously? The only experience you won't get from the video is the smell of burning rubber!
As the students exited the cars, they wore huge grins! Even after full spin-outs and taking down cones, the students received positive feedback and were encouraged to try again. As a bonus that day, parents had the opportunity to ride in the skid cars that simulate rain or ice slides. My driver casually maneuvers us in and out of skids, 360-degree spins, and vertical slides, all the while talking as if he was giving me a cookie recipe. After recovering my equilibrium, I walked away with a grin on my face too! (Bonuses are not a regular part of the class and depending on the season or class size, may or may not be part of your experience.)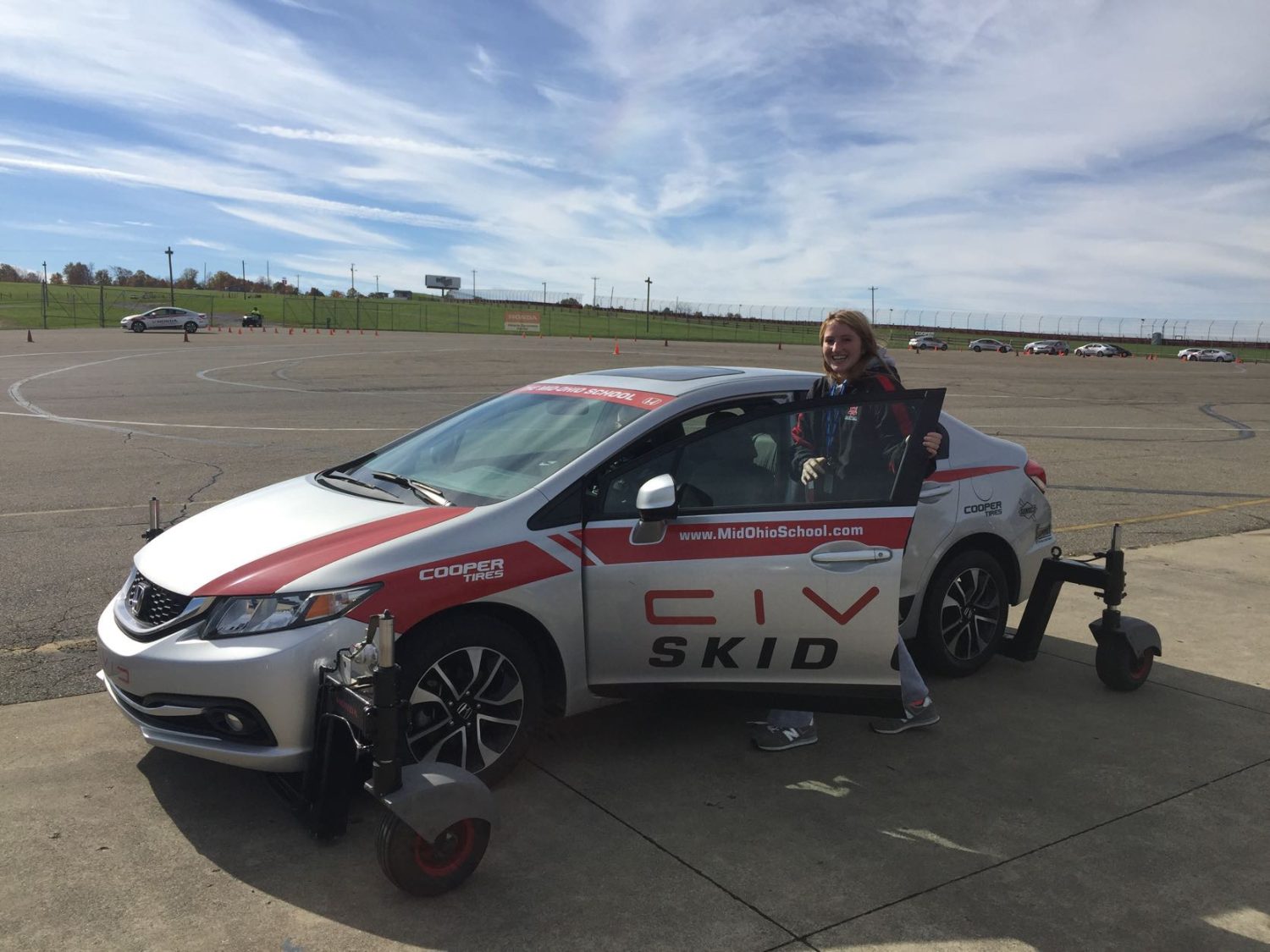 A tasty packed lunch was provided for the students and you could hear them chattering about the morning's excitement. Some of the young ladies who were a bit nervous, my daughter included, had gained new confidence, and the guys were guessing who among them would be the next race car driver.
Before returning to the obstacles, we got our second bonus for the day: actual laps on Mid-Ohio Sports Car Course. I had seen the track on TV. I'd watched races live, sitting on the curves hill — known as the "esses", but I had never experienced the roadway firsthand. The instructors graciously demonstrated the correct way to complete this world-class racecourse. Did I mention they love their jobs?
The rest of the afternoon was spent watching the students cycle through all of the obstacles, and the day wrapped up with a review and Q&A. The instructor left us with a final reminder "Accidents are too common, but they're avoidable with training and attention." The general feedback from the teens afterward was the feeling they were walking away with skills they would use the rest of their lives. They were glad their parents brought them. My daughter explained, "I went into the day expecting to be sitting in class and then maybe get to do a few ride alongs with an instructor. I can't believe I spent most of the day driving independently. I definitely feel more confident." As a parent, I was thrilled, and I would greatly recommend sending your student to this program.
A very special Thank you to our instructors Fred, Jason, Scott & Mark! You made a difference in 18 more lives!
Want to take the course yourself? Mid-Ohio offers a variety of courses for students and adults looking to improve their driving skills or enhance their racing abilities. Give it as a gift or treat yourself.
TEEN DEFENSIVE DRIVING PROGRAM
Providing driving techniques not found in a typical drivers' education classroom, the Teen Defensive Driving Program puts students of all ages behind the wheel to learn skills that will be used for a lifetime. Students practice collision recovery techniques, loss of control recovery skills, bad weather maneuvers through emergency lane changes, wet braking, and skid car drills.
Parents are highly encouraged to stay and watch the program while their teen participates.
On select dates, Double-Up Days will provide two students (teens and/or adults) the life-saving skills provided in a traditional Teen Defensive Driving Program for one price. Each participant will split the driving time in the car, but both will get to experience all of the classroom and defensive driving drills covered in the standard teen program format. Students will benefit from the "watch and learn" environment of a Double-Up Day and many parents sign up for the Double-Up Day so they can participate and also bond with their teen.
Participants will receive a lunch from the concession stand which will also be open for guests wishing to purchase a lunch.
Registration begins at 9:00 am. Class begins at 9:30 am and ends at approximately 3:30 pm. The program takes place at the Mid-Ohio Sports Car Course, 7721 Lexington-Steam Corners Rd, Lexington, OH. See their website for updated info since each season may differ. Enroll today!