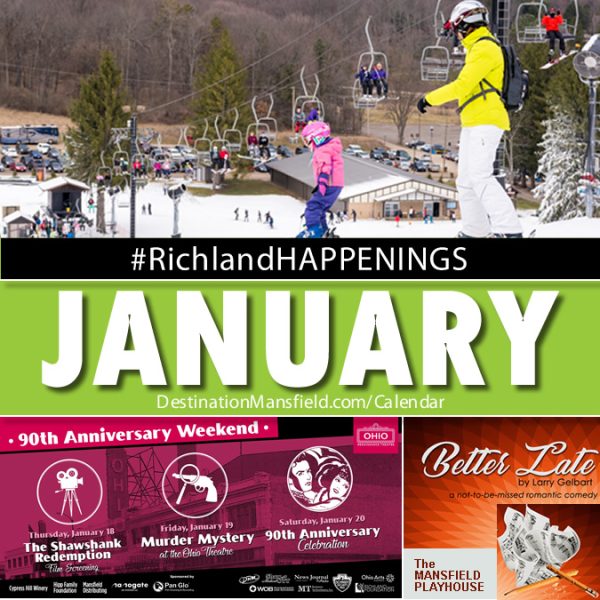 January is the season for skiing and shows! The Destination Mansfield-Richland County calendar has lots of suggestions for fun in the snow or indoor activities to keep you warm.
The Mansfield area is full of paths and open areas for downhill or cross-country skiing, sledding or tubing. But when the weather is uncooperative, Snow Trails' state-of-the-art snow machines create pristine slopes through March! Go for a day of fun on the slopes or go to some of their fun events! Snow tubing is fun for the whole family, bring the kids or get a group together for Glow Tubing nights (Jan 5-6, 19-21) or help a good cause when you bring your donations to their 12th Annual Will Tube for Food (Jan 25-26). Come for the parties everyone talks about. Snow Trails' Mid-Season Party (Jan 27) features food, fireworks entertainment and live music.
Want more live entertainment? Check out Snow Trails for their other live events all season long in the Snowflake Lounge. Travel the Wine & Ale Trail and take advantage of the comedy, live music and painting classes scheduled this winter. The Happy Grape wine bar and bistro already has live music scheduled for January on the Destination Mansfield calendar. Attend a romantic comedy at The Mansfield Playhouse as they present Better Late (Jan 19-20, 26-28). Get your toes tappin' for award-winning country music band Sawyer Brown (Jan 6) or watch and listen as the Mansfield Symphony Orchestra brings Pinocchio (Jan 14) to life.
The Renaissance Theatre celebrates their 90th Anniversary with a week-long celebration and you're invited! See The Shawshank Redemption in the same seats as its original screening in 1994 (Jan 18). Attend a Murder Mystery (Jan 19) at the theatre, the site of a real murder and a documented haunted site.  Attend a dinner at the Mansfield Women's Club (where your 1920's finest!) and then recreate the Renaissance "Opening Night" (Jan 20). Guests will get to witness the same films featured when the theatre opened as a movie house in 1928.
Don't let the winter blues get you down! Come explore the Mansfield area for fun in the snow and entertainment you can only find here. For a full list of area events, visit our Calendar of Events. Events added daily so check back often!