Do you crave adrenaline spiking through your veins, chills running down your spin, and an absolute fright of a lifetime? Well, you're in luck because Hollywood special effects legend and director, Robert Kurtzman, is bringing a whole new level of terror that has never been seen before to the Ohio State Reformatory this fall. Kurtzman and his "Creature Corps" are transforming the Paranormal Penitentiary into a 1960s monster containment facility controlled by a secret society of monster hunters called Slayers of the Damned. On the Paranormal Penitentiary tour, your duty as a visitor is to help the SOD regain control of the monsters as they are released by a violent inmate.
Robert Kurtzman is well-known for his insanely realistic work in many blockbuster hits and television series. Kurtzman is a co-founder of K.N.M. EFX Group Inc., along with Gregory Nicotero and Howard Berger, which has become one of the most prolific effects studios in all of Hollywood. They have assisted in movies like Halloween 5, Dances with Wolves, Nightmare on Elm Street 3 and 5, Austin Powers: Gold-Member, Rat Race, The Hulk, Stephen King's Misery, Steven Spielberg's Minority, Pulp Fiction, and so many more. Eventually, Kurtzman began developing his own hits like From Dusk Till Dawn, starring George Clooney and Harvey Keitel, and Wishmaster. All of his hard work has paid off in a numerous awards and nominations including winning Best Makeup for Cabin Fever in 2002 at the Catalonian International Film Festival and the 1999 Saturn Award for Best Makeup in the movie Vampires from the Academy of Science Fiction, Fantasy, and Horror Films.
I recently had the opportunity to head over to Robert Kurtzman's Creature Corps in Crestline, Ohio where David "House" Greathouse actually transformed me into a newly dead, brain-eating zombie, like you'll find at the Ohio State Reformatory this fall. David Greathouse is one of the most twisted and talented Hollywood makeup artists around. House has worked for and acted in over 100 films including Tusk, The Usual Suspects, and The Stand along with competing in the television show Face Off. He joined Kurtzman's team in 2005 after working in Los Angeles for several years.
When walking into the Creature Corps facility, I was immediately surrounded by a vast array of nightmare-invoking creations that were featured in many of Kurtzman's past films.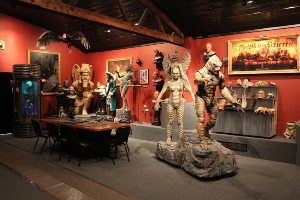 I was then taken back to the studio where all of the demons, werewolves, and dead are created. House sat me down into a chair and began the transformation. Zombie skin, scab blood, paint, and liquid blood were everywhere. Initially, the makeup felt sticky and heavy, but I was able to forget that it existed as the day continued and I went on with my regular duties. Each time I looked in the mirror and was reminded of the makeup covering my face, I was truly terrified by the strangely realistic zombie staring back at me.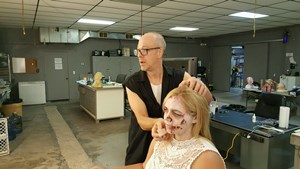 Former Creature Corps member, Gino Crognale, is now one of the main special effects artists for the popular television show, The Walking Dead, and occasionally has to bring in a team of artists that assist in the transformation of hundreds of zombies. This is an extremely time consuming process considering my face alone took an entire hour. To save time each evening, actors in the Paranormal Penitentiary will mostly be wearing masks that the Creature Corps started creating in early March of this year. That's not to say you won't see unbelievably realistic zombies, like myself, crawling your way.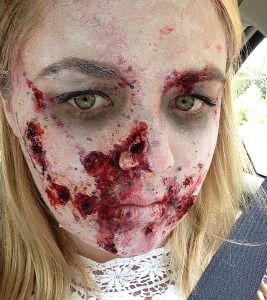 My visit to the Creature Corps concluded with a tour of the rest of the building. While they do not offer makeovers to the general public, you can take a tour! Appointments are required and the groups must consist of five or more people. Upon visiting, you will be asked to sign a Non-Disclosure Form to protect projects they may be working on. Some of the projects recently created at Creature Corps include Funhouse Massacre (released in November of 2015 and now available on Redbox and Amazon Video), Yoga Hosers (starring Johnny Depp and coming to theaters on September 2nd), and Clowtown (being released this October).
Get up close and personal with Robert Kurtzman and the Creature Corps' monsters at the Paranormal Penitentiary starting September 23rd until October 30th on Thursday-Saturday evenings. General admission is $20 and a Speed Pass (so you can skip the long line) is $30. If completely new and terrifying monsters designed by a professional Hollywood team aren't enough to give you the fright of a lifetime, you now have the option to purchase a Touch Pass for $45. This gives you the opportunity to skip the long lines and for actors to come in direct contact with you. Yes, you read that correctly. They can touch you! If the ghosts of the Ohio State Reformatory don't get you, the monsters surely will. Are you ready to join the Slayers of the Damned in this brand new, one-of-a-kind adventure?
For more information about the blood-curdling Paranormal Penitentiary, click here.
Written by Brigitte Meisse, CVB Intern