Richland country offers a few hot spots that cater to major foragers
While lighter fare, teensy portions and "lady food" may be just fine in the warmer, summer months, most guys will tell you, when the weather gets cold and football season rolls around, bring it on. Food that is. I am man… let me eat, is the mantra. Richland county has a few spots where larger is not only better, it is delicious!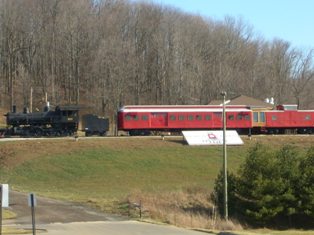 Buckeye Express Dinner is an OSU fan's delight in itself. Housed in a railroad car and decked out in scarlet and gray, Big Ten here also equates to the size of their biggest burgers. Everything is big. Their smallest burger is still a half a pound. If that isn't enough meat, you can order a full pound hamburger on thick slices of Vienna Bread. For those who want bragging rights, take on the famous Buckeye Express Belly Buster. This monster sandwich consists of 8 pounds of hamburger, 1 pound of bacon, salami, pepperoni, both American and Swiss cheese, grilled mushrooms and onions, lettuce and tomatoes topped off with their famous Woody sauce. Named after legendary Buckeye coach Woody Hayes, it's a concoction of horseradish and bacon. This monster meal not only weighs in at 10 pounds, but, yes, you do get fries with that… fresh cut and homemade. Check out their very cool location and the menu at http://www.buckeyeexpressdiner.com
Of course, what big eater doesn't drool over a great smorgasbord? Variety is the spice of life, and you'll be able to find it here in addition to quantity. Der Dutchman is conveniently located right off I-71 and serves locals as well as travelers who make it a point to stop every time they're passing through. If you 're one of those people who prefer foraging early in the day in order to work off those extra delicious calories, Der Dutchman offers up a fantastic country breakfast buffet served from 7-11 a.m. Monday through Saturday. End your breakfast with a sigh of satisfaction.
The dinner buffet at 4 p.m. is a celebration of the finest Amish cooking. The broasted chicken is heavenly, but you'll also find roast beef, ham or turkey, Amish stuffing, from scratch mashed potatoes, home-made noodles, creamed corn and fresh green beans as well as a heaping salad bar and lots of other specialty dishes. Seconds are encouraged! Der Dutchman has its own bakery too. No room for dessert after the big gorge, take that homemade peanut butter cream pie home for a late night treat. For updates on news and seasonal specials, check out their Facebook page at http://www.facebook.com/DerDutchmanBellville
For a big sweet treat, head on down to the Olivesburg General Store, home of the ginormous, Shawshank Sundae. Ice cream is one of their many specialties and this particular sundae is famous because the classic The Shawshank Redemption was filmed around Mansfield. The store has original ceiling lights used in the movie. And, of course, a blockbuster movie deserves a big celebrity treat named after it. This sundae consists of a homemade brownie on the bottom, a mega scoop of peanut butter ice cream and a second brownie on top! Hot fudge is lavishly poured over it all. Topping this masterpiece is a whipped cream mountain, dressed with M & M's and a cherry on top! You can check the Olivesburg General Store's website at http://www.olivesburggeneralstore.com/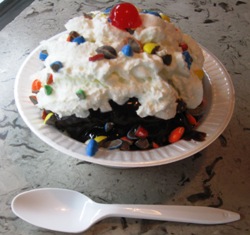 After all, a little delicious gluttony is good for the soul and can lead to a great evening of cozy winter hibernation watching your favorite sports team.