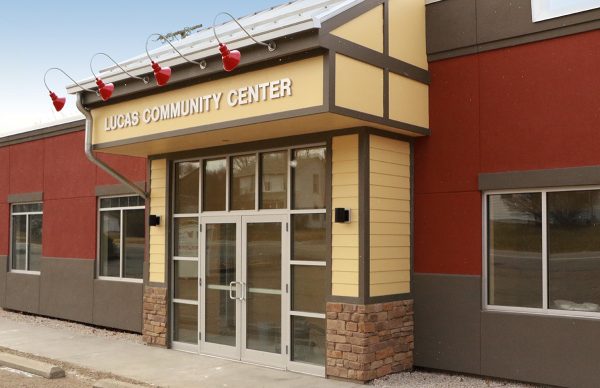 Nestled in rolling hills of farmland and surrounded by some of Ohio's best state parks, the village of Lucas bursts with local charm. Founded in the 1830s, the town in southeastern Richland County quickly blossomed with homes and businesses. While Lucas may still be small, it does have its big claims to fame. Lucas is known for both the estate of the Pulitzer Prize-winning author Louis Bromfield at Malabar Farm State Park and for its folkloric resident John Chapman, who is more commonly known as Johnny Appleseed. Chapman, an American pioneer who spent a large portion of his life in the Mid-Ohio region, had landholdings throughout the area where he planted apple tree nurseries. Lucas is a stop on the Johnny Appleseed Historic Byway, and as the gateway to Mohican and Amish country, this quaint village is the perfect place to stop on your way to Loudonville and Holmes County.
Start your day in Lucas with a stop at the  Lucas Community Center & Open Door Café to pick up a few brochures and guides on the regional attractions. The Open Door Café is open daily for breakfast, lunch, and dinner, so grab a coffee and treat to go, or stay for a meal. The spacious picnic deck is the perfect place to enjoy a meal al fresco. You might even get the chance to join in on a pick-up game at one of the two regulation sand volleyball courts. Local events are often hosted in the Community Center's 2,000 square foot (rentable) Hanley Hall, so keep an eye on the Community Center Calendar.
Malabar Farm State Park sits just 10 minutes down the road. This 900-acre country estate was home to Louis Bromfield, known for his novels, screenplays, and his work in sustainable farming and conservation. Malabar is still a working farm (though on a much smaller scale than during Bromfield's time), but the main aspiration of the farm is now education. With seasonal events and daily tours, there is enough to do at Malabar Farm to fill your whole day. Start with a "Big House" tour to learn about Bromfield's life and how the farm inspired his most famous works. You won't want to miss this – Bromfield's famous friends Humphrey Bogart and Lauren Bacall were married at the Big House and spent their honeymoon there. Several other famous faces have stayed at the farm, including James Cagney, William Powell, Clark Gable, Carole Lombard and Errol Flynn.
After a house tour, take a guided tour of the working farm with an Ohio State Park Naturalist. On this tractor-drawn guided tour, you'll learn about conservation highlights of Bromfield's farm and discover the landmarks of Pleasant Valley, which inspired his book by the same name.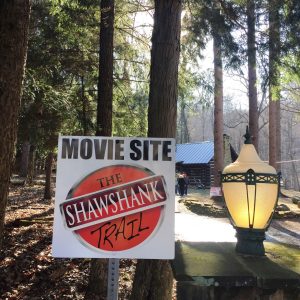 Once you've perused the exhibits at the Visitor's Education Center, locals recommend sampling the homemade fudge at the gift shop and bookstore. Then make sure to hit the hiking and bridle trails at Malabar Farm. Parking and trails are free and open to the public from dawn to dusk. A favorite of locals – make sure to explore the caves on the Butternut Trail.
Bogart isn't Lucas' and Malabar Farm's only connection to Hollywood. In 1993, scenes from The Shawshank Redemption were filmed across the region. Fans of the film will recognize Malabar Farm's Pugh Cabin (located on the Doris Duke Woods Trail) from the opening scene of the film. Pugh Cabin has become an important stop for Shawshank fans and pop culture enthusiasts on the Shawshank Trail Driving Tour.
While you're in the area, the spot where the iconic oak tree used to stand is located on Pleasant Valley Road just past Malabar Farm. You can see the site from Malabar Farm land, but the tree was on private property.
Need something to do on a rainy afternoon? Find some quiet time at the Lucas branch of the Mansfield/Richland County Public Library. Peruse the collection of books, movies, and music or join the Bromfield Book Club. This book club meets on a Monday each month at Malabar Farm State Park to explore the rich imagination of author and conservationist Louis Bromfield. If you get inspired to start some cultivation on your own, be sure to check out the seed library. Choose up to five seed packets per month from a variety of vegetables, herbs, and flowers. With programming for children, teens, and adults, the branch offers a wide array of hours for your convenience.
For dinner, most locals are going to send you to Malabar Farm Restaurant. Open for lunch and dinner, this beautiful, brick farmhouse overlooks Malabar Farm State Park. The restaurant specializes in simple food that utilizes the freshest local ingredients. With great views from the front deck and delicious seasonal menus, this place fills up fast so be sure to make a reservation – and get the tiramisu for dessert!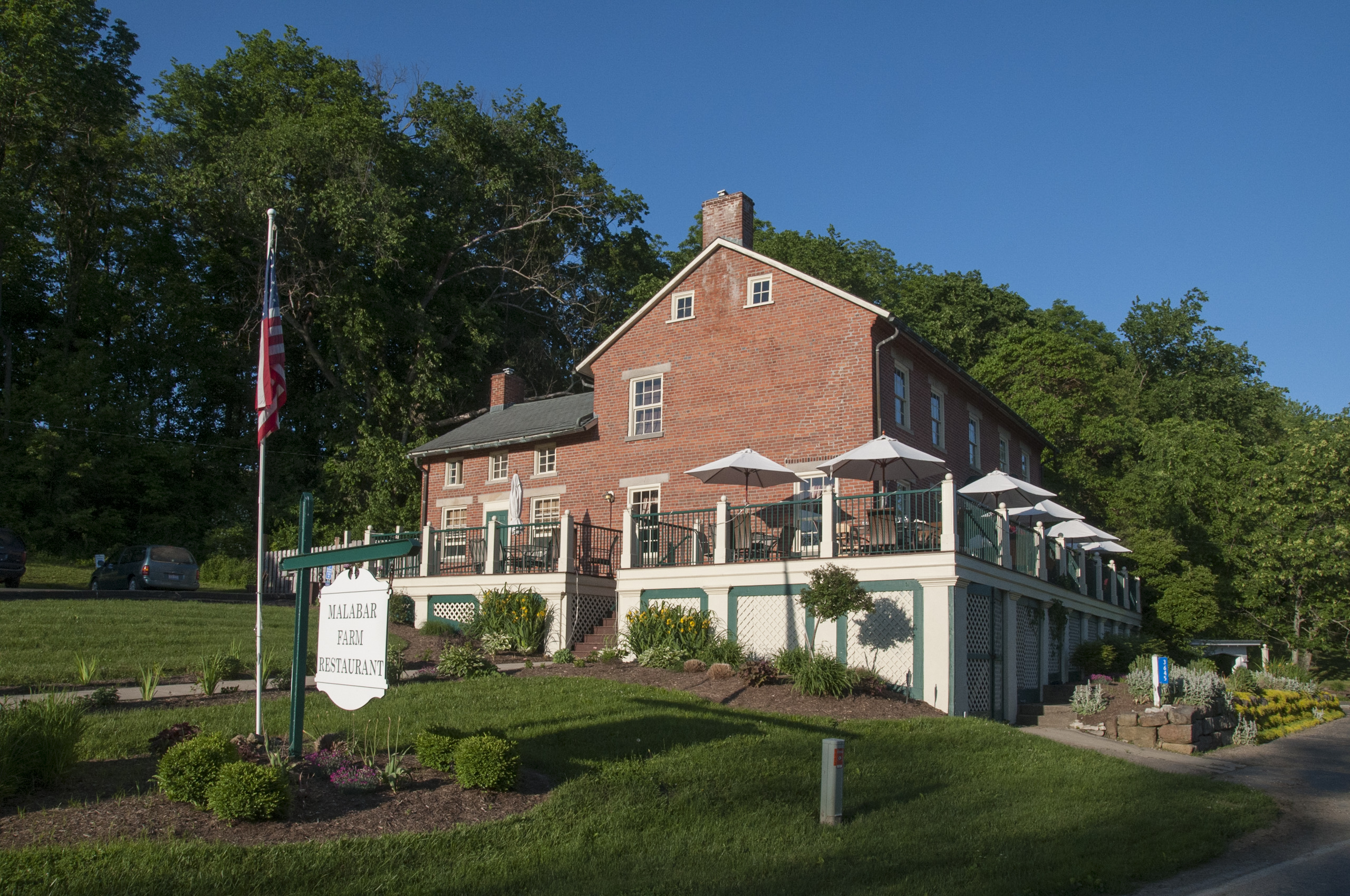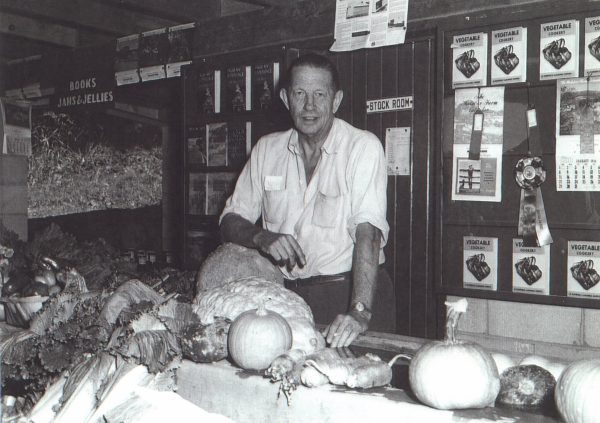 Before you leave Lucas, there are two things you must do. First, look for signs for Mt. Jeez on Pleasant Valley Road then follow the winding drive to the top of the overlook. You'll be rewarded with some of the best views in the area – on a clear day you can see three counties. Make sure to snap a few pictures with the rolling hills and the Big House at Malabar Farm in the distance.
After you leave Mt. Jeez, turn left onto Pleasant Valley Road and just past Malabar Farm Restaurant you'll find the Malabar Farm Market Stand. But this isn't any ordinary roadside fruit stand. Sure, on a Friday, Saturday or Sunday you'll want to purchase some local produce, flowers, or jam to take home, but even when produce is out of season, the market draws people for its one unique feature. A living spring flows up through the stand. The naturally cool spring water flows through sandstone troughs to keep fruits and vegetables cool during the hot summer months. Now doesn't that sound refreshing? Fun fact: Louis Bromfield was known for putting even his most famous guests to work when they came to visit. During their stay, Carol Lombard weeded the garden and James Cagney was put to work selling vegetables at the market.
If you're looking to reconnect with nature, the rustic Maple Syrup Cabin at Malabar Farm State Park sleeps four and can be reserved year-round. Overlooking a small pond, this cozy getaway offers great views of the local wildlife.
When should you spend a day in Lucas, Ohio? With the abundance of outdoor activities, summer is an obvious choice for any Ohio destination, but there is something special happening in Lucas each season.
In the spring, the month of March is maple syrup season. Malabar Farm has hosted the Maple Syrup Festival continuously since 1977. Always the first two weekends in March, this free festival is a great opportunity to cure cabin fever and learn about the history of syrup making. Test the limits of your sweet tooth with free samples of maple syrup, maple cotton candy, maple popcorn, homemade maple walnut fudge, and more.
Every fall, the Prairie Peddler Festival returns to neighboring Butler, Ohio at the end of September. A 16-minute drive from Lucas, this wooded marketplace of handcrafted primitives draws big crowds year after year. A perfect fall day can also be spent at Malabar Farm's Ohio Heritage Days Festival. This free festival features crafts, antiques, primitives, antique tractors, horses, food, live music, archaeological displays, and a living history Civil War and Buck Skinners camp. Fall also offers the best picture while on top of Mt. Jeez. Fall foliage paints the perfect landscape photo!
Make Lucas your home base for cold weather fun this winter. A 13-minute drive from downtown Lucas, Snow Trails offers skiing, snowboarding, and snow tubing December through March. Cross Country Skiing and snowshoeing are available on the Pleasant Valley Bridle Trail at Malabar farm and on the Clear Fork Valley Scenic Trail as well.
With small town charm and big Hollywood history, Lucas is the perfect place to explore the beautiful countryside of Richland County that inspired some of Louis Bromfield's most famous work.