The Calendar of Events is not supported by Internet Exploreryour current browser. For best viewing, please use Chrome, Firefox, or Edge.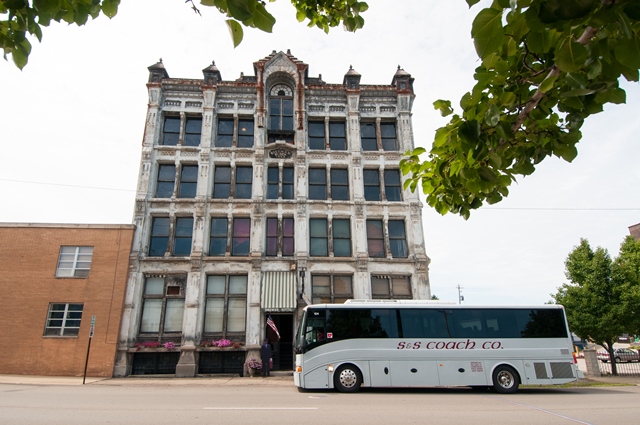 Shawshank Trail for Group Tours
A personal step-on-guide will provide the most exclusive tour of where this classic movie was filmed!  Explore up to 15 sites and put yourself in the same locations as Andy, Red and Warden Norton.  Hear behind the scenes stories at the Ohio State Reformatory, Malabar Farm and Renaissance Theatre.
Package Highlights include· Photo opportunities galore!  Personal Step on Guide for two days with Shawshank stories!  Explore Hollywood filming locations.
Viewers the world-over have enjoyed The Shawshank Redemption. Now, you can take your Shawshank journey even further and experience the film yourself in real life.
Walk the halls of Shawshank Prison and stand on its ominous yellow line.
Walk into Warden Norton's office and see the safe where he hid his Bible. Experience the parole room where Red was rejected, or look down the tunnel Andy used to escape Shawshank.
See Brooks' hotel room where he and Red stayed after being paroled from prison.
Sit on Brooks' favorite bench where he fed the pigeons.
It's all here and waiting for you. Don't let your Shawshank journey end with the movie, continue it today.
Package Highlights include· Step On Guide, Photo opportunities galore!  Explore Hollywood filming locations.
GROUP TRAVEL CONTACT:
Jodie Snavely
800-642-8282 ext. 202
jsnavely@destinationmansfield.com
ShawshankTrail.com
GROUP INFORMATION:
Group tour price: Shawshank Trail Package
Payment policy:
Reservations required: Yes
Open for special hours:
Length of time for tour: 2 days to see all filming sites, but can be customized to one day
Maximum # of motorcoaches at one time: 1-2 coaches
Motorcoach parking: on sites
Escort & driver complimentary:
Handicap accessible:
Number of restrooms available (men/women): Restrooms available
There were no results found.