The Calendar of Events is not supported by Internet Exploreryour current browser. For best viewing, please use Chrome, Firefox, or Edge.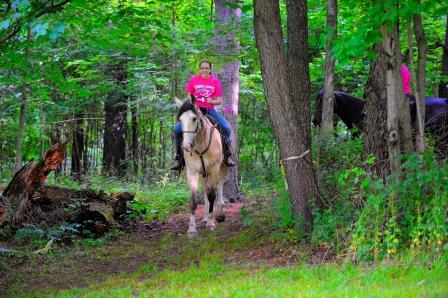 60 miles of horse trails connect Malabar Farm, Pleasant Hill Lake Park and Mohican State Forest. Open year round and suitable for riders with all levels of experience. Horse rental is not available at these locations. Malabar Farm and Pleasant Hill Lake Park include a horse camp, facilities with non-electric campsites large enough for your truck and trailer. Each site has a campfire ring, picnic table, with high lines, restrooms and drinking water nearby.
For more information on the specific trails…
Malabar Farm State Park
4050 Bromfield Road
Lucas, Ohio 44843
Phone:  419-892-2784
The Pleasant Valley Bridle Trail at Malabar Farm traverses scenic overlooks and some old growth forests. Moderate difficulty with dirt paths crossing winding streams and passing by wonderful rock outcroppings and a waterfall. Malabar Farm State Park offers a 15-site primitive campground suitable for horse camping with access to the bridle trail. No reservations. Facilities include: fire rings, picnic tables, hitching posts, gravel parking pads, pressurized water, and handicapped-accessible, self-composting restroom.
Pleasant Hill Lake
3431 State Route 95
Perrysville, Ohio 44864
Phone:  419-938-7884
www.PleasantHillLakeOhio.org
Pleasant Hill Lake Park offers 8.5 miles of hiking/bridle trails, and an additional 16.5 miles of trails in the Muskingum Watershed Conservancy District. Trails include lake views, woods, dirt paths and paved, ranging in difficulty from easy to hard. The equine camping area is a 37 lot horse camp next to the lake. Each campsite includes electric connections, a campfire ring, picnic table, and is large enough to accommodate both truck and trailer. High lines, water and restroom facilities are located nearby.
Mohican State Forest
3116 State Route 3
Loudonville, Ohio 44842
Phone:  419-938-6222
Mohican State Park and the surrounding forests feature more than 1500 acres of beautiful landscapes, waterfalls, lakes and trees, offering limitless opportunities for visitors to explore. The striking Clear Fork Gorge, hemlock forest and scenic Mohican River offer a wilderness experience, 22 miles of horse trails crisscross the area. The resort lodge and cabins provide great accommodations but do not have horse boarding available.
There were no results found.