Galentine's Day is the unofficial holiday dedicated to celebrating gal pals.  Usually celebrated on February 13th, Galentine's Day was first created by the television character Leslie Knope of Parks and Recreation. Celebrating female friendship doesn't have to be a made-up holiday! Grab your best girlfriends. Destination Mansfield- Richland County has planned a Galentine's Day itinerary for you. Our itinerary includes brunch, exploring Downtown Mansfield, plenty of shopping, spots to play, and dinner. We have also included other options and alternatives, depending on the personalities of your girlfriends.
Stop One: Breakfast or Brunch
Breakfast at Blossoms Cafe at the Blueberry Patch
Breakfast dates are a pillar of keeping up with girlfriends.  Start your Galentine's Day festivities right! The Blueberry Patch in Mansfield, Ohio is Ohio's premier blueberry plantation. Start your visit with brunch or lunch at Blossoms Café, with daily lunch specials, fresh pastries, and blueberry pies!  You will not want to miss the quiche – it's a local favorite! Need a pick me up? Try one of over 80 teas from around the world. The café opens at 10 AM.
While you're here, explore the shopping options. The Gift Shop at The Blueberry Patch has over 4,000 square feet of gifts and home décor including jewelry, handbags, baby gifts & candles. The greenhouse selection of baskets, flowers, potters, birdbaths and more will have you patiently waiting for spring! The Gift Shop features great brands like Vera Bradley, and Root and Woodwick candles. You'll want to shop until you drop. If you're still shopping at lunchtime, 1285 Winery at The Blueberry Patch is hosting an Anti-Valentine's Day celebration, with $2 off wood-fire oven pizza, specialty cocktails, and desserts.
For a quick bite and coffee, go to Relax, It's Just Coffee. If you're looking for an earlier start with breakfast on-on the go, stop at Buckeye Bakery for fresh donuts, pastries, and baked goods.
A Hearty Breakfast awaits at one of the Local Diners
These mom and pop diners will kick an early morning off strong! Your girls will love the "at home" feel of Mansfield Family Restaurant, serving classic breakfast food.  Coney Island Diner is Mansfield's oldest restaurant! This classic all-American diner has breakfast specials all day.
Stop Two: Downtown Shopping
After breakfast, it's time to shop. Downtown Mansfield is home to an array of shops, unique and independent, in our community.
Retail therapy is a right-of-passage with any girls' day out! Let It Shine Gifts will kickstart your shopping excursion in the Carrousel District in Downtown Mansfield. Find new, reclaimed, re-purposed & locally made gifts, home décor, and furniture.
What Goes 'Round Thrift Shoppe
Nothing feels better than giving back. A Galentine's day visit to What Goes 'Round Thrift Shoppe combines three of our favorite things: thrifting, girlfriends, and charity. All proceeds benefit the non-profit Hospice of North Central Ohio. The store features an eclectic mix of new, gently used, and vintage items including fashions, furniture, housewares, books, home decorations, and more.
If you and your girls are bookworms, we have just the place for you. Main Street Books stocks new releases, your old favorites, and has a section dedicated to Ohio history and local authors. Grab a seat together upstairs in the cozy book loft, which features a gallery of local artists.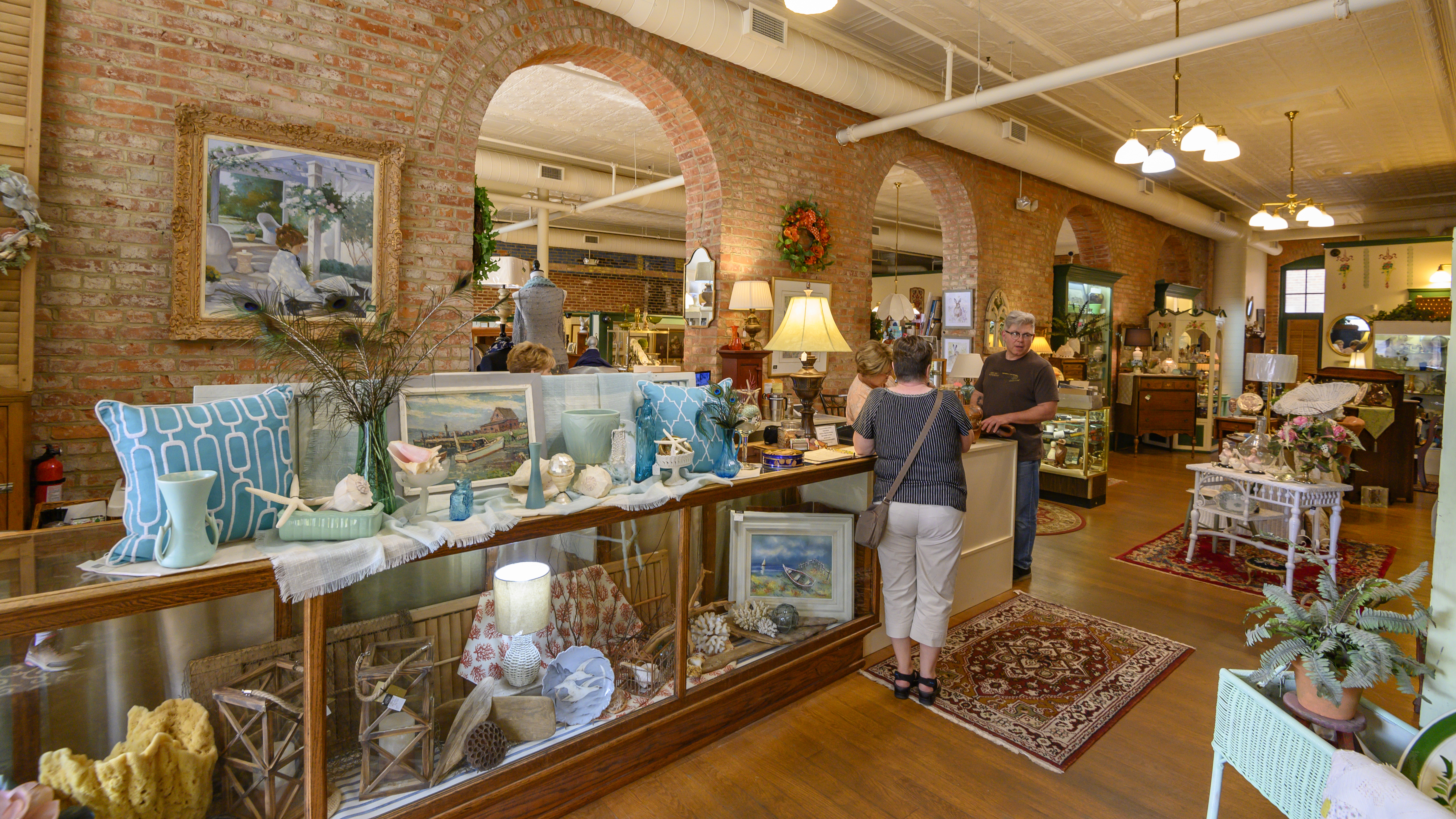 Carrousel Antiques, Ltd.
Carrousel Antiques is an upscale antique shop that carries all varieties of antiques. Located in the heart of the Carrousel District, your girls will love this whimsical treat.
If you are still looking for more places to explore with your girls, from gift shops to antiques, check out this list of retailers from Downtown Mansfield.
Stop Three: Lunch
Lunch at Hudson and Essex Fine Dining and Winery
If you want to stay downtown, Hudson & Essex is officially open for lunch in the dining room! Treat yourself to sleek, elegant dining. Recently known as the new premier celebratory restaurant in Mansfield, your friends will feel like toasting to the years to come. Check out their Facebook for the new lunch menu, including an Italian Hero sub and Triple Grilled Cheese with Tomato Bisque.
Another new spot is  , filled with flavor and Asian flare. For a casual, local favorite try   on the square downtown.
Stop Four: Play
Richland County offers activities for a variety of interests and passions. If you are looking for alternative Galentine's Day plans, we have you covered for your afternoon together.
If your girlfriends love…
Adventure
Snow Trails offers skiing, snowboarding, and snow tubing for beginners and pros alike. If your girlfriends are ready to get out and get active, you don't want to miss this stop! They also offer dining options.
Mind Body Align offers a Saturday morning yoga classes. Practice mindfulness and focus on wellness with your friends.
Art
Get inspired with local art and girl power all in one. A Galentine's Day visit to the Mansfield Art Center will get the creative juices flowing. The architecture is award-winning…and that's just the outside! The Pearl Conard Art Gallery at The Ohio State University Mansfield is located on the local OSU campus. Open to the community and free of charge, the gallery hosts a series of exhibits every year. The current exhibit is That which brought you here, will take you out.  Curated by Cameron Granger, the show features the works of artists Eloisa Amezcua, Annie Chrissy Burley, Shabez Jamal, and Sydnie Jimenez. Granger says that the exhibition is "about love, and the tools and language we've been given to express that love. The title is taken from the phrase 'I brought you into this world, and I ain't afraid to take you out of it', which my mother would often when we were coming up and found ourselves in any kind of trouble young kids normally do."
History
Take your gal pals to explore your family history while making new memories with friends. The Ohio Genealogical Society is a 60,000-volume genealogical library, primarily for Ohio family research, including census records, cemetery listings, Bible records, surname files, manuscripts, newspapers, and lineage papers for First Families of Ohio, Society of Civil War Families of Ohio, and Settlers & Builders of Ohio. The organization also offers free advice on researching family history, and staff can show you how to search. Your group of girlfriends can even reserve a private meeting room for lunch!
Cheers to History! Immerse yourself in regional history why discovering your new favorite wineries and breweries. The Wine and Ale Trail takes you to nine historic sipping spots, including a vintage bank and century-old mortuary. Our wineries, wine bars, and breweries offer something for every taste, like old world cask ale or blueberry wine straight from the farm. The Phoenix Brewing Company is hosting the 2nd annual Galentine's Day networking event for businesses and organizations owned by awesome local ladies. Open to the public, this event is for 21+. Special beverage menu and raffles! Free admission.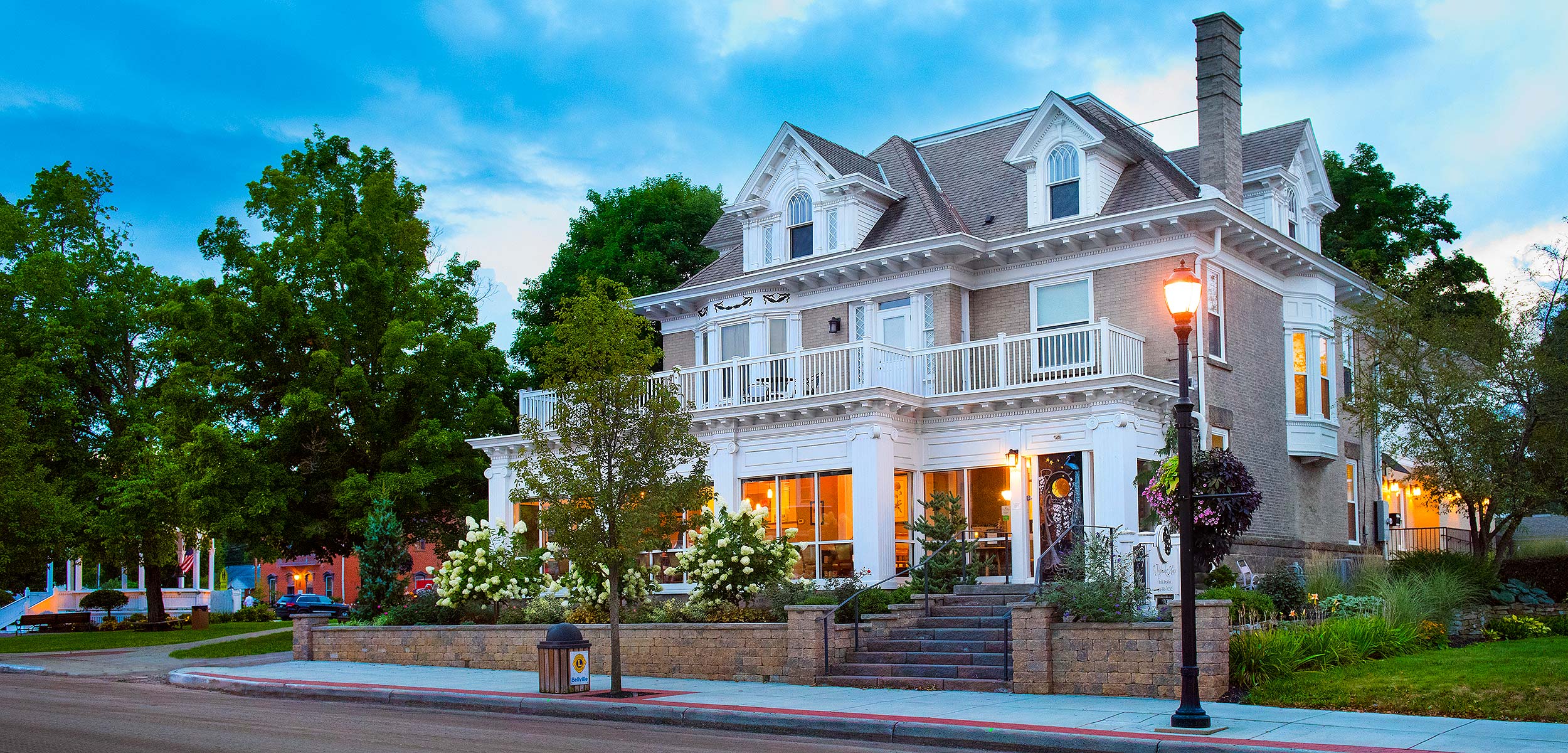 Stop Five: Dinner
If you have decided to explore the Wine and Ale Trail, visit The Vault Wine Bar to celebrate successful friendships. Housed in a refurbished bank, this bubbly atmosphere is the perfect place for appetizers and dinner. All food is made-to-order and created fresh, from scratch, including pretzels, pizzas, and crackers for the cheese boards. The menu features snacks, salads, soups, cheese boards, small plates, artisan pizzas, and desserts. The Vault offers more than 30 wines by the glass and over 150 by the bottle.  Visit their website for pasta and pizza specials and see their new Igloo dining.
Another dinner stop along the Wine and Ale Trail is The Wishmaker House Winery & Wine Bar. The wine bar not only serves in house wine made from Ohio and New York grapes, but wine from around the world. The menu includes delicious food like stuffed mushrooms, flatbread pizzas, and sandwiches made from fresh and local ingredients.  Cheesecakes are made fresh, in house.
Sipping something sweet? Leave the driving to Carson Travel. The executive coach is available to rent for a few hours, or the whole day!
If you're not on the Wine and Ale Trail, but looking for a bite to eat, try Wokano Japanese Sushi & Steakhouse. You'll get dinner and entertainment all in one with traditional Teppan table seating and skilled hibachi chefs. Central Ohio's Best Sushi! A close driving distance to the downtown area.
If you want to stay downtown, DLX | Dan Lew Exchange is open for dinner from 5 PM to 9 PM. Your girlfriends will enjoy a relaxing meal at this flex-casual café.  New to Downtown Mansfield! The "grab and go" section features sandwiches, salads, sushi, and snacks.  The bar features beers brewed by the Phoenix Brewing Co. as well as several wines.
Uplifting your community of friends isn't just for this holiday – it's a year-round job!  For more ideas on Galentine's Day activities or girls' night out, visit www.DestinationMansfield.com/.
Blog by Destination Mansfield – Richland County intern, Maisee Fried